Wines of Lebanon Gourmet Lunch

Sunday, 17 August 2014 from 1:00 pm to 4:00 pm (AEST)
Event Details
Explore the rich
culinary history of Lebanon —
Savour tantalising meats, flavour-forward dips,
and simply perfect Lebanese wines.
6 Courses. 6 Wines.
3 Hours of Great Food and Great Ambiance.
WHAT: Wines of Lebanon Lunch
WHEN: Sunday, 17th August from 1PM to 4PM
WHERE: Almazett Lebanese Restaurant, 208 Balaclava Road, Caulfield North, VIC

AVAILABILITY: Reserve your seat today!
EXCLUSIVE DISCOUNT PRICE: ONLY $79 per person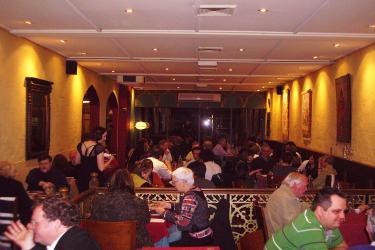 More than hummus. More than Tahini sauce. Lebanese food is an eclectic blend of spices, savoury meats, and extraordinary tastes.
On Sunday August 17, you are invited to explore the BEST of Lebanon… from their incredible cuisine to their luscious wines.
At Almazett Lebanese Restaurant, enjoy six delicious innovative courses with matching wines.
Since 1987, the Haikal family owned restaurant has specialized in authentic Lebanese cuisine.
Plus, with six scrumptious courses, share a 6,000 year old legacy of wine making with modern Lebanese wines with your group of wine lovers.
The food menu is as follows:
1st course
Trio entrees: Minted Labne, Homos with Caramilzed onions and Roasted Eggplant puree served with Mountain Bread.
Just the start of an unforgettable lunch!
(served with 2011 Chateau Khoury Reve Blanc)

Tasting Notes: This straw yellow coloured wine possesses a wide pallet of aromas from lemon and grapefruit. Some will even taste hints of peach and pear. Each grape variety adds a specific richness.
2nd Course
Roasted Fish served with Tahini Tagine Sauce and roasted nuts and fresh coriander.
Lebanon is known for their seafood — A can't miss!
(served with 2013 Batroun Mountains Seven – a blend of 7 white varieties)

Tasting Notes: Estate grown chardonnay, riesling, sauvignon blanc, muscat, merwah and 2 local grapes. Brilliant pale colour with a green tint. It delivers a superb complexity and a wide range of aromas. A very intense nose of fruit, floral and greeny aromas of peach, guava, acacia, citrus, green pepper, mango, gooseberries. It is fresh and crispy with a nice roundness in the mouth and a great intensity on the fruit, ending with some citrus and herb flavours.
3rd Course 
Mousakaa – Velvety Lebanese stew of Eggplants, tomatoes and chick peas. Served Cold. 
You'll fall in love after your first taste.
(served with 2005 Chateau Musar Gaston Hochar Red)

Tasting Notes: Very close to wow and greatness! Balanced, fruity, lightly bretty and appealing nose. On the palate, this wine is superbly well knit to be an everyday drinker extraordinaire. Fine fruit, racing acids, tannin and a complexity to give it gravitas and personality. Wow!
4th Course
Grilled Chicken Tenderloin marinated in  12 spices with salatat Malfouf (Lebanese cabbage salad)
This chicken and salad combination are one of a kind.
(served with 2005 Chateau Musar Pere et Fils)
Tasting Notes: Needs quite a while to open up and also needs to warm up a little, but it's pretty stunning when it does. Oxidative notes on the nose, some honey and a really nice briny component. Superb with food.
5th Course
Lamb Shoulder, encrusted in a special mix of 16 spices, oven roasted for 6 hours, served with a sweet sauce.
So tender it melts in your mouth.
(served with 2007 Chateau Khoury Perseides)

Tasting Notes: The nose is deep serious packed with a mix of black fruit. Ripe black plum fleshes out the mid palate rich and powerful. Under concentrated flavour there is freshness — a touch of bilberry and red cherry that gives a lighter more elegant feel to the finish.
6th Course: Dessert
Muhalabiyi (Lebanese panacotta) served with Orange Syrup and Crushed Macedamia Nuts.
Once you try this traditional Lebanese dessert, you'll wish you lived there.
(served with 2009 Adya Expression Monastique)
Tasting Notes: Made by Maronite Catholics monks of St Anthony monastery in the mountains of Lebanon. 30% Mourvedre, 30% Syrah, 30% Grenache, 10% Sangiovese. The wine has achieved excellent consistency with cascading flavors of fruit, liquorice and spices.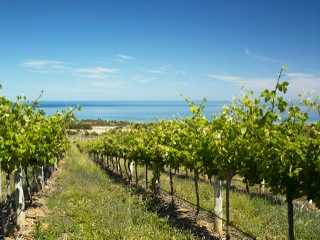 Whether you are a fan today of Lebanese cuisine and wine
or you simply want a new adventure, this Lebanese Wine Lunch will not disappoint.
Reserve your seat today!
When & Where

Almazett Lebanese Restaurant
208 Balaclava Road
Caulfield North, VIC 3161
Australia

Sunday, 17 August 2014 from 1:00 pm to 4:00 pm (AEST)
Add to my calendar
Organiser
Martin Peston has been actively involved in the wine industry for the last 10 years and is the director of Top Australian Wines Pty Ltd which trades under the name of Wine Tasting Events.
He specialises in selling & showcasing boutique wines from Australia and around the world.
His wine website is www.topaustralianwines.com.au
For further details of upcoming events please visit his events website at http://winetastingevents.com.au