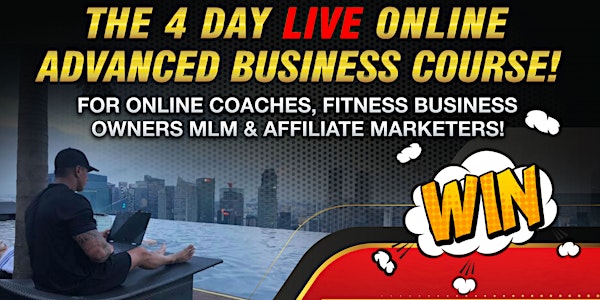 WIN a FREE Seat to The 4 Day 'LIVE' Online Advanced Business Course!
For Online Coaches... Valued @ $3997!
About this event
Are you an Online Coach with the Goal or Dream of Building to $20k PLUS Months Online in 2022?
Would you like to build a full time online coaching business that allows you to live the lifestyle you dream of?
2021 was a hard year for so many BUT 2022 doesn't have to be a repeat of 2021, it can be one of the greatest years of your life if you take massive action. But nothing changes if nothing changes.
Which is why I am super excited to be delivering the biggest event of the year, that i only do one time a year...
Introducing the One of a Kind LIVE Online 4 Day Advanced Business Course for Online Coaches & Consultants!
This is a LIVE & Interactive Course where you will spend 4 FULL days LIVE interactive with International Trainer of NLP, International Business Coach and Published Author: Jason Grossman.
AND To Celebrate we are giving ONE LUCKY Winner a FREE Seat to the Entire 4 Day LIVE Online Training in February Next Year VALUED at Nearly $5000!
TO BE IN THE RUNNING Simply Enter your details and we will announce the Winner 8pm Thursday 3rd February 2022!
Good Luck!
Jason Grossman!
PS. You can See what you can WIN in full detail HERE --> https://advancedliveonlinebusinesscourse.com/