Description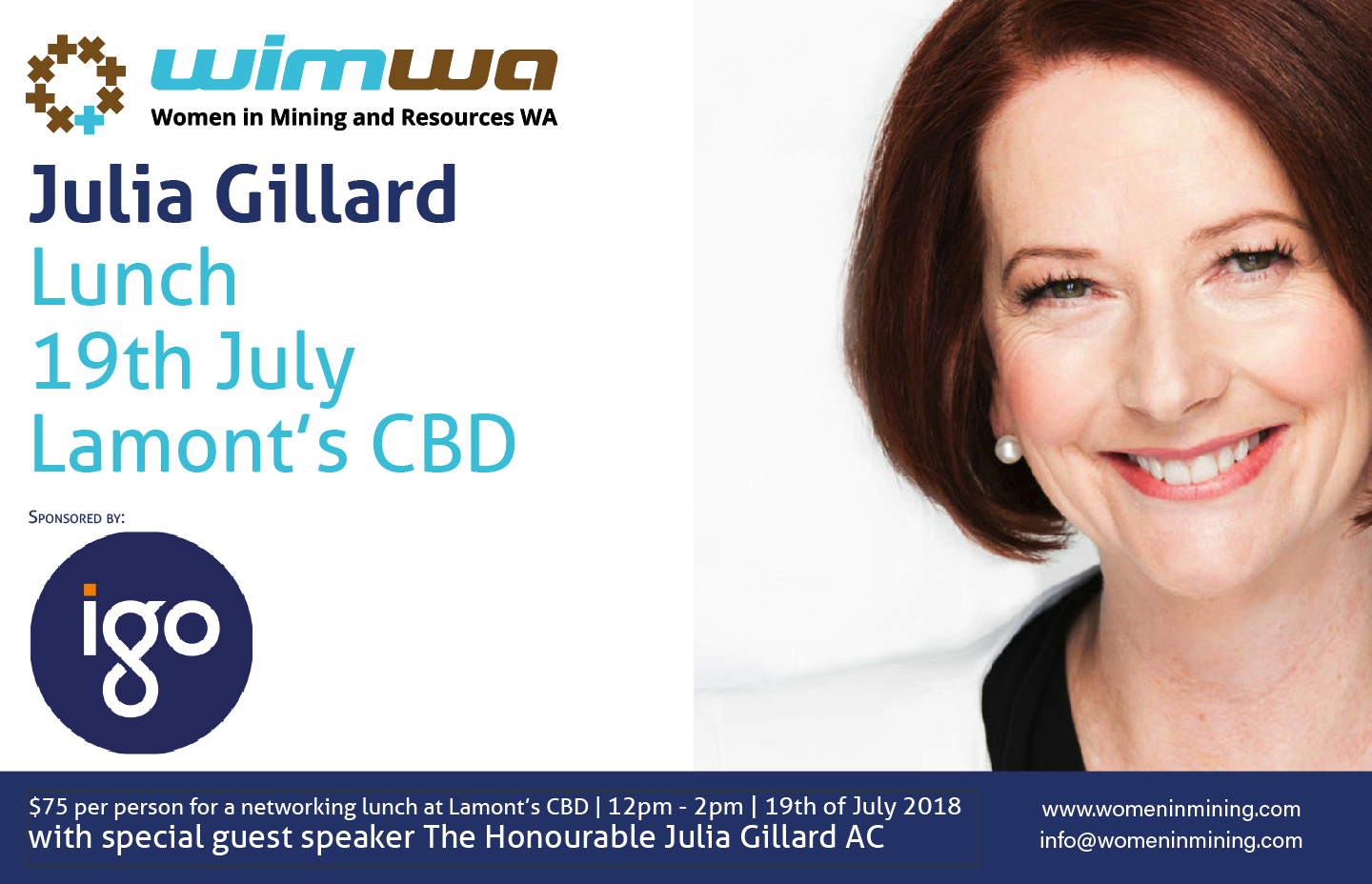 Please join us for the first WIMWA Lunch, sponsored by IGO, with a very special guest speaker The Hon. Julia Gillard AC, on Thursday 19th of July at Lamont's CBD.
This is your chance to hear from a former Australian Prime Minister, who served in the office until June 2013, and has received world-wide attention for her advocacy on the treatment of women in professional and public life.
Ms Gillard is a Distinguished Fellow with the Center for Universal Education at the Brookings Institution in Washington. In February 2014, Ms Gillard was appointed chair of the Global Partnership for Education, a leading organization dedicated to expanding access and quality education worldwide. Ms Gillard also serves as Patron of Camfed, the Campaign for Female Education, which tackles poverty and inequality by supporting girls to go to school and succeed, and empowering young women to step up as leaders of change.
In 2017, Ms Gillard became Chair of beyondblue, Australia's leading mental health awareness body.
In April 2018, Ms Gillard was appointed Inaugural Chair of the Global Institute for Women's Leadership at Kings College, London. Through research, practice and advocacy, GIWL will address women's underrepresentation in leadership, and the way gender negatively impacts the valuation of women leaders.
Ms Gillard serves as an Honorary Professor at the University of Adelaide, and is Patron of the John Curtin Prime Ministerial Library in Perth, Western Australia. Ms Gillard is Patron of the Layne Beachley Aim For The Stars Foundation, which supports girls and women to invest in their future to fulfil their potential.
On Australia Day 2017, Ms Gillard was honoured to be awarded a Companion of the Order of Australia.
Bring your colleagues, spoil your clients, join your friends and get in quick for this not-to-be-missed event!