Description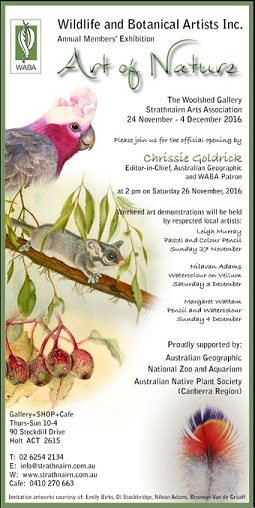 Wildlife and Botanical Artists Inc (WABA) Annual Members' Exhibition
"The Art of Nature"
WABA is a non-profit community arts organisation that strengthens connections between artists, scientists and environmentalists to promote the appreciation of our wildlife and botanical heritage.
Established in 1989, WABA continues to provide activities and events where artists can and forge links between artists.
WABA enjoys the membership of recreational and professional artists, with differing abilities and interests, who meet regularly to provide instruction, friendship and encouragement. WABA'S Patron, Mrs Chrissie Goldrick, Editor-in-Chief of Australian Geographic, wholeheartedly supports our aims and objectives.
Our members' many sources of artistic inspiration come from nature, including its beauty, diversity and complexity, as well as environmental issues affecting the survival of native species. These themes are explored in a wide range of media and styles, subject matter and interpretation, which are reflected in this exhibition.
For more information, please contact Prue Sailer at waba.president@gmail.com
Or visit WABA's website, www.waba.net.au