Wild Pollinators- Part 2 Outdoor Session
About this Event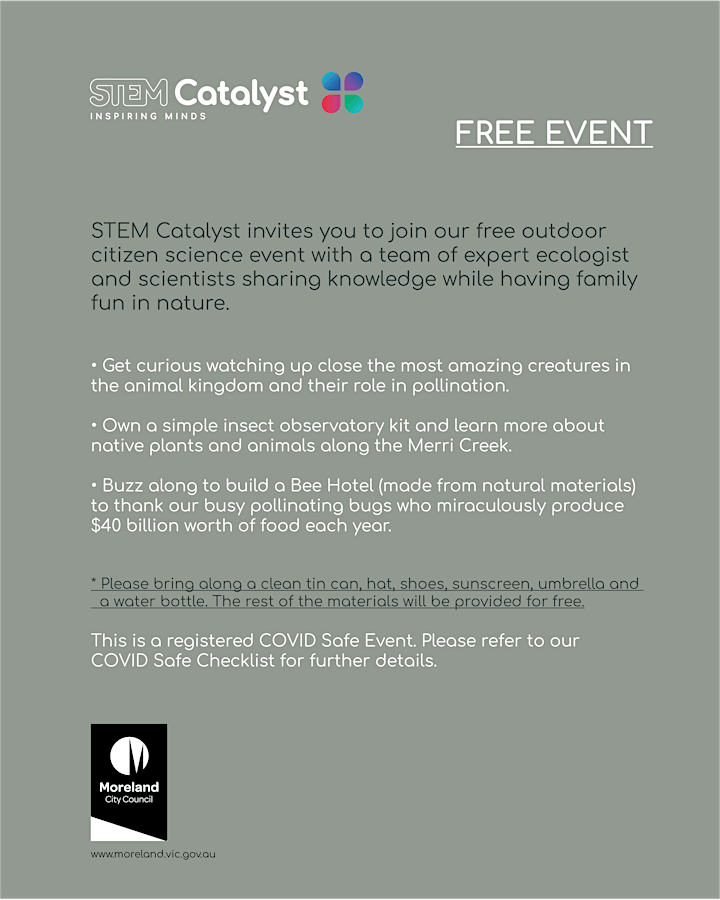 ***Event postponed to 5 February 2021***
STEM Catalyst invites you to Join us in the first Outdoor Session with a Team of experts Ecologist and Scientists sharing knowledge whilst having serious family fun in nature.
Get curious watching up close the most amazing creatures in Animal kingdom and their role in pollination.
Own a simple insect observatory kit and learn more about the native Fauna along Merri Creek.
Buzz along to thank our busy Bugs who miraculously pollinate to produce $40 billion worth of food products each year alone by creating a shelter ( Bug Hotels) for them.
Bring along a clean Tin Can and rest of the materials will be provided.
This is a registered COVID Safe Event. Please refer to these documents for further details:
https://drive.google.com/file/d/10cLV2uvFi9s7H43cwiI13VXrPeh4YPbK/view?usp=sharing
https://drive.google.com/file/d/1Pba1l7YSIFAOGBxFezrZjjUEXnBvv_wT/view?usp=sharing