Sales Have Ended
Ticket sales have ended
Sorry! Ticket sales have now closed! Check our website for details of the next event. wildimagination.com.au
Event Information
Location
Adelaide Park Lands
East Terrace
Between Halifax and Carrington Streets
Adelaide, SA 5000
Australia
Sales Have Ended
Ticket sales have ended
Sorry! Ticket sales have now closed! Check our website for details of the next event. wildimagination.com.au
Description
If you think back to how you spent your own school holidays, it's likely you remember playing outdoors all day. No homework, no screens, just friends having fun. Perhaps you would head down to the local creek with your friends and make mud pies and build cubbies. Maybe you liked to catch bugs, or climb trees; whatever it was - you were outside, and in nature.

Wild Imagination is bringing back that outdoors, nature filled, unstructured, screen-free fun to school holidays... And you're invited to join us! To see a short film about what we do, please click here.
Our Summer event starts on Monday 9 January and finishes on Saturday 28 January 2017. We have both kids only days (where parents can drop and go!), plus family days where parents and caregivers will stay and play with their children. Here is the schedule: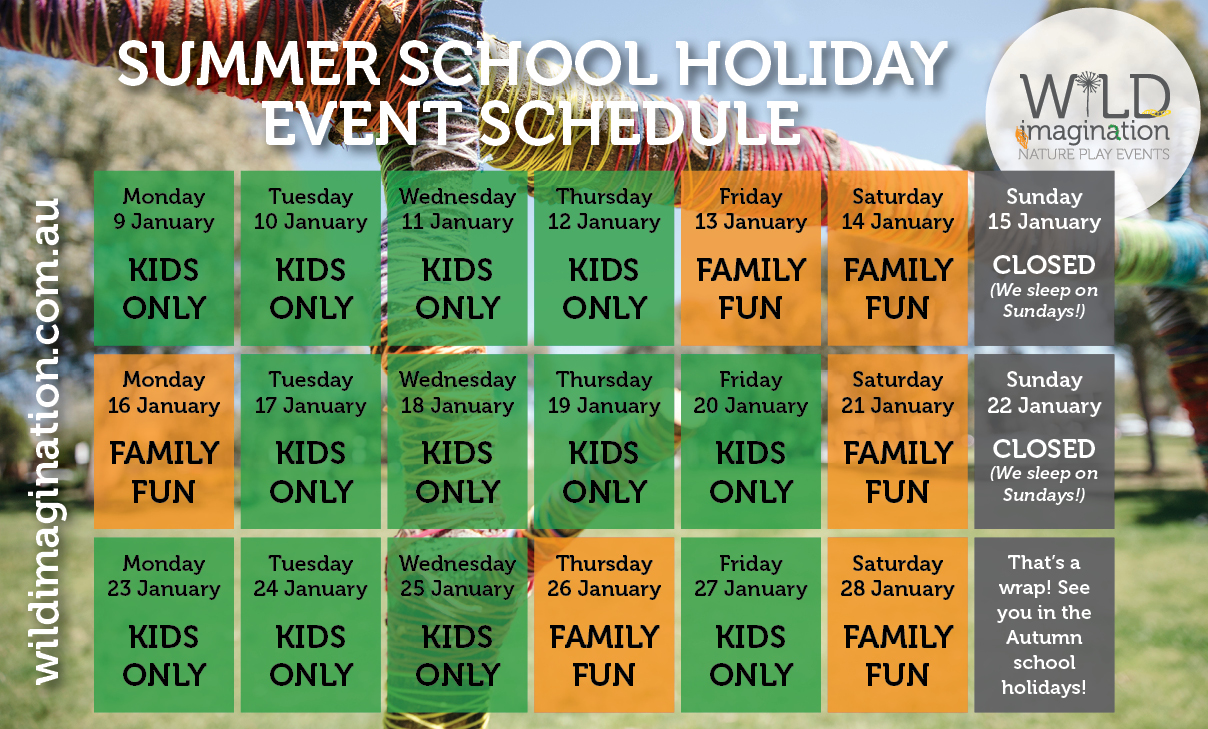 You can book our KIDS ONLY events through this page you are on now. If you want to book the FAMILY days, please click here.
Our KIDS ONLY events are for primary school aged children. Due to the range of activities planned, we recommend kids are between 5 - 10 years old. Although children up to 12 years are allowed, they might not find the activities age appropriate, but this is at the parents discretion. Our kids only events provide parents with an alternative to OSHC, where the children play outside and hang out under trees and in tents instead of in classrooms and on ovals.

Parents can drop their children off any time after the gates open at 8:30am. The children will stay and play all day and be supervised by qualified Play Leaders. Gates close at 5:00pm, so please ensure you allow enough time to collect the kids prior to 5pm. Late pick up policy does apply.

Children must bring their own morning tea, lunch and afternoon tea. Plus rubber boots, a full change of clothes, a towel and plastic bag for soiled clothes is recommended!
A detailed map will be provided to ticket holders prior to the event via email.
For more information about the event and policies, or to contact us, please head to our website, wildimagination.com.au.
EVENT LOCATION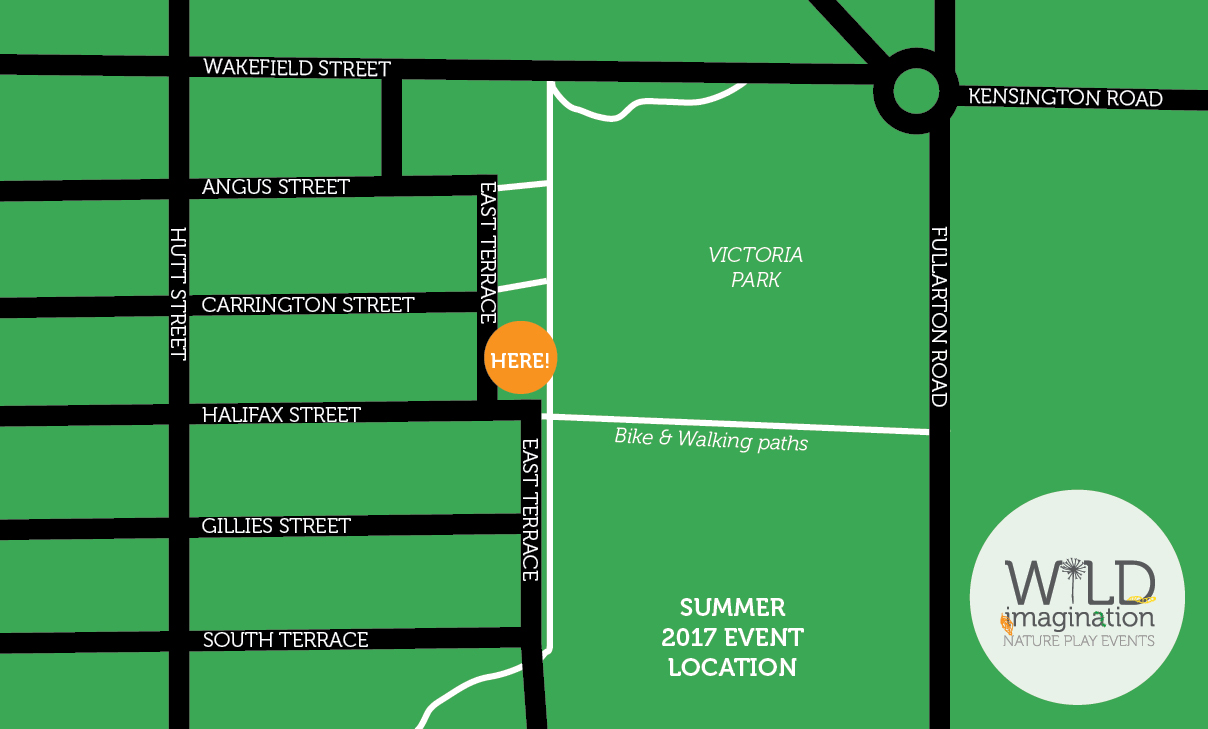 If you have younger children or would like to come along to the event with your children, we have family event days that are suitable from children aged 2 and up. You can book the family events here.
Location
Adelaide Park Lands
East Terrace
Between Halifax and Carrington Streets
Adelaide, SA 5000
Australia