Description
Are you GAME?
Top Australian Wines presents…
Our exclusive Game Food & Wine Lunch

You won't have to hunt down the most delectable tastes…
Because they are all found RIGHT HERE!
Enjoy an afternoon of adventure and originality
as you embark on a journey of new experiences and new tastes.
Feast on a lunch complete with a variety of wild game dishes cooked to perfection.
Sparkling wine on arrival
Plus, with each course, you get TWO wines…
That's 9 wines total.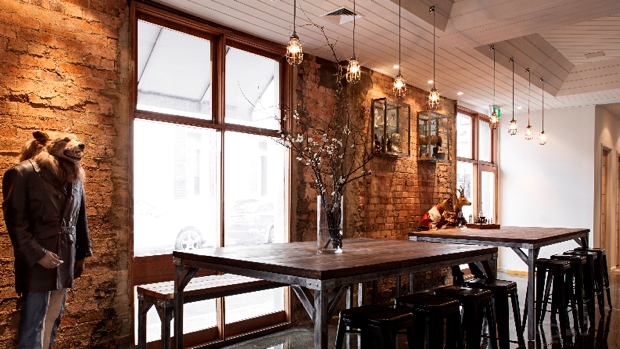 WHAT: Extraordinary Wine Lunch
WHEN: Sunday, 13th July, starting at 1:00PM
WHERE: The Wolf and I, 152 Chapel Street, Windsor VIC 3181
AVAILABILITY: Seating limited — RESERVE TODAY!
EXCLUSIVE DISCOUNT PRICE: ONLY $99 per person
Details
ONE LOOK at the 1870's façade, warm lighting, exposed brick walls, and timber ceiling and you feel more than welcome in this grandiose restaurant.
ONE WHIFF of the adventurous game meats, fresh herbs and spices, and bright sauces and your mouth begins to water as your heart begins to race.
ONE TASTE of the perfectly cooked delicacies and the refreshing, flavourful wines, and you have your breath taken away.
The renowned head chef, Kiwi-born Daniel Groom, welcomes you to his restaurant – his livelihood — The Wolf and I Windsor.
Let's begin this special event with a glass of sparkling on arrival - something different?
SCHLUMBERGER WHITE SECCO SPARKLING WINE (AUSTRIA)


WINE LUNCH GAME MENU

You know wild game is bold, adventuresome, and flavour-forward.
But when prepared by exceptional chefs of a high-end restaurant, it's becomes an extraordinary cuisine — where each meat is compared to the finest filet.


KANGAROO CARPACCIO with EGGPLANT COPONATA, PANCETTA CROQUETTES, and BALSAMIC REDUCTION — A dish you'll talk about for years to come.

We pair your kangaroo dish with the perfect, tantalizing
2013 A T RICHARDSON CHOCKSTONE SHIRAZ DURIF ROSE (GRAMPIANS, VIC)
2008 TOMBOY HILL "REBELLION" PINOT NOIR (BALLARAT, VIC)

When your venison sausage and braised cabbage dish arrives, you won't know to stand and applaud or drool quietly.
VENISON SAUSAGES with BRAISED RED CABBAGE, MASH POTATO, RED CURRENT and RED WINE JUS — Perhaps the best sausage you've ever tasted.

What goes better than flavourful sausage than the,
2010 WONGA ESTATE 'LAMBPIE" HEATHCOTE SHIRAZ (STRATHBOGIE, VIC)
2010 LADIES WHO SHOOT THEIR LUNCH SHIRAZ (STRATHBOGIE, VIC)

The joke about crocodile is that it tastes like chicken.
But when prepared by the fine chefs at The Wolf and I, it tastes like heaven.
SALT and PEPPER CROCODILE with CORIANDER, MINT, CHILI, ROAST SHALLOTS, CUCUMBER AND LIME, and a sumptuous ASIAN DRESSING — Yes, this crocodile has bite!
Delicious from your first forkful to your last.
What wine pairs best with crocodile? We'll bring the perfect selection!
2012 CHARLES SMITH "KUNG FU GIRL" RIESLING (WASHINGTON, USA)
2011 HAHNDORF HILL GRUNER VELTLINER (HAHNDORF, SA)

TASMANIAN and VICTORIAN CHEESE, QUINCE PASTE, GRAPES, and FRUIT BREAD —
A perfect end to your perfect meal!
Your final dish is washed down with some of the best wine Top Australian Wines has to offer!
2011 KELLERMEISTER EISWEIN (EDEN VALLEY, SA)
2007 TWO ITALIAN BOYS "THE STICKY ITALIAN" BOTRYTIS SEMILLON (RIVERINA, NSW)

Game meat has quickly become one of the most sought-after cuisines in Australia.
Combined with the perfect preparation and precise presentation of The Wolf and I talented chefs, and these dishes become tantalizing works of art!
Reserve your seat today and enjoy exceptional wines throughout your adventurous and unforgettable wine lunch at The Wolf and I.