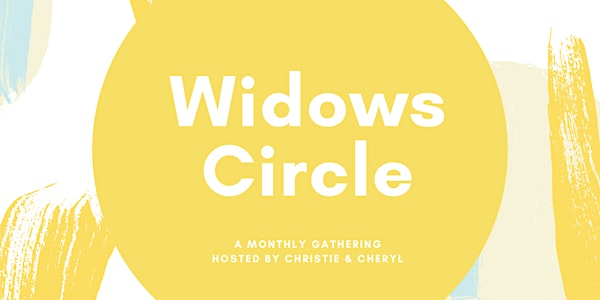 Widows Circle is a virtual gathering of widows hosted on the first Tuesday (7pm p 8.30pm Aus EST) of each month by fellow widows and friends
About this event
This 90-minute monthly gathering is an invitation for widows to come together in a safe space to share and make sense of their experiences, to learn from each other, to look towards hope and to find sanctuary in their grief.
This gathering is offered with genuine kindness and compassion and there is no cost to attend.
Who is this for:
Widows Circle is open to any woman whose partner has passed away. She may or may not have been married. She may or may not have had children. She may have had years with her love before he or she passed away or what feels like mere moments. No matter where she is in her journey she is welcome.
We are two Australian women based in Australia but this is open to any women no matter her geographical location.
You are invited to attend whenever you feel like you need to be with a community of women who have a similar lived experience to you. Come every month or every now and then, it is up to you.
This 90-minute monthly gathering is an invitation for widows to come together in a safe space to share and make sense of their experiences, to learn from each other, to look towards hope and to find sanctuary in their grief.
This gathering is offered with genuine kindness and compassion and there is no cost to attend.
What to expect:
The monthly gathering takes place virtually on the Zoom platform. Each gathering begins at 7pm (Sydney time). We ask that you arrive no later than 7.10pm and that you have access to the video function.
For the first 45-minutes of the gathering we will be inviting you to check in with your own experience and to share what you are noticing in your mind, body and heart. We ask that for the first 45-minutes you are completely present for each other with cameras on. Depending on the group size we may break into smaller groups so each of us has a chance to connect.
For the second half of the session we move into a process of sharing what is helping, not as experts or counsellors, but from our own lived experience. We share from the "I" in this gathering. For this part of the session we invite you to attend as you can. Perhaps you need to put the kids to bed or eat your dinner while you attend the gathering. You are welcome to bring in your life as you need to make sure you can still be part of the community.
We will end the gathering through a process of connecting to an inner sanctuary, a safe place we can take with us and connect to throughout the month until the next gathering.
Your hosts:
Introducing Christie Little
Hello, I am looking forward to holding space for you within this community of widows. I know I will be saddened by your loss, inspired by your courage and warmed by your heart. Thank you for deciding to be here with us.
I became a widow in 2018 when my beloved husband Hamish suicided. We had loved each other every day for 10 years. The last time I saw him alive, it was his 42nd birthday and he was running late for his flight to Singapore. The next thing I know, my best friends were telling me he was no longer alive and I needed to get to Singapore to claim his body and bring him home. I sometimes still think this happened to someone else, that there is no way this could happen to me. Nothing since then has ever been the same.
All of our stories are different and the way each of us grieves our lost loves and lost lives are different. Having a safe space to tell our stories, where others listen with open hearts, is a powerful way to make sense of our experiences. Sharing our experience and being seen and heard is a way of healing. Regardless of what else we will be doing, we will always make space to share in this circle.
My role in this community, along with Cheryl, is as a host whose intention is to create a safe space for each of us to be seen and heard. Neither Cheryl or I believe that any of us in the community need to be "fixed". We can offer lessons learnt from our personal experiences but this is not about being the expert in grief.
While this Widows Circle is not a coaching or counselling space it might make you feel comfortable that both Cheryl and I do this in our daily lives. I have worked for more than 15 years in the leadership, resilience and wellbeing space, supporting many women and men to transform their lives. I have owned and operated two wonderful corporate coaching consultancies, having sold one of them to KPMG. I have worked within global management consultancies and learnt a lot about people over many years. I have built my expertise with certifications in many areas of healing and wellness so I could meet my clients where they were at. These include mindfulness, biofeedback, yoga, somatic coaching, nutrition and wellness coaching, Nature therapy, and positive neuroplasticity training. I have one year left in my Holistic Counselling and Psychotherapy degree and am already fully insured to offer client sessions (as a student).
Introducing Cheryl Chantry
I too am looking forward to meeting you all and exploring how we can create a supportive community for each other as we walk this path following the loss of our loves. I know each of our stories will be different, the experience of our loss will be different, and the way we have taken steps forward in our lives past our loss will be different.
My husband, Marcus, died due to complications with a heart condition in July 2017. We had been together for nearly 24 years, married for nearly 18 of them (and still deeply in love). It was totally unexpected, and completely devastating to myself and our 10 year old daughter, as we came home and discovered what had occurred earlier in the day. I remember every detail of what happened that night, from feeling like the centre of my being had been ripped out, to wanting to do everything I could to protect our daughter from seeing more than she needed to. I remember the ambulance and police being so caring, as were friends and family who quickly rallied around as we all tried to process what had happened. It turns out it would take us a very long time to process it all, and as Christie says, I too often feel like it was something that happened to someone else, and that surely it can't be true. However it is, and my life as a widow has unfolded as a mix of darkness and light.
Prior to Marcus' death, I had a wonderful career in the General Insurance industry. I was fortunate to have some incredible roles that gave me the opportunity to lead teams of amazing people who were all focused on supporting the community when they needed it most. I had spent time with people in these communities, supporting them when they had experienced major storms, bush fires, floods, or where they needed support following injuries sustained in motor vehicle accidents. I had however always loved the leadership and coaching parts of my roles the most, and had the aspiration to undertake a Masters in Coaching Psychology at Sydney University, and to transition into Executive Coaching towards the end of my career. After Marcus' death, I realised how precious every day I had was, so I decided to step away from my previous career, to go back to Uni and get that Masters degree, and set up my own business. I am now in my third year of running my own business as an Executive Coach, and feel so grateful that I can use the experience I have had in my career, my life, and through my education to help others.
As Christie points out, neither of us are experts in Grief, but we have our own lived experience that we'd really like to share with others to continue to help those who feel it would be of benefit. As a coach I am not a psychologist, however I am trained in various aspects of mental health, well-being, mindfulness, positive psychology, and work with individuals and teams in establishing goals, action plans and to develop the skills to move forward in achieving success and fulfillment. I too am fully insured to offer client sessions as a coach.
If you would like to get to know more about this community or who we are please connect with us by email.