Wide Area and Space Surveillance Systems Program Office
Description
Wing Commander Fernando Gonzalez, Director Export Coordination Unit, will give a public presentation on fundamental Radar theory and Wide Area and Space Surveillance Systems Program Office (WASS SPO). This includes the Jindalee Operational Radar Network (JORN), Overhead Persistent Infrared (OPIR) satellite network and Space Surveillance Telescope (SST) and C-Band Orbital Tracking Radar.
WASS SPO's primary role is to provide Wide Area and Space Surveillance through JORN and various space surveillance capabilities to Defence. These capabilities enable Defence, and in particular, Air Force's No1 Remote Sensing Unit, to conduct effective surveillance in support of the ADF's situational awareness. WASSSPO is based at the Defence Science and Technology Edinburgh site. Its 104-strong workforce is a combination of ADF, APS and contractor personnel.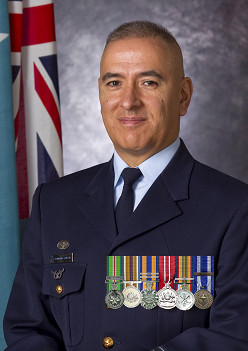 Fernando C. Gonzalez
has served in the RAAF since 1983 in the Avionics, Technical Airworthiness and Electronic Warfare fields, holding a Bachelor of Computer Systems Engineering Honours degree and Master of Science in Electronic Warfare.
His JEWOSU service includes F111 EWSP, Ground ESM, EW Instructor, OIC EW Systems, Senior Design Engineer, and a key role in creating the Australian Counter-Improvised Explosive Device (CIED) operational support capability.

As a serving military member, he seeks to ensure current operational input to Old Crows business, maintaining relevance with latest industry trends and the war fighter's needs. As Chapter President, he is determined to continue the drive towards greater engagement geographically and professionally, involving greater activity nationally and regionally and with the related fields of EW, IO, and Cyber. He enjoys significant involvement in AOC.