Join Stephen Muecke, Tony Birch, Jason Roe, Chris Healy and Eve Vincent as they discuss the need for new kinds of storying about Australia.
About this event
Why Australia needs new storytelling
IPCS online via Zoom
Join Stephen Muecke, Tony Birch, Chris Healy, Jason Nangan Roe and Eve Vincent as they discuss the need for new kinds of storying about Australia.
In North-West Australia, between 2009 and 2013, a major Indigenous-environmentalist alliance waged a successful campaign to stop a huge industrial development, a $45 billion liquefied gas plant proposed by Woodside and its partners. The Western Australian government and key Indigenous institutions also pushed hard for this, making the custodians of the Country, the Goolarabooloo, an embattled minority.
This experimental ethnography documents the Goolarabooloo's knowledge of Country, their long history of struggle for survival, and the alliances that formed to support them. Written in a fictocritical style, it uses a Latourian multirealist kind of analysis that focuses on institutions (Indigenous or European), their spheres of influence, and how they organised to stay alive as alliances shifted and changed.
We're celebrating Stephen Muecke & Paddy Roe's latest book The Children's Country, which tells a story of Goolarabooloo struggles for Country.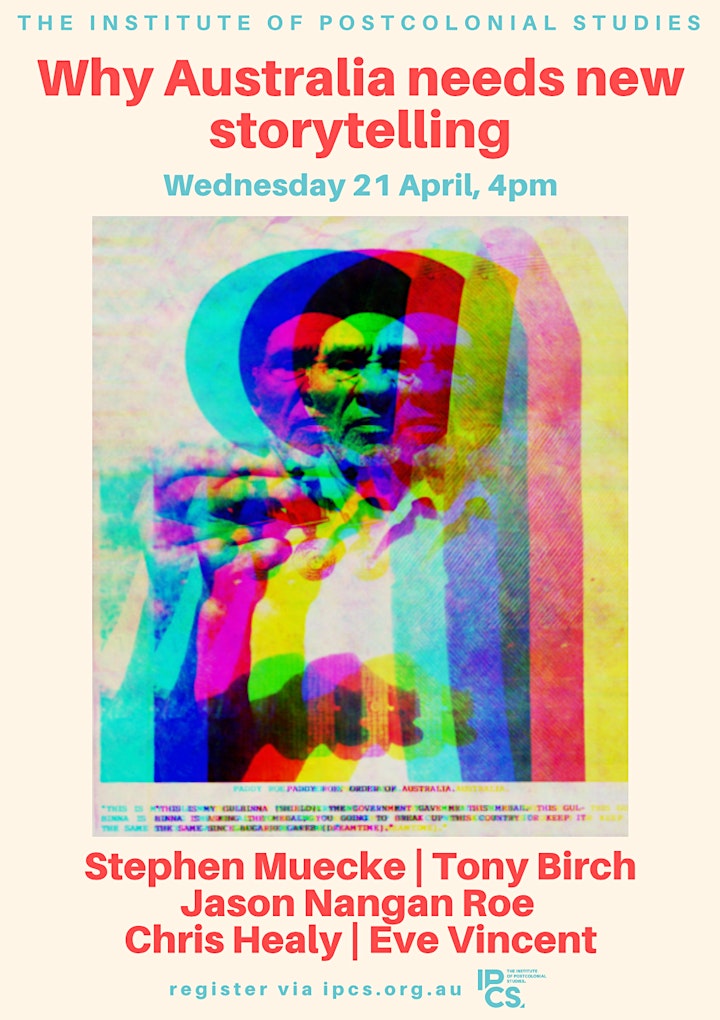 Stephen Muecke is Professor of Creative Writing in the College of Humanities, Arts and Social Sciences at Flinders University, South Australia, and is a Fellow of the Australian Academy of the Humanities. Recent publications are Latour and the Humanities, edited with Rita Felski, Johns Hopkins University Press, 2020 and (with Jennifer Eadie) 'Ways of life: Knowledge transfer and Aboriginal heritage trails,' Educational Philosophy and Theory, Vol. 52, no. 11, Oct. 2020.
Jason Nangan Roe is Chair of the Goolarabooloo Millibinyari Indigenous Corporation and great-grandson of Paddy Roe.
Tony Birch is the author of three novels: the bestselling The White Girl, winner of the 2020 NSW Premier's Award for Indigenous Writing, and shortlisted for the 2020 Miles Franklin literary prize; Ghost River, winner of the 2016 Victorian Premier's Literary Award for Indigenous Writing; and Blood, which was shortlisted for the Miles Franklin Award in 2012. He is also the author of Shadowboxing and three short story collections, Father's Day, The Promise and Common People. In 2017 he was awarded the Patrick White Literary Award for his contribution to Australian literature. In 2021 he will release two new books, a poetry book, Whisper Songs and a new short story collection, Dark As Last Night. Both books will be published by University of Queensland Press. Tony's website.
Chris Healy teaches Cultural Studies at the University of Melbourne. His publications include, From the Ruins of Colonialism (1997), South Pacific Museums: Experiments in Culture (co-edited, 2006), Forgetting Aborigines (2008), Assembling Culture (co-edited, 2011) and Reading the Country: 30 Years On (co-edited, 2018). He co-edited Cultural Studies Review with Stephen Muecke (2002—2006) and with Katrina Schlunke (2013—2019). He is currently completing a book called Travelling Television. Along with Romaine Moreton and Therese Davis he recently produced a knowledge-sharing website on Indigenous Australian film and television: http://aiftv-research.net/
Eve Vincent is a senior lecturer in the Macquarie School of Social Science. She is the author of 'Against Native Title': Conflict and Creativity in Outback Australia and co-editor of Unstable Relations: Environmentalism and Indigenous People in Contemporary Australia.