Sales Have Ended
Ticket sales have ended
Thank You for registering for Who Before Do Master-class in Ballarat 2 - 4.30 p.m. 26th April 2018. I very much look forward to seeing you then. Best regards Ian
Sales Have Ended
Ticket sales have ended
Thank You for registering for Who Before Do Master-class in Ballarat 2 - 4.30 p.m. 26th April 2018. I very much look forward to seeing you then. Best regards Ian
Description
Read all about the Who Before Do concept here.
Do you want more people being remarkable
and doing work that's meaningful for them
and highly valuable for others?

Through working with more 1000 leaders, women and men, in over 40 countries since 1991 I've learned that increasing the number of people being remarkable, and doing meaningful for them and highly valuable for others work, is the sure-fire way to sustaining a 21st century workplace, one where people feel valued, live values and deliver value in ways that are very difficult to emulate.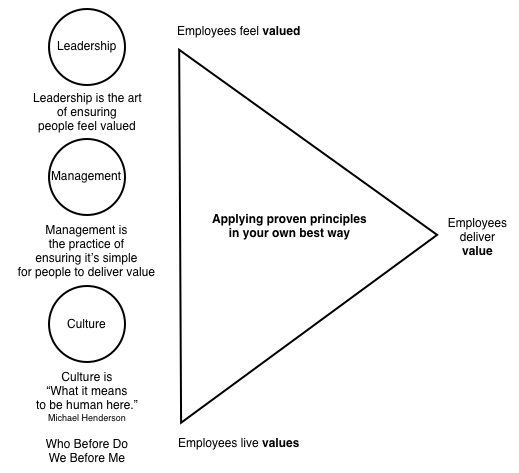 In this series of standalone master-classes I'm exploring the 10 key areas you can master in your own best way that will mean you can lead and thrive in the new world of work.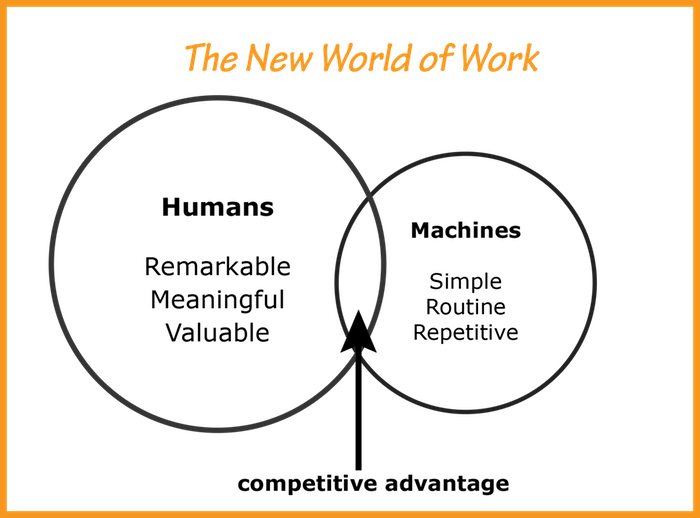 By competitive advantage I mean being true to yourself. In my language the only competitor any of us have is the person we looked at the mirror this morning. In a business sense we should be driven by our unique reason for being, not by what other businesses are doing.
Read about why we're all remarkable here and here.
The full master-class series is pictured below. This month is number 2. Number 1 happened in March 2018. We'll make arrangements to catch you up online.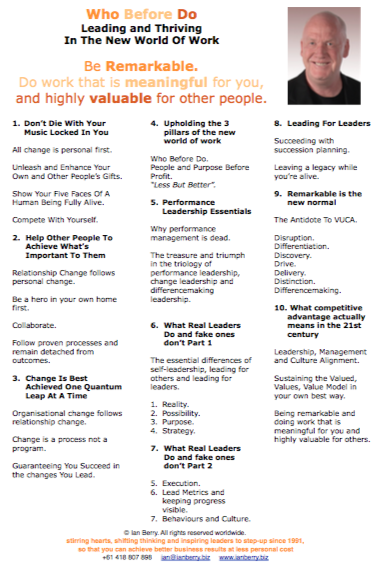 Each Ballarat master-class will be held at the same time and place and on the fourth Wednesday of every month with the exception of December which will be the second Wednesday.
Master-classes 1 -3 are based on my Changing What's Normal book. You can download a PDF version here.
It's likely that the paperback version of this book will be in print again in 2018. If so you will also receive your copy.
Master-classes 4 - 8 are based on The Appreciative Leader handbook. If you do not have your signed, numbered, limited edition copy you will receive yours while stocks last. Should the 150 limit be reached you will receive a digital copy and the book version when that becomes available. Learn more about this publication here.
Master-classes 9 and 10 are based on my new work Who Before Do - How To Lead And Thrive In The New World Of Work that is scheduled to be published in early 2019. Anyone who participates in one or more master-classes will receive a copy.
What I say in these writings (and a signature to all my work) is important, yet nowhere near as important as what you hear yourself say to yourself, who you become and then do your own unique work.
For all 3 participation options you can pay on a 7 day invoice. To make arrangements please telephone me on 0418 807 898. For the 9 master-classes and 9 mentoring sessions option there is a 3 payments option.
If you prefer a private program just for you and your team please visit this page and then contact me.
Be remarkable.
Ian
I engaged Ian Berry to talk to my team and challenge them to bring their very best to the office every single day as we commenced the new financial year.
I recommend Ian as a value-add to any business leader or staff member and feel confident each participant will walk away inspired with a greater understanding of themselves and equipped with additional ideas and techniques of how to achieve their very best performance each and every day.
Luke Rieniets, Senior Business Banking Manager, Bendigo Adelaide Bank Ltd
I'd been feeling like I was doing a little bit on a whole lot of disjointed projects – Purpose & Values, Engagement, Learning & Development, and knowing that I need to spend some time on Performance Management and Position Descriptions but it all felt a bit like I was spinning plates – keeping them spinning and not letting them drop and really not progressing them all that much, all that quickly. Spending a day with Ian helped me see a structure and a strategy that really wraps up everything I do with a purpose and reason – it helped me see all these individual tasks in the context of my role. It was a practical, insightful and reflective day very well spent.
Leanne Perryman, People & Culture Manager, Surf Coast Shire
At the start of 2015 it became clear on the road ahead for my business we were facing some serious challenges.
We had just purchased the Budget franchise and were experiencing inconsistent business results, some big rental agency changes, and some poor staff attitudes had crept in.
I had heard Ian speak at a function in 2014 and I had been impressed with the message of his talk that day.
Ian has worked as a mentor to me for the last 14 months. He's also run sessions and worked 1:1 with my staff.
We've made several small shifts in how we conduct our business that have made a significant difference with my key people, how we work, and to our results.
Darren Rix, Franchisee Avis Ballarat & Western Victoria, Budget Ballarat & Bendigo