Event Information
Location
Lismore, NSW 2480
Australia
Refund Policy
Refunds up to 1 day before event
Description
WHITE IN WATERCOLOUR

The relationship between transparent media, white paper and light cannot be replicated in any other media. It's what makes watercolour so special, and is also one of its greatest challenges.
This single day workshop is about managing white in our paintings without using tube white - directly, indirectly and with trickery. We discuss the moral issues of keeping it clean, and address the age-old discussion of when is it ok to use body colour. Then we experiment with tube whites, (know your enemy) and take on some fun painting challenges to consolidate the learning.
Suits anyone, from mildly puzzled to downright horrified: any watercolourist, beginner or advanced, or any painter from other mediums.
Overview
A relaxing day in the artist's studio, concentrating on learning about white as it's used in watercolour painting.
This stand-alone class gives artists a chance to really understand how true transparency can only be acheived by learning to manage this exciting technique.
We explore

how to create tonal variations without using white body colour

the one key method that will work everywhere

how to keep the white of the paper crisp

how to wipe back, scrub and negative spatter - with the attendant implications of using staining colours

how to use various masking techniques

some challenges of painting white objects

body colour and when it's appropriate to use and more
Activities will include
- teacher demonstration, discussion
- painting/colour exercises.
- follow-up activities to do at home
- learning experiences are collated into a useful artist-made resource work-book called "The Little Red Book of Watercolour"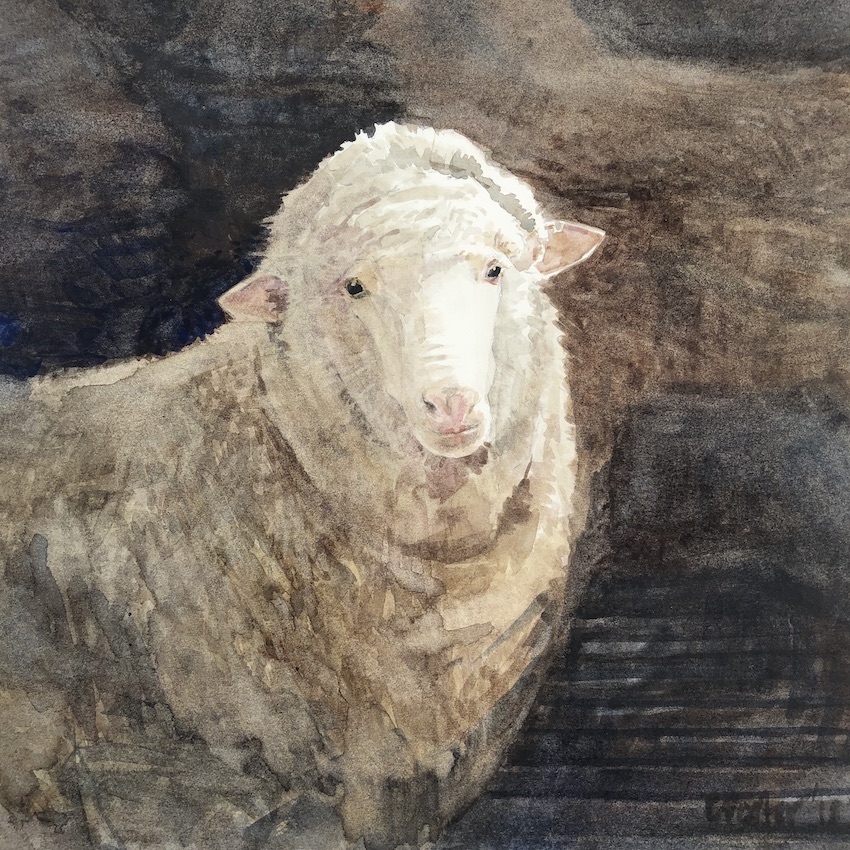 image "Ewe watching" 2018 watercolour 25x25cm by Christine Porter. Note - none of the white on this painting has been painted using tube white.

Class numbers
Maximum of ten students only.

Suitable for:
- Any watercolour painter. Beginner, emerging or experienced. Experienced watercolourists will be encouraged to extend their understanding.
- Other artists - we'll be concentrating on transparent media, however this information translates across to other painting media. Contact Christine if you have any queries.
- There are no pre-requisites
Included:
- full day tuition with prize-winning professional artist and arts educator Christine Porter
- all art materials
- notes, resources for creating the booklet ' The Little Red Book of Watercolour" by Christine Porter
- lunch and morning/afternoon tea ( please advise vego/vegan/GF)
Program
- 8:30am. Studio opens. Tea/coffee will be available from then
- 9am. Christine starts teaching promptly at 9, so please arrive at least 15 minutes before, to settle in
- Midday. Lunch ( provided) Morning and Afternoon tea provided as the day progresses
- 4 pm Class finishes
Needed for the day
- participants must wear closed in shoes
- bring any tube or pan paints you already have, we'll spend some time investigatng them, along with the paints in Christine's collection.
Payment
- Follow the links on this page to pay with your credit card/paypal
- Download an order form here, to enrol and pay directly
- Contact Christine cp@christineporter.com.au to pay with several payments
- Barter. Christine offers one place in each of her classes as short term barter. She often needs the help of a gardener/handyperson/tradesperson. Please contact her directly for details.

The Little Red Book of Watercolour
Christine has developed a work book called "The Little Red Book of Watercolour". It describes everything that Christine has learnt about watercolour in her 30 + years with this media. Each workshop in this series explores a different element of watercolour . Topics include Mixing colour, paper, brushes and other tools, creating the illusion of distance, painting on site, painting trees etc. Each class can be taken independantly, there is no pre-requisite, and the information complements any other teachers' work.
Children?
This class suits adults. If there is enough interest Christine will organise a teenage or children's class, though there are a number of children's art classes in Lismore.
Getting to the workshop, parking.
The workshop is being held at Christine's studio in East Lismore. When you have enrolled we'll send you a mudmap with directions and parking information.
Contact Christine
Email: cp@christineporter.com.au
Website: www.christineporter.com.au
Refund
The latest day for 100% refund: Wednesday September 18, 2019
50% refund if you let Christine know by Friday September 20, 2019
Date and Time
Location
Lismore, NSW 2480
Australia
Refund Policy
Refunds up to 1 day before event