WHERE ARE WE HEADING? Q and A for the Racialised & Criminalised Communities...
Description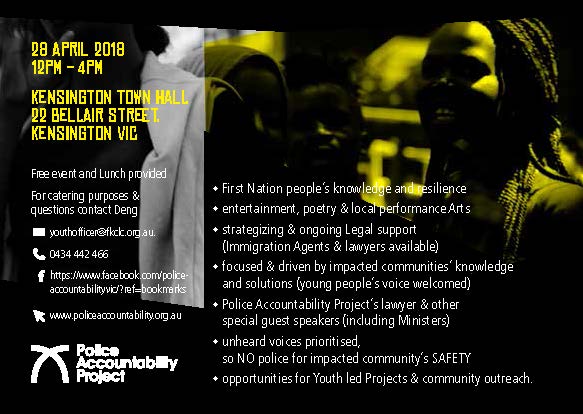 Are you a member of a racialised or criminalised community? Have you got any QUESTIONS you have been aching to ask but never got a chance? Well, this event is for you. An opportunity to share knowledge and expertise with other influential and powerful people with similar concerns in Victoria; To build solutions for strong & resilient communities, able to access justice and feel safe.
FREE, including LUNCH and the following;
• First Nation people's knowledge and resilience,
• entertainment, poetry & local performance Arts,
• strategizing & ongoing Legal support
(Immigration Agents & lawyers available)
• focused on & driven by impacted communities' knowledge and solutions (young people's voices welcomed)
• Police Accountability Project's lawyer & other
special guest speakers (including Minister)
• unheard voices prioritised, so NO police for impacted community's SAFETY, and
• opportunities for Youth led Projects & community outreach.
Why we have not invited the police and not allowing them to this event.
We have specifically not invited Victoria Police members to speak at or attend this particular event for several reasons.
Most, if not all, recent events in Victoria about the racialised crime panic, about policing, racism and discrimination have been attended by or have had police prominent in their speaking lists. This has left very few spaces where young people and those who most experience discriminatory policing can speak about their experience without a police being present.
Whilst it can be good for police to hear and listen to community perspectives it also means some may be reluctant to speak for a range of reasons.
Victoria Police is an enormous organisation and can easily have representatives at every single community event and forum. Many small community organisations or groups cannot. This means some voices and perspectives have had far less opportunity to be heard.
Our project engages with and communicates with police at every level from the Academy to senior command and this is a key part of our role to redressing our issues including End Racial profiling campaign.
However, there are times when space is needed for community members to speak, ask questions, organise and work together without a police being present. This is one such time
This event derived from community's concerns as observed through various meetings, forums and consultations with the impacted communities as a response to racialised reporting and criminalisation of ethnic minorities in Victoria. 'Where Are We Heading?' aims to close the unfilled gaps and create direction for a positive change by engaging the impacted communities to take ownership and control of this event as a platform to strategised for solutions and access to justice.
The event is free but please register for space and catering purposes.

Peer Advocacy Team on Facebook