What's wrong with the Googleplex (and the Apple Spaceship)

Thursday, October 20, 2016 from 6:00 PM to 7:30 PM (AEDT)
Event Details
What's wrong with the Googleplex (and the Apple Spaceship)
They get some things right but it's not all beanbags in the meeting rooms and 'foosball' tables in the kitchen for Google. What's the science behind what has actually been proven to create an innovation culture? Can you "design" a culture of innovation? Join us as we explore these ideas with past TEDxMelbourne speaker Dr Amantha Imber along with some well known organisations to talk about how they innovate.
---
SPEAKERS (more to be announced soon)
Dr Amantha Imber
Author, Innovation Psychologist and Founder of Inventium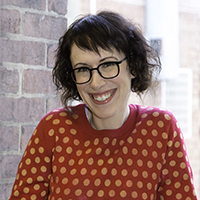 Amantha is an innovation psychologist, best-selling author, and founder of Australia's leading innovation consultancy Inventium. Inventium has been recognised as one of Australia's fastest growing companies in the BRW Fast 100 list, and was also awarded the BRW Client Choice Award for Best Management Consultancy in Australia. In 2016, Amantha was inducted into the Australian Business Women's Hall of Fame.
With a PhD in organisational psychology, Amantha has helped companies such as Google, Coca-Cola, Disney, LEGO, Red Bull, American Express, Virgin Australia, Commonwealth Bank and many others innovate more successfully. Amantha was a finalist in the 2015 Telstra Business Women of the Year awards.
Amantha is the co-creator of the Australian Financial Review's Most Innovative Companies list, an annual list that Inventium compiles, ranking Australia's top innovators. Her thoughts have appeared on The Huffington Post, Forbes, Fast Company, and The Australian Financial Review and she is the author of two best-selling books: "The Creativity Formula" and "The Innovation Formula".
---
Nigel Dalton
Chief Information Officer REA Group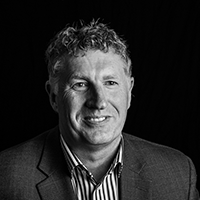 Nigel is the Chief Information Officer at REA Group, the leading global digital media business specialising in property and lifestyle, best known as the parent company of realestate.com.au.
A childhood spent in NZ hill-country left him with world-class agility; resilience to forces far beyond human control (such as rain and pests); a belief in there always being a better way and basic wood-working skills. Cross these traits with 30 years of working (and wrestling) with technology, in small-scale and global enterprises such as Lonely Planet and AXA, not to mention four start-ups, and you have the recipe for leading technology teams at REA Group.
Named as one of Australia's most influential technologists in 2016, his passion is for applying systems thinking, with lean and agile techniques, to modern organisations and work. He observes that nobody really wants 'agile', they actually need 'resilience'.
It's Nigel's passions for sharing knowledge and ways of working that has led him to become known as 'the godfather of agile' in Australia.
---
Suzana Ristevski
Chief Marketing Officer & Head of Strategy & Growth
GE Australia, New Zealand and Papua New Guinea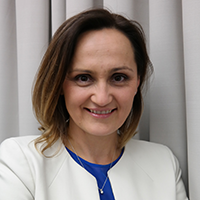 Suzana has over 20 years of marketing and product experience across a range of service industries. Currently she heads up strategy and growth for GE, Australia, New Zealand and Papua New Guinea. Suzana leads GE's growth effort including marketing and sales force effectiveness across energy, water, oil & gas, mining and aviation segments.
Prior to this role, Suzana has held various product and marketing leadership roles in GE Capital (including her appointment as Chief Marketing Officer from 2010 - 2014), Optus Telecommunications, Medical Benefits Private Health Insurance Fund and 20th Century Fox in London.
She has a Bachelor Degree in Economics, a Bachelor of Bus (Marketing) from Monash University, and a Graduate Certificate of Business Administration (AGSM).  She also holds a position on the Melbourne Renegades board (BBL cricket team), Monash University Advisory Board and lives in Melbourne with her husband and two children.
---
Christine Corbett
Chief Customer Officer
Australia Post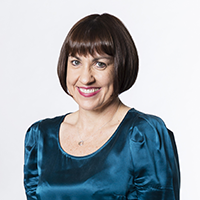 Christine is an accomplished and highly versatile business leader with extensive experience in delivering strong financial and people outcomes in the retail, eCommerce, consumer services and logistics sectors. She is an influential professional with a successful track record in managing large and complex teams to drive a balance of commercial, customer and stakeholder results.
In her role as Chief Customer Officer at Australia Post, she is accountable for creating the experiences customers love and advocating for the customer across the enterprise. She is responsible for all the key customer touch points including over 4,000 post offices, the customer contact centre and digital channels.
Also under her leadership is Australia Post's customer experience capability that includes brand strategy, marketing and insights, the major customer improvement programs as well as the community and corporate social responsibility teams. Tasked with transforming the product and service offering for consumers and small businesses, Christine is focused on ensuring the iconic Australian brand continues to meet the contemporary needs of all Australians.
A passionate campaigner for the customer experience, key areas of focus include driving innovation and simplicity in customer interactions, focusing on the fundamentals of what drives customer advocacy and ensuring inclusion for all Australians as businesses and government seek to digitise essential services.
Since joining Australia Post in 1990, Christine has held a number of key leadership roles across retail, mail network, strategy, major change, marketing and communications. Christine has a Bachelor of Law and a Bachelor of Business (Communication) from the Queensland University of Technology and is a Graduate of the Australian Institute of Company Directors.
---
Not sure what goes down at a TEDxMelbourne event? Check out photos from past events
Get social with us! If you're tweeting about this event, use #TEDxMelbourne
---
This independent TEDx event is operated under license from TED. In the spirit of ideas worth spreading, TED has created a program called TEDx. TEDx is a program of local, self-organized events that bring people together to share a TED-like experience. Our event is call TEDx (name), where x=independently organized TED event. At our TEDx (name) event, TEDTalks video and live speakers will combine to spark deep discussion and connection in a small group.The TED Conference provides general guidance for the TEDx program, but individual TEDx events, including ours, are self-organized.
When & Where

Deakin Edge, Federation Square
Swanston St & Flinders St
Melbourne, VIC 3000
Australia

Thursday, October 20, 2016 from 6:00 PM to 7:30 PM (AEDT)
Add to my calendar