Learn what's happening at West Beach and progress being made on the Securing the future of our coastline project.
About this event
Adelaide's coastline is one connected system - the sand naturally moves northward by the wind and waves.
The state government manages the metropolitan coastline for the community to enjoy sandy beaches and to protect the foreshore from storms.
The state government has committed $48.4 million to secure the future of our coastline. The investment includes:
Construction of a sand recycling pipeline from Semaphore to West Beach to move sand from beaches where it builds up to beaches that are eroding.
Delivery of a large quantity of sand (up to 500,000 cubic metres) to West Beach from outside of Adelaide's beach system.
Dune stabilisation and restoration using best practice techniques and native plants in partnership with local councils and coastal community groups.
Before the pipeline is built and the external sand is delivered, sand needs to be moved from Semaphore to protect West Beach in the interim.
The design of the Semaphore to West Beach sand recycling pipeline is underway and the department is planning for the delivery of a large quantity of sand to West Beach from land-based quarries to help rebuild West Beach by the end of 2021.
Find out about upcoming works on Adelaide's beaches.
PLEASE NOTE:
This event was originally planned to include an update on the development application being lodged to enable the construction of a new sand pumping system from Semaphore to West Beach.
The lodgement of the development application has been delayed, and the community information sessions regarding this have been postponed. New dates for these events will be announced soon. (Find out more about this at: www.environment.sa.gov.au/CoastEvents).
The focus of this event will now be on beach works at West Beach, including delivery of sand from land-based quarries commencing in August 2021.
About the speaker
James Guy is the Project Manager for the Securing the future of our coastline project with the Department for Environment and Water. James is a coastal engineer with post graduate environmental qualifications. He leads a team of coastal engineers, scientists and community engagement specialists that are responsible for delivering the Securing the future of our coastline project. He has extensive South Australian coastal management experience and has also spent five years in the Pacific region delivering AusAID projects.
Who should attend?
Coastal residents in West Beach and Henley Beach South
Dune group volunteers
Contact
For more information contact:
Email: DEWcoasts@sa.gov.au
Phone: 8124 4928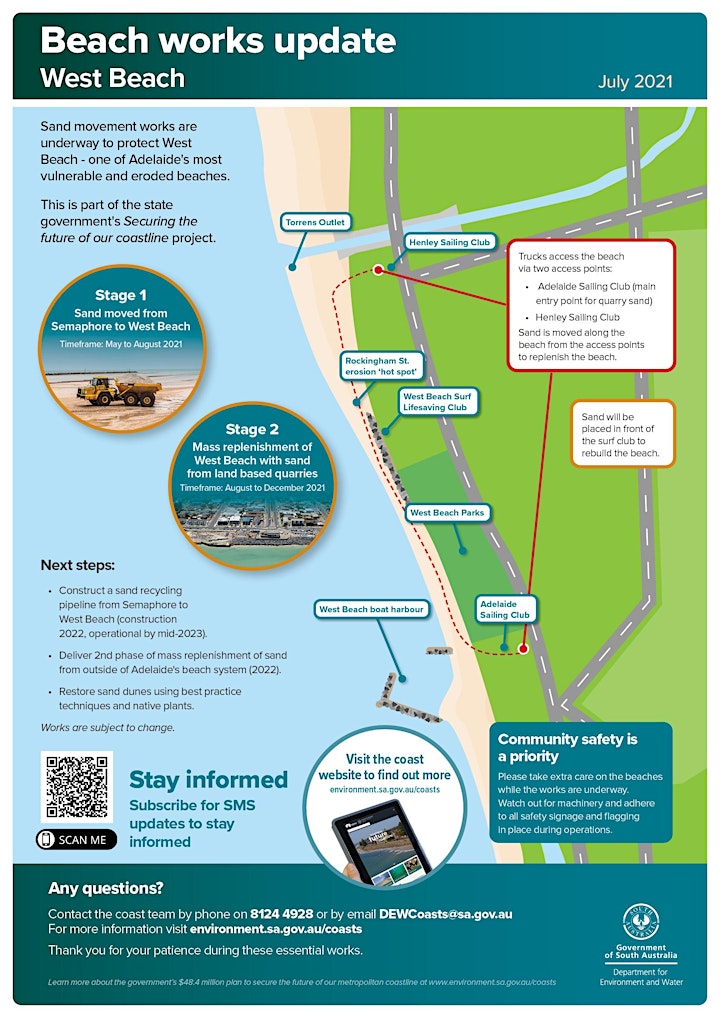 Organiser of What's happening on Adelaide's beaches - West Beach event