Description
Collective Campus & URWork presents
What makes an effective Corporate/Startup partnership
At a Glance
This 1 hour introductory webinar is for startups who want to work with corporates, and for corporates who want to work with startups.
When done correctly, this can lead to a fruitful relationship where the startup can access the corporate's immense resources, distribution channels, and brand name. On the other side, the corporate can access innovative solutions, cost savings, and even talent.
Of course, such partnerships are not without their risks and potential pitfalls. For startups, progressing things with a large incumbant can be a long haul, and when runway is everything, it's important to be prepared for the long sales cycles and often extranous demands.
For the corporates, working with a startup can be inherently riskier than going for the usual bluechip suppliers, and whilst it's almost never as risky as initially though, this is where alignment on communication and expectations are key in any engagement.
Who should take this workshop?
If you answer yes to any of the following questions then this webinar is for you.
Are you a startup founder with a product or service you'd like to sell to corporates?

Are you a corporate employee interested in partnering with, or acquiring startups?
Your Host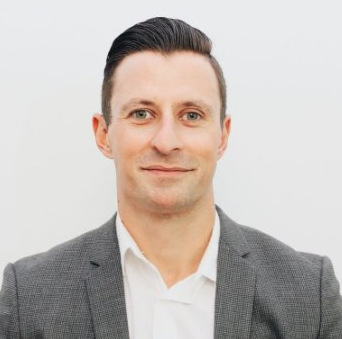 Steve Glaveski is an entrepreneur, keynote speaker, author and podcast host.
He is the CEO and Co-Founder of Collective Campus, a corporate innovation hub, school and consultancy based in Australia and Singapore that works with large organisations to help them adopt the mindsets, methods and tools required to successfully explore new business models in an era of rapid change.
The organisation has helped MetLife Insurance, Australian Unity, Sportsbet, King & Wood Mallesons, Mills Oakley, Telstra and National Australia Bank with their innovation goals and has just announced a global EdTech startup accelerator, based in Singapore.
Steve wrote the Innovation Manager's Handbook vol 1 and 2 and hosts Future², an iTunes chart topping podcast on corporate innovation and entrepreneurship which has seen him interview thought leaders such as Steve Blank, Ash Maurya, Alec Ross and Karen Dillon.
A keynote speaker on corporate innovation, Steve has graced the stage at CPA Congress across Australia in 2016, PauseFest, HRx, ANZ, NAB, Bupa, CarSales, Downer Group, Australia Post, CapGemini and VicRoads, amongst others.
More recently, Steve founded Lemonade Stand, a children's entrepreneurship program for 9-12 year olds that teaches them the fundamentals of design thinking, the lean startup philosophy, coding and developing augmented realities. The program has been rolled out across Australia and Singapore.
He previously founded HOTDESK, an office sharing platform and has worked for the likes of Westpac, Dun & Bradstreet, the Victorian Auditor General's Office, Ernst & Young, KPMG and Macquarie Bank.


Partners
Webinar Link
Join the webinar here: https://collectivecampus.webinarninja.co/my/wnwebinarlist/index?webinar_id=84848