What does a Climate conscious future look like? - 2 Formal CPD Points
About this event
Skellefteå, a town in Northern Sweden has a long history of constructing their buildings entirely with wood.
Schools, bridges, car parks and apartment blocks designed and built with timber feature prominently throughout the city.
The most recent addition to Skelleftea is Sara Kulturhus. Designed by leading Scandinavian Architects, White Arkitekter, Sara Kulturhus is one of the world's tallest hybrid timber buildings and houses an Art Gallery, Museum, Regional Theatre alongside the City Library and a 250 room "Wood Hotel" culminating in a 75-metre-tall hybrid timber tower. 
The development stands as a beacon of what is possible to achieve with hybrid timber buildings – while at the same time storing about 9,000 tonnes of carbon from the atmosphere in the process.
As we search at home for ways to minimise carbon emissions in our designs and buildings, Skelleftea is a model of sustainable design and construction that we can look to for inspiration. 
Australian architects, engineers and builders are at the forefront of the climate emergency. With construction contributing to around 40% of total carbon output our industry must embrace new building technologies and materials to reduce carbon and work with clients and partners to achieve this goal.
Australian Architects Declare (a network of architectural practices committed to addressing the climate and biodiversity emergency) believe that -  
"…. the research and technology exists to begin the transformation to sustainable design and construction but what has been lacking is a collective will…"
 White Arkitekters, Robert Schmitz  expressed similar sentiments for Sara Kulturhus.
" One of the biggest challenges of the project was convincing people to build something that hadn't been built before. But with the will and ambition we were able break new ground in wood architecture and sustainable construction…what we see now is the result of a great collaboration both with the municipality, partners, and our interdisciplinary team at White, where we all have worked diligently towards the same goal."
Join us on February 9, 2022, for …..What Does a Climate Focused Future Look Like…. featuring a keynote presentation on the Sara Kulturhus development by Robert Schmitz live from Sweden. The webinar will be moderated by Phil Gardiner (WSP) who will be accompanied by Lauren Schmidt, Fire Engineer (WSP), Robert De Brincat, Viridi Group Head of Strategy & Business Development and Paul Kremer, PrefabAus
Led by Phil, the panel will look at how engineers, architects and builders can lead the transformation to sustainable design through adopting modern building systems and materials and working collaboratively with clients to look to "non-traditional" designs that are commercially viable and contribute positively to lower carbon outcomes.
A key focus will be learning from the Swedish experience of Sara Kulturhus and how similar projects can be adapted from the project to Australian conditions.
Topics to be covered, include :
The evolution of the mass timber construction market in Australia – How far has it come and how far can it go?
Case Study of Sara Kulturhus  - background, competition and how the municipalities (together with the forest industry) in Sweden is collaborating towards a sustainable building industry.
Sara Kulturhus design process and re-thinking sustainable construction when designing complex buildings with timber. 
Are Australian consumers becoming more educated about the buildings that they purchase, and where does sustainability really sit on their priority list?
Understanding fire dynamics: How does the use of mass timber make a difference?
Technologies that are available to assist designers to move more rapidly to zero caron projects?
What are the  tools available to measure sustainability in construction?-  how well do these tools provide a realistic picture of sustainable outcomes and do they provide a meaningful interpretation for consumers?
What are the benefits with pre-fabrication and off-site production?
Is the Australian construction industry doing enough to help reduce impacts on the environment through the adoption of sustainability building methods?
Designing fire-safe timber buildings: A case study
How do we overcome "cultural barriers" to non-traditional construction - does it have to be all or nothing to achieve sustainable outcomes?
Risk Vs Reward – The Australian construction industry is desperate for innovation, but is the perceived risk too high to see the potential return?
Cost to attend is $90 per person plus GST. Save 10% when you buy 2 or more tickets. Purchase includes access to live studio recorded webinar, course notes, MP4 recording of the session and CPD certificate
Meet the Experts
Robert Schmitz | Associate, White Arkitekters
Robert Schmitz is an architect and partner at White Arkitekter, Sweden. He is an award-winning designer and has extensive experience with projects of cultural significance and high complexity. Robert has a demonstrated history of working in the architecture & planning industry and is skilled in Sustainable Design, Urban Design, Urban Planning, Architectural Design, and Architecture. Some of the winning proposals he's been working on includes SEB's ( Finance) new headquarters, the new Municipal Building of Täby and Skellefteå Cultural Centre. Since 2013 Robert is named Stockholm Director of Competitions and is part of the Strategic Office Management.
Robert De Brincat | Viridi Group, Head of Strategy & Business Development
Robert De Brincat is the Head of Strategy & Business Development at Viridi and has over 20 years' manufacturing and construction experience. Robert's work in the timber industry has helped influence the development of prefabricated timber solutions in Australia and he is now considered one of the leading industry experts in commercial timber construction. Robert believes that the construction industry in Australia is on the cusp of an offsite revolution and that prefabricated timber will provide the market with the most cost effective and sustainable solution available.
Phil Gardiner | Principal Director, WSP
Phil has over 40 years' experience in engineering consultancy across all types of buildings and engineering structures. Phil's broad experience includes low, medium and high – rise commercial and residential buildings, large clear span and high bay industrial developments, educational, sporting and healthcare facilities, as well as maritime and other civil engineering structures. Phil's project base includes structural consultancy in Hong Kong, Malaysia and the United States as well as all Australian mainland states. He is a leader both technically and managerially and regularly invited to present at seminars and tertiary institutions. Phil is a committee member of the Victorian Property Council and the Australian Board of the Council of Tall Buildings and Urban Habitat.
Laura Schmidt | Fire Engineer, WSP
Laura Schmidt has a background in fire safety engineering and a passion for the fire safety of sustainable construction and timber buildings. She is currently working as a Fire Engineer at WSP Australia. Her research to date has primarily focused on the performance of engineered timber and innovative timber-composite materials exposed to fire conditions. Laura completed the prestigious International Master of Science in Fire Safety Engineering (IMFSE) which is a joint degree of four world-leading universities: Ghent University (Belgium), Lund University (Sweden), The University of Edinburgh (UK) and The University of Queensland (Australia). Her Master's thesis "Experimental Study on the Effect of Char Fall Off on the Heat Transfer within Loaded Cross-Laminated Timber (CLT) Columns exposed to Radiant Heating" was awarded the "Margaret Law Award Outstanding Thesis Research". Laura also holds a BSc in General Engineering Science from the Hamburg University of Technology (Germany) with a focus on civil and environmental engineering.
Paul Kremer | PrefabAus
Paul is a Board member of PrefabAUS and has been instrumental in evolving the mass timber construction market in Australia and New Zealand over several years, working specifically in the prebuild and panelised construction sector. More recently Paul worked with XLam on Australia's first CLT plant, and he is an Associate Professor in Engineering at Deakin University and Research Fellow at the University of Melbourne in the Infrastructure Engineering undertaking research and supervising students. Paul is a published author with several peer-reviewed papers, is a Gottstein Fellow, and the founding editor of the Mass Timber Construction Journal and founder of the International Association for Mass Timber Construction.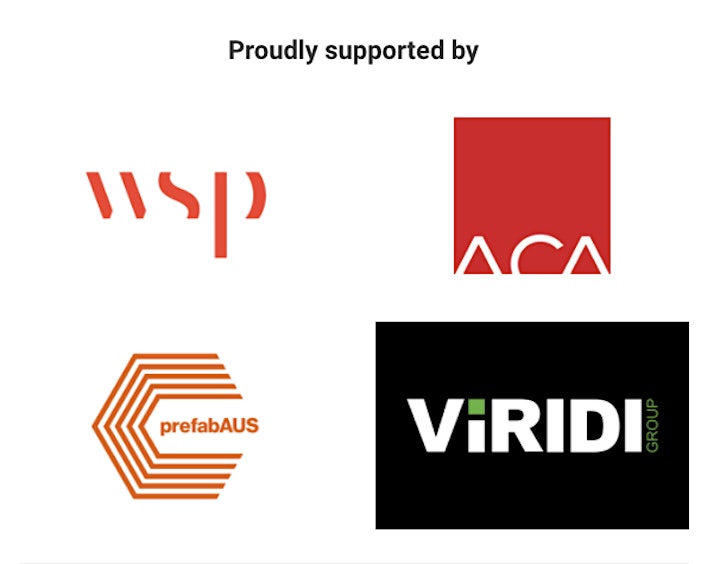 CPD Learning Outcomes - at the conclusion of this webinar attendees will be able to:
Describe the concept of material optimisation in construction
Design: Schematic Design 4.6
List 3 ways designers can accelerate to zero emissions in their projects
Design: Schematic Design 4.7
List 3 "not traditional" methods of construction
Design: Conceptual Design 3.2
List the key differences in fire dynamics when using timber in multi-storey construction
Design: Schematic Design 4.