What are bosses looking for? Hear it directly from an industry leader
About this Event
Grab this chance to listen to Jessica Zhu - Managing Director, BHD Storage Solutions as she gives you the Boss's viewpoints on Being a Valued Employee or Ideal Job Seeker.
Guest Speaker:
Jessica Zhu, Managing Director BHD Storage Solutions - No. 1 Cantilever Racking Supplier in Australia.
About Jessica:
In 2013, Jessica joined BHD Storage Solutions – Australia's No. 1 cantilever racking supplier in a role that is best described as "unclear" and with little knowledge of how local Australians do business. Hailing from Jiangsu, a coastal Chinese province north of Shanghai, Jessica relied heavily on her resilience, resourcefulness and drive to succeed in her new employment landscape. She rolled up her sleeves and hit the ground running as she learnt the trade and built strong relationships with employees, suppliers, retailers and other industry partners.
Under her leadership, BHD's revenue soared from $3 million to $20 million. BHD's business portfolio grew from niche-market focussed with a team of nine to a full-service, turnkey storage solutions provider with bases in seven states all over Australia and a global client-base that includes the United States. In 2019, BHD expanded its manufacturing arm into Vietnam.
Meet Jessica as she talks about her life and personal philosophy, her experience navigating and succeeding in the corporate world and her perspectives on what an employer wants from individuals seeking work opportunities post-COVID.
About BHD Storage Solutions "BHD"
BHD is the No. 1 Cantilever Racking supplier in Australia, with offices and sites nationally. BHD won the "Best Storage Solutions" at the Mercury Awards, MEGATRANS2018.
BHD is a major client of AUS Career Coach. AUS Career Coach have recruited employees for BHD including job applicants from overseas.
Host/ Facilitator: Michelle James, Founder & Director AUS Career Coach
Sponsors: Biggin & Scott Mitcham, RST Consulting, Pinki Pinki Tea, Sunday Sweets, Essential Oils Freedom, Kitchen Kind, Asian Pantry .
Exciting prizes to be won, donations are welcome to the Friends of the Children Foundation Inc.
NGO Partner: VicWISE Inc.
Career / Education Opportunities from AUS Career Coach:
Michelle will also be providing information on career / education opportunities after the webinar. Please contact her on 0408 216 740 or email: Michelle@auscareercoach.com.au
Access Link to join the event
Zoom Video Conferencing | The access link will be made available once you have registered for the event.
FAQs
What to prepare for this virtual event?
For this session, it would be advisable for you to have a pen and a paper to write notes down and ask us any questions.
If I have any questions, who can I contact?
For further enquiries, call Michelle on 0408 216 740 or email: Michelle@auscareercoach.com.au
Visit AUS Career Coach here:
Main website: http://auscareercoach.com.au/services/
ACC LinkedIn: https://www.linkedin.com/company/aus-career-coach/
ACC Facebook: https://www.facebook.com/auscareercoach
ACC Facebook: https://www.facebook.com/groups/JobsInMelbourneforMigrants
VicWISE Facebook: www.facebook.com/VicWISEInc
FOTCF Facebook: https://www.facebook.com/fotcf.net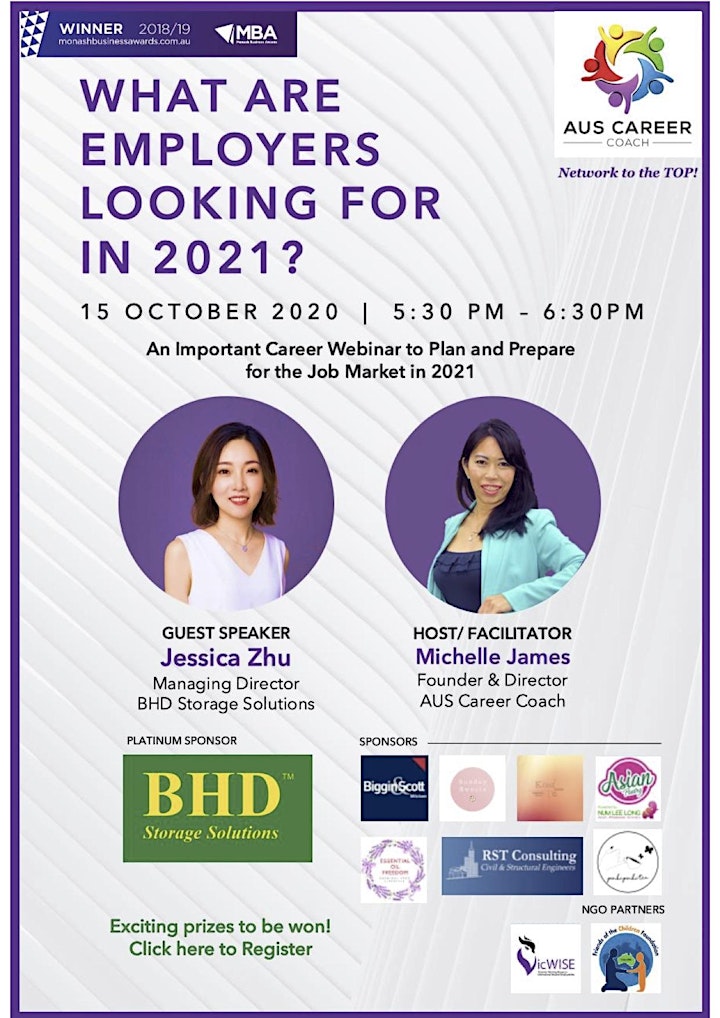 If you make a donation to the Friends of the Children Foundation, you can win exciting prizes (valued up to $1,000).
Free Consultation by Biggin & Scott Mitcham Real Estate, experts in the commercial and residential sales and rental markets. Call Director, Peng Chung 0418 179 752 to discuss all your property needs.
$100 Coles vouchers from RST Consulting
Delicious sweets from Sunday Sweets
Herbal teas from Pinki Pinki Tea
Essential Oils Freedom donating essential oils packages!
Groceries from Asian Pantry
Malaysian Curry Puffs from Kind Kitchen