Description
The Chair and Board of Western Melbourne Tourism Inc invite you to attend a stakeholder update on our visitor economy and to launch a new strategic tourism strategy for our region.
Venue: Brimbank Community and Civic Centre (Level 6)
301 Hampshire Road, Sunshine
Date: Thursday, November 29
Time:
Briefing: 4.30pm - 5.30pm
Networking drinks and finger food: 5.30pm - 7.00pm
~ ~ DOOR PRIZES! ~ ~
Be in the running for some great westie experiences with our door prizes.
Please register your attendance via Eventbrite.
When registering please indicate any special dietary needs.
Western Melbourne Tourism has been leading the region's participation in the development of a new Greater Melbourne Destination Management Visitor Plan, and sub-regional plan for Melbourne's west. This plan provides fresh research insights and recommendations to enhance the appeal of our region to visitors; broaden visitor experience beyond the CBD; and provide a strategic framework to grow our visitor economy.
Contact for further information:
Richard Ponsford, Executive Officer, Western Melbourne Tourism,
Email: richard@melbourneswest.com.au or Phone: 0417 545 141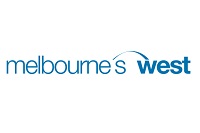 Council Partners: