Location
Adelaide 36ers Stadium
44a Crittenden Road
FINDON, SA 5023
Australia
Western Business Leaders Breakfast - hear about investment plans for the West
About this event
With a reputation as a great business environment in a much-loved location, major public and private investment continues to add to the capability, growth and attractiveness of the City of Charles Sturt.
Therefore, it's no surprise that developer Pelligra, headed by Ross Pelligra (Chairman) and his brother Paul Pelligra (CEO) have made a commitment to investment in South Australia. Ross Pelligra is also something of a sports nut and is redeveloping the old Findon basketball stadium with a $20m redevelopment and rebranding of the Adelaide 36ers Arena.
New developments, including the $53 million Coopers Stadium renovation in preparation for the FIFA Women's World Cup Australia & New Zealand 2023™, will also provide a great opportunity to showcase world-class sporting facilities that will attract thousands of domestic and international fans.
Join us for our latest Western Business Leaders Breakfast where Ross Pelligra will share with us why South Australia and why Charles Sturt. Joining Ross will be Jenny Mann, General Manager, Acquisition and Development, Events South Australia, who is playing a key role in the delivery of the Women's World Cup.
Jenny will provide a snapshot of some upcoming unmissable event experiences including Illuminate Adelaide, the ICC Men's T20 World Cup 2022 and the FIFA Women's World Cup 2023. She will highlight the collaborative multi-stakeholder approach in hosting major sport events as well as the opportunities for community engagement and legacy that come through these events.
We will also share with you an update on what's happening at Hindmarsh and Findon, and what current and future investments and opportunities exist in the City of Charles Sturt.
Reserve a seat at our next Western Business Leaders breakfast where we will be joined by:
Mayor Angela Evans - Welcome
Ross Pelligra, Chairman Pelligra, Stadium owner and developer - Why South Australia and why Charles Sturt
Jenny Mann, General Manager, Acquisition and Development, Events South Australia - The opportunities from events to drive visitation, generate tourism expenditure and create jobs.
Craig Daniel, Manager of Urban Projects, City of Charles Sturt – Current and future investments and opportunities in Charles Sturt
Your emcee on the day will be Mike Smithson, award winning Channel Seven News Senior Political Reporter and presenter.
Who should attend?
Businesses, developers and stakeholders with an interest in investment, growth and tourism in the Charles Sturt area.
On the day
Doors will open at 7:30am for a 7:45am start and coffee and breakfast will be served in line with COVID-19 restrictions. Official proceedings will start promptly at 7:45am.
Photography will be undertaken at the event.
About the speakers
Ross Pelligra
Chairman of the Pelligra Group, a third-generation property developer, Ross Pelligra has extensive knowledge and experience in the property industry nationally and internationally.
Ross took control of the Group's future at the onset of the GFC and has grown it tenfold, to its current multijurisdictional investment portfolio, both in Australia and overseas. This includes various property classes such as residential, commercial, industrial etc. and trading entities including but not limited to Manufacturing, Sporting & Entertainment and Hotel & Tourism ventures.
Ross' next ambition foray that he feels very passionate about, is to substantially grow his current portfolio of 11 hotels, working towards the new frontier of accommodation offerings for future generations by utilizing technology and cutting edge design.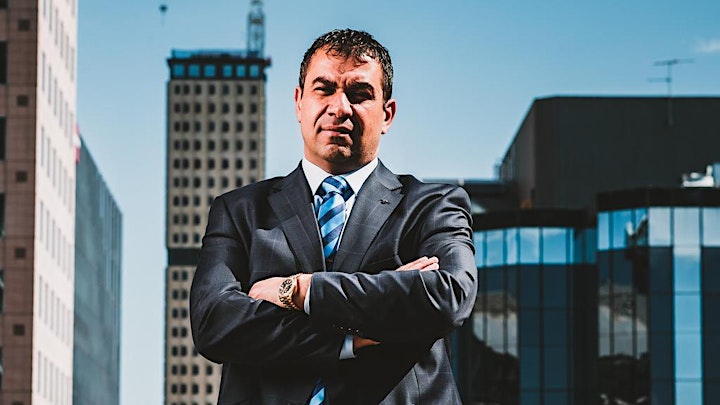 Jenny Mann
Jenny has two-decade plus proven track record in the planning and delivery of Olympic Games, global sport events, marketing and esports initiatives.
FAQs
Q. I have specific dietary requirements. How can I let you know?
A. We are happy to take into account any specific dietary requirements you may have, just indicate these on your order form.
Q. How do I get there and where can I park?
A. Adelaide 36ers Arena has onsite car parking for up to 2,500 vehicles. Access is from Crittenden Road via Stadium Access.
Q. Where do I enter on the day?
A. Please enter via the 'Corporate Entrance' of the stadium's north-north-east.