Description
Celebrate the holiday season with Westerly with an evening of creative readings! We are excited to share that the event will feature our Editor for Poetry all the way from Victoria, Cassandra Atherton. We are delighted to welcome this highly acclaimed writer to Perth and hope you are able to join us in celebrating her visit at this readings event!
As a special treat, we will have readings from all three Editorial Advisors at Westerly: Cassandra Atherton, Rachel Robertson (Editor for Prose), and Elfie Shiosaki (Editor for Indigenous Writing). We will also be featuring writers published in Westerly throughout the year, before we throw the open mic to you! Don't forget to bring your work for a two minute spot at the mic!
ABOUT OUR GUESTS: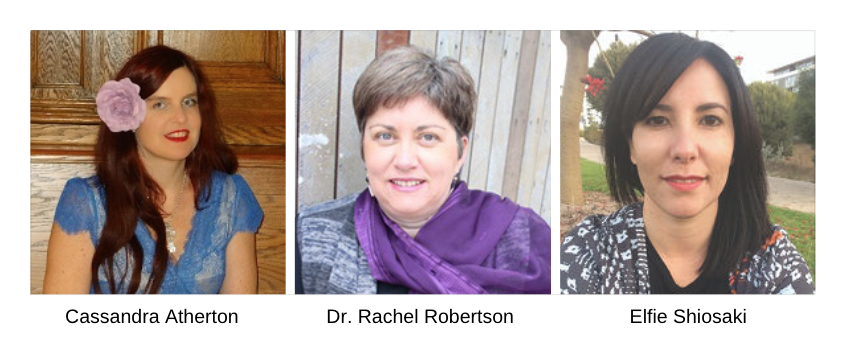 Cassandra Atherton is an award-winning Australian prose-poet, critic and scholar. She was editorial advisor for the Australian Book Review in 2012–2015, and Harvard Visiting Scholar in English in 2015–2016 and is recognised as one of the finest prose poets in Australia.
Dr Rachel Robertson is an award-winning writer and Senior Lecturer in professional writing and publishing at Curtin University. She is the author of Reaching One Thousand, which was shortlisted for the National Biography Award in 2013, and co-editor with Liz Byrski of Purple Prose, a collection of creative nonfiction inspired by the colour purple.
Elfie Shiosaki completed her PhD in Political Science and International Relations at the University of Western Australia in 2015. She was awarded first class Honours in Asian Studies and Political Science at UWA in 2005 and a Bachelor of Arts at UWA in 2004. She is currently working at the Centre for Human Rights Education at Curtin University as an Indigenous Post-Doctoral Research Fellow.
This is a free event but places are very limited, RSVP now to avoid missing out!