Description
We invite you to come and help us celebrate the launch of our latest issue!
Westerly 63.2 features a wealth of reading, including writers and artists David Malouf, Julie Dowling, Rose Lucas, John Kinsella and Fay Zwicky (in interview), Geoff Page, Carrie Etter, Wayne Price, Anne Elvey, and many more.
We are thrilled to present this issue, which is a dynamic and diverse volume brimming with powerful and evocative writing. Westerly 63.2 is unthemed, and offers our traditional mix of fiction, creative non-fiction, poetry, scholarly essays and reviews, as well as two interviews. An engagement with Indigenous authors in the issue highlights our locatedness on Whadjuk Noongar boodja, Westerly's presence on Country, and the complexities of past and future that involves.
Published within are more than forty-five contributors from many different cultures and locations, both in Australia and abroad. Several works in different ways explore the idea of writing as a way of locating the self: in embodied or conceptual forms, through identification with animals and the natural world, in music and artwork, in family and heritage, in trauma, in nostalgia, and in evoking the past.
Women's poetry is also highlighted in this issue, with two vibrant collections of poetry featured. The first is a series of works written by the Northam Yorgas and published with the support of the Community Arts Network (CAN). The second is a collection of prose poetry from five international women writers, curated by our Editor for Poetry, Cassandra Atherton.
Westerly 63.2 will be launched by Tracy Ryan and John Kinsella at 6pm on Thursday 22nd November in the Shakespeare Garden, behind the New Fortune Theatre, at the University of Western Australia. Light refreshments will be served.
We invite you to join us for a great evening celebrating Australian literature! The issue will be for sale on the evening, or will be released for purchase through the Westerly website.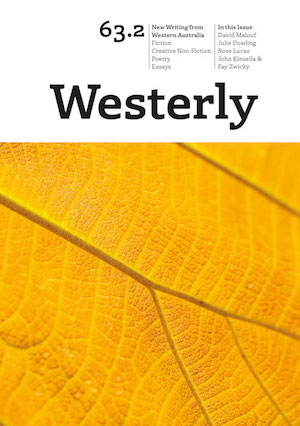 Westerly acknowledges the important support provided by the Department of Local Government, Sport and Cultural Industries (Culture and the Arts), the Australia Council, the Cultural Fund of the Copyright Agency, and the University of Western Australia.