West Wimmera Health Service 'Loop the Greens'
Description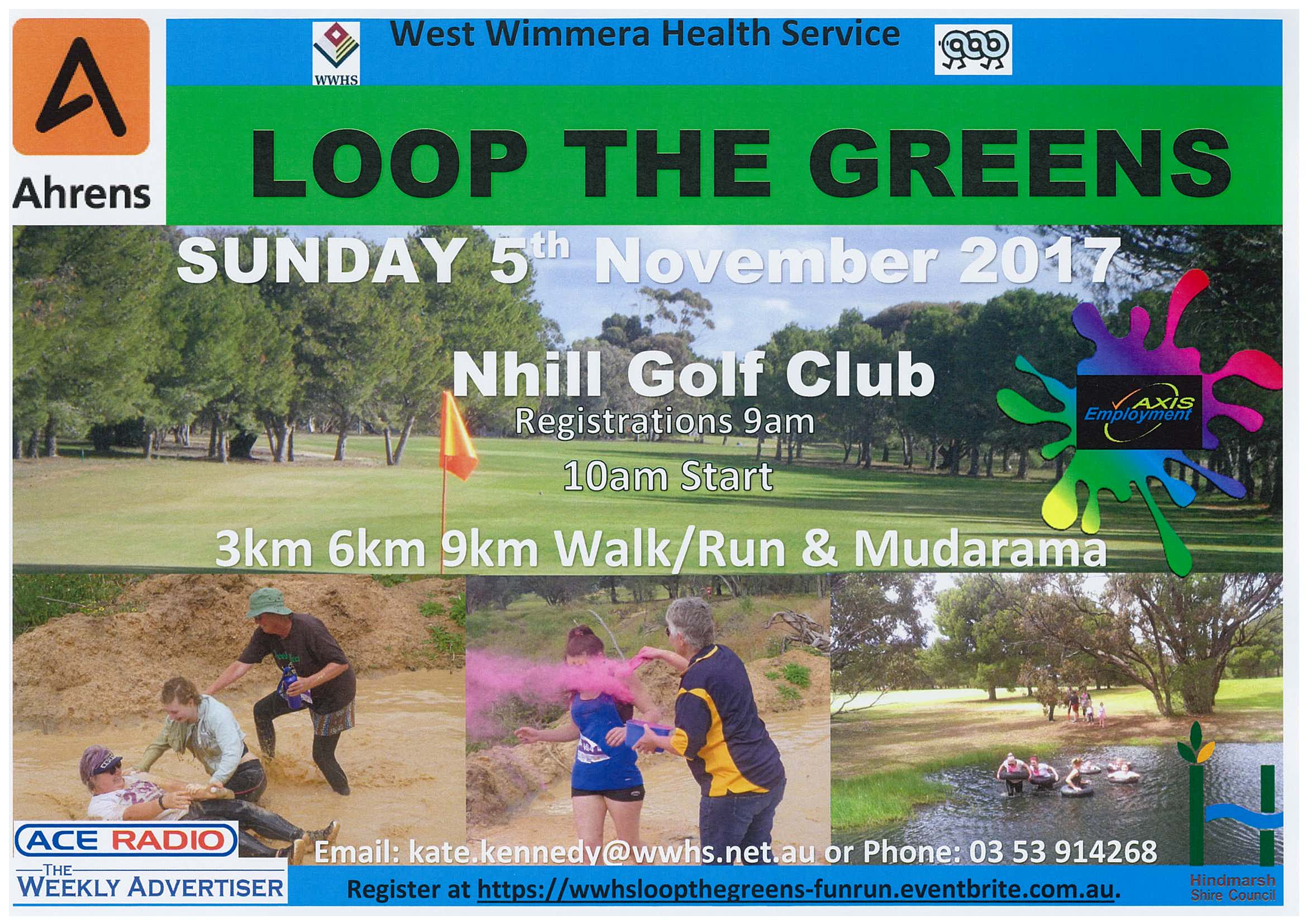 Fun Run 9.00am Registration for 10.00am start.
Mudarama Registration commencing 10.00am for 11.00am start.
A Fun Run/Walk featuring a Mudarama Obstacle Course with mud, water and colour winding through the Nhill Golf Course. 3, 6 & 9 km walk/run options along with the all inclusive Mudarama course for all the family to enjoy. Slide along our water slides, climb the climbing walls, be colour bombed with an array of coloured powder, crawl, jump, splash. have a fun filled time while helping us to raise funds for the new West Wimmera Health Service Rehabilitation Centre, Hydrotherapy Pool and Community Gymnasium which will be a major asset for all of our communities.
There will be a jumping castle, lucky dips, mini golf, face painting, food, drink and more.
Hot showers provided for those participating in the Mudarama Course.
A new Challenge Event will be an addition to the Fun Run this year with nominated high profile members of the community raising funds and completing their challenge.
Please fill out, sign and bring along your Registration Form to the event. For Express Entry on the day email your completed form along with record of online payment to kate.kennedy@wwhs.net.au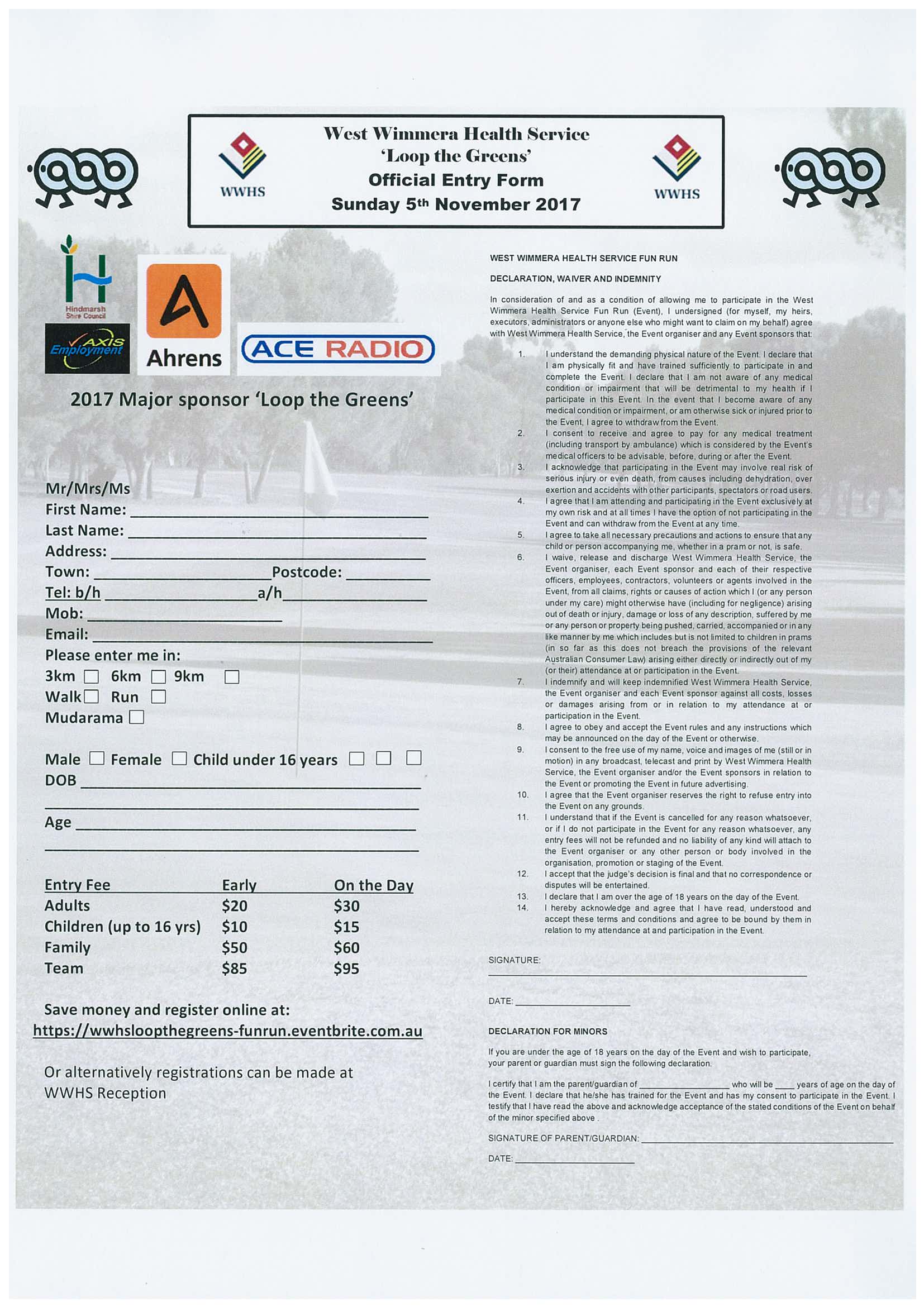 Acknowledging our Major Partners ACE Radio, Ahrens, Hindmarsh Shire & AXIS Employment.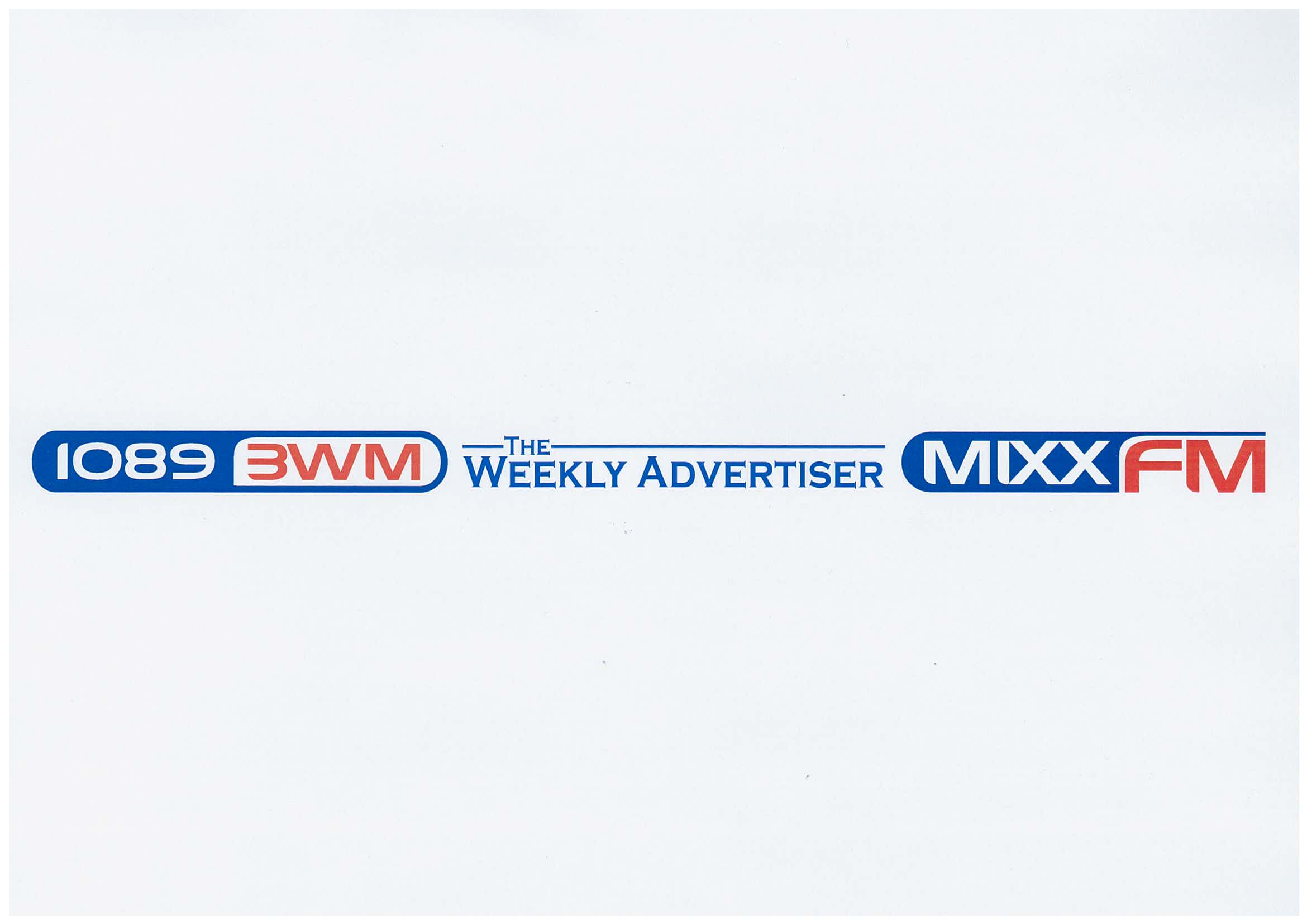 Ahrens is your one-stop shop for construction, engineering, mining and rural infrastructure solutions. Ahrens came from humble beginnings as a single blacksmith shop more than 110 years ago. Over the years, the fourth generation family-owned business has expanded and grown to be a national full-service company.
Today, Ahrens delivers a complete range of project services and cost-effective solutions across the country and globally. A continued growth has seen our in-house capabilities increase and our workforce rise to more than 500. We work with all our clients to deliver customised value-for-money solutions, whilst maintaining the highest levels of safety, quality and service.
Ahrens has a strong focus on being a part of the local communities in which we operate and is proud to continue its support for the West Wimmera Health Service Loop the Greens Fun Run.
Discover more about Ahrens, visit www.ahrens.com.au