Description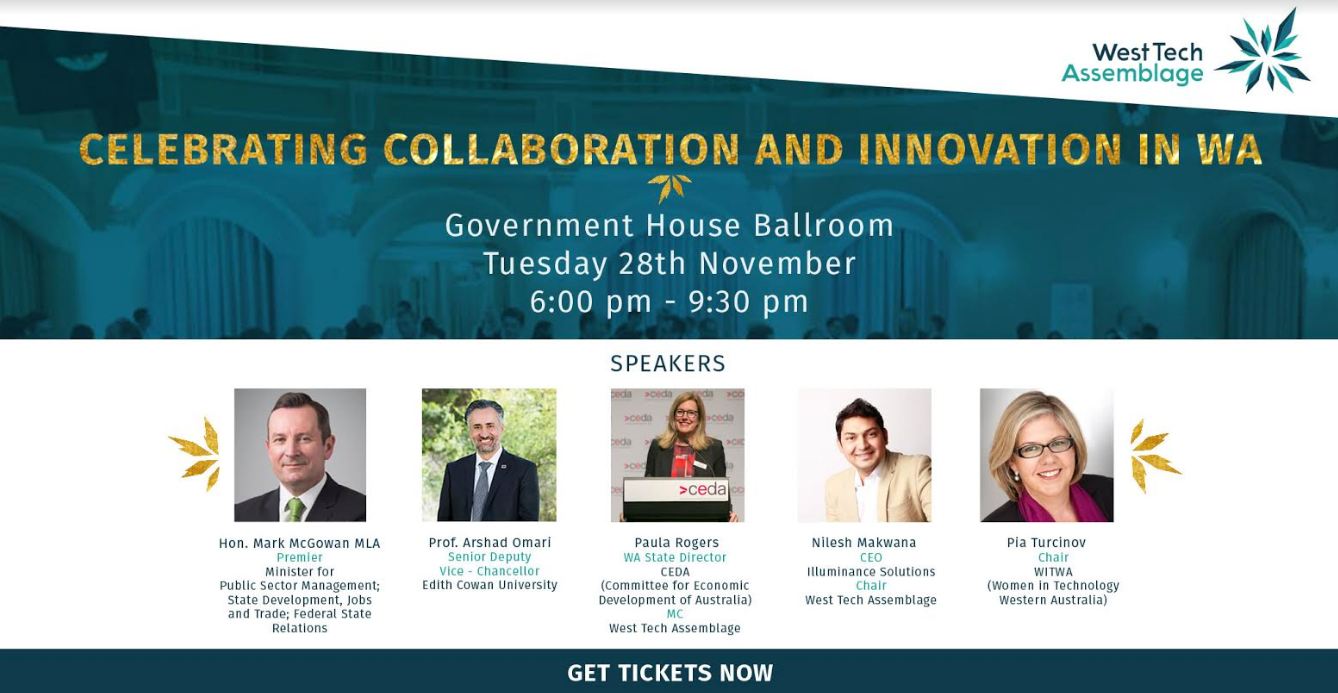 2017 WTA SPEAKERS:
The Honourable Mark MCGowan, Premier of Western Australia will be your key speaker this year! Along with Professor Arshad Omari Senior Deputy Vice-Chancellor of Edith Cowan University, Nilesh Makwana, CEO Illiminance Solutions & Founder of West Tech Assemblage, Paula Rogers WA State Director – CEDA and Pia Turcinov, Chair – Women in Technology Western Australia (WITWA).
Who will be there?
West Tech Assemblage is the annual gathering of the 'who's who' in technology and innovation in WA. The only opportunity in the year for entrepreneurs and makers in the WA technology ecosystem to come together under one roof.
It will bring together Western Australia's finest technology entrepreneurs, innovators, startups, and organisations. A meeting of tech minds, from thinkers, creators, makers and collaborators to investors and influencers.
We are expecting 200 guests to attend.
Why West Tech Assemblage?
The technology sector In WA is acknowledged as a hard-working, head down, tenacious collection of creatives, entrepreneurs, innovators and influencers that are highly-skilled, motivated and collaborative.
As Chief Scientist of WA Prof Peter Klinken said at the 2015 event "It's not like everyone here is competing, In many ways they're all complementary to each other. But sometimes you need the nucleation step before you form the crystal" West Tech Assemblage is your nucleation step, it gives the tech sector a voice and helps keep WA on the innovation agenda.
This is your opportunity to stimulate new ideas and contacts, to foster future collaborations and to recognise and acknowledge the growth and success of everyone involved in the technology ecosystem in WA.
This is the knowledge economy, the driver of productivity and economic growth. Be a part of the drive for collaboration, dispel the fragmentation and change the mindset.
All the info on speakers and sponsors is available on the website
Your ticket includes drinks, and cocktail canapes prepared by Michelin Star Quality Chefs from Ultimo Catering and Events!