Actions and Detail Panel
"We're Not Alone" Live Action Roleplay Game
Sat. 13 May 2017, 1:00 pm – 6:00 pm ACST
Description
A message from a possibly alien vessel brings fear, mystery and not a small amount of politics and chaos to a small transport vessel on its way to the Lunar Colonies. How did it creep past your satellites and why does the message feel like it was intended for your ship and your ship alone? A psychological horror game.

There are two main groups in this enterprise: Regular old humans and newly released humanoid robots known as synths whose role is to test how safe it would be for human colonists to attempt certain tasks on the moon. In other words, AI-controlled test dummies. Yet as these strange and disturbing messages arrive, so too do the robots begin to act strangely....
AGE LIMIT: MA 15+ due to mature themes.
SETTING: Earth in two hundred years. 3D printers are in every home, there's a lunar colony and people are really keenly into recycling because even a little bit of litter adds up when there's over 10 billion of you.
AFTERNOON TEA: There will be a light afternoon tea available for both characters and players.
COSTUMING: You're on a space ship so think in terms of coveralls or work pants (denim works) and long-sleeved button up shirts.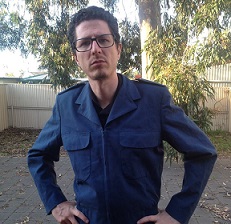 CHARACTER CREATION: All characters are written by the organisers. You can choose any character from the cast list that will be shown on the order form. Examples include:

Payload Commander Heaton - In charge of drone and sattellite release.
Specialist Participant Glowacki - Sociologist.
"Hanovan" - Builder model synthetic human.
You will receive information on the character, several secrets and goals, and a culture packet to help define what this mysterious world is like.
GAME STYLE: Both synthetic and real humans are player characters who will have their own opportunities for getting involved in the various storylines. This is an adventure style game which means that there will be certain puzzling situations that you need to solve, malfunctioning equipment to fix and obscure mysteries to understand. This session runs on a timeline as you try to solve a situation as it gets progressively worse.
What is a LARP: LARP is an acronym for a Live Action Role Playing game. You are not yourself at a LARP. You are portraying someone else. You go by a new name, present a new personality and have all new motivations while moving through a setting that has been designed by someone else. Perhaps you are a brave warrior in a fantasy town under siege, a medieval villager trying to cope with the plague or perhaps you are a grieving widow trying to identify your husband's murderer. You can learn more here: https://arc-adelaide.com.au/what-is-larp/.