Event Information
Refund Policy
Contact the organizer to request a refund.
Eventbrite's fee is nonrefundable.
The Wellness Introduction Workshop - Prepare yourself for a Wholistic Mind-Body Reset for your emotional, mental & physical health
About this Event
Join me for this 2 hour Wellness Experience Workshop where you will experience and create your own emotional, mental and/or physical wellbeing.
You may also experience the following transformation
Reduced feelings of anxiety, stress, overwhelm and reduced cortisol levels
Feeling calm, refreshed and balanced
Finding peace of mind & emotional freedom
Improvements in your sleep quality
Increased energy levels
Boosting your immune system
Changing your genetics & rewiring your brain
Feel supported, connected & nurtured
Workshop Foundations
The workshop is:
based on a combination of cutting-edge evidence-based science and empirical studies as well as highly effective Eastern and Energetic Healing and Medicine principles and philosophy.
beneficial for those looking for support for physical(including pain), emotional and mental wellbeing
100% interactive (bring paper, pens, pencils, a switched-on zoom camera and an open mind)
Workshop Structure
Workshop Opening + Talk
EMP* Wellness Assessment
Intention Setting for Wellness, Reset, Healing & Wellbeing
Holistic MindBody Wellness Reset Activities Guided by Lisa
Transformation Sharing
Workshop Reflections, Closing and Next Steps for ongoing Wellness
*Emotional, Mental, Physical
About Lisa Gumieniuk
I have helped hundreds of women to achieve Wellness via a Holistic Mindbody Reset Approach.
I specialise in g women to DITCH Anxiety, Stress, Overwhelm, Trauma and more with EASY so they can THRIVE.
I have also supported many clients to reset and heal from emotional, mental and physical dis-eases including Chronic Illness, Autoimmunity, Depression, Trauma, Tear & phobias, Eating disorders, Addictions, Insomnia, Physical Pain, Panic Attacks, PTSD, Mindset Blocks to Success, Food Cravings, Grief, Limiting Beliefs, Low Self Esteem, Migraines & headaches, Procrastination, Public Speaking Anxiety & Fears.
I am a Holistic Wellness Practitioner with a Degree in Business (Management), Diplomas in Holistic Nutritional Therapies, Energetic Health, Past Life Regression, Yoga and Certifications in EFT (Emotional Freedom Techniques), NLP (Neuro-Linguistic Programming), Psychoneuroimmunology, Brain Spotting, Trauma, Reiki, Space Clearing and more! And in my spare time, I'm currently studying for a Diploma in Modern Applied Psychology (DMAP) and Certificates in Hypnotherapy and Life Coaching.
Check out my FB page or website for reviews and testimonials.
Details
When: Tuesday, 9th March 2021 7:00pm to 9:00pm (AEDT Sydney, Australia)
Where: ZOOM
Price: $40 online ticket purchase
NB: This is a women's only event
Testimonials
"10/10 - Feeling anxious, unsettling and a lot of pain in the beginning of the session, afterward I felt calmer, lighter, no more pain in the area I felt the most! It was a truly amazing session!"
"10/10 – Delivered what it promised – most enjoyable"
"10/10 - In just a few minutes I could put myself in a very comfortable place and it will last for all this weekend."
"Great to pause and reflect. A wonderful group of people. Excellent teacher and coach!"
I can't wait to see you there!
I am super excited to share this unique life-changing workshop with you that you'll find nurturing, relaxing, supportive and educational.
Gift yourself a new level of wellness and new tools for your toolkit to reset, heal and free yourself from (insert your own personal XYZ here)!
Spaces strictly limited due to online room size and allocated on a first-come, first-served basis. Reserve your place now before it books out!
Please note, this event is non-refundable.
Please email or call for more details
e: lisa@lisagumieniuk.com
p: 0410 688 655
w: www.lisagumieniuk.com
Insta: @lisagumieniuk
FB: @lisagumieniukcoach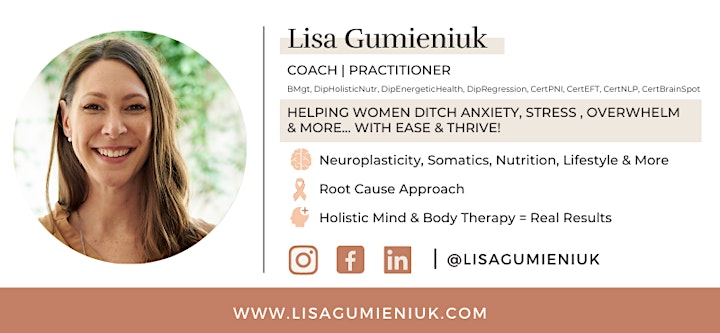 Date and Time
Location
Refund Policy
Contact the organizer to request a refund.
Eventbrite's fee is nonrefundable.