Fun-filled Community Festival featuring Yoga, Meditation, Mindfulness, Ayurveda & More to uplift our complete wellbeing
About this event
Let's Nourish, Nurture and Rejuvenate our mind, body and spirit at the biggest non-profit community festival and play our part in commemorating Queensland Mental Health Week.
Bringing the best artists from our community with inspiring, personalized & uplifting programs featuring everything wellbeing and self-care. We have inspiring Yoga exercises, Practical Meditation, Life Enhancing Wisdom Talks, Wellbeing Workshops, Kids Activities & Lots More!
Whether you have a regular wellness practice or just getting started this festival has everything to help you to take a step forward in your wellbeing journey.
Over 50 volunteers & 30 presenters are engaged in organising this wellbeing festival to make it a true community grass roots event at the riverside Orleigh Park.
The event features a series of amazing classes, sessions & workshops in 6 different zones from 3 pm to 7 pm! Over 20 programs in 4 hours!!
All the tickets are donation based with all proceed going to cover the cost of the festival and offering free ongoing Meditation programs to the community.
----
A perfect event to take advantage of Queensland Mental Health Week. A wonderful community conscious event featuring:
✅  Fun Yoga Asanas Sessions
✅ Yoga Wisdom talks
✅  Health & Wellness Workshops
✅ Live Kirtan Bands & Mantra Meditation
✅ Learn to Meditate & Mindfulness Workshops
✅ Kids Yoga,  Mindful Kids Activities & Family Fun!
✅ Veg/Vegan Food Stalls & Much more!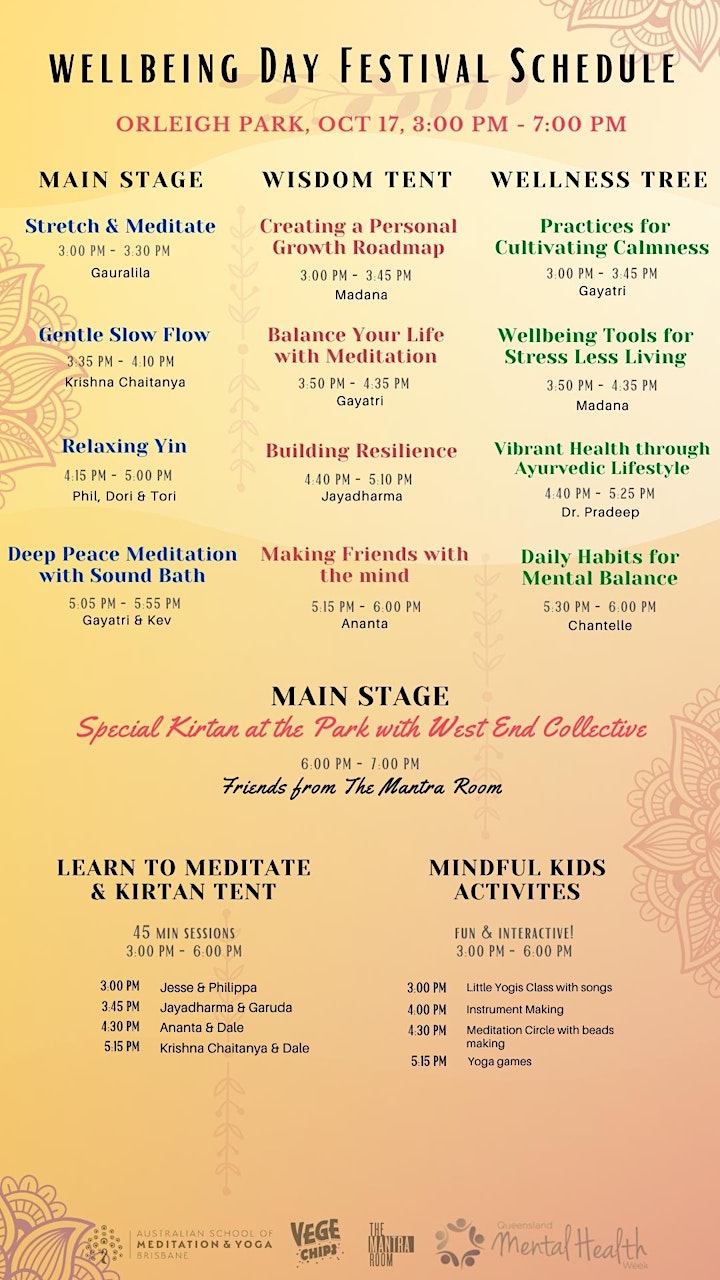 Organiser of Wellbeing Day Festival Brisbane 2021
The Australian School of Meditation and Yoga is a non-profit organization with centres in Brisbane, Gold Coast, Sydney, Melbourne and Adelaide.
Each lifestyle centre is run by qualified teachers who offer relaxed and personable instruction incorporating asanas, meditation, diet, breathing exercises and relaxation techniques for a holistic yoga experience.
The programmes of the ASMY are simple and enjoyable and can benefit everybody regardless of age or current physical condition. Our goal is to guide you to a more balanced lifestyle with an increased sense of wellbeing and vitality as your body grows stronger and more flexible, your mind calm—and bring a greater sense of 'sacredness' into daily life.