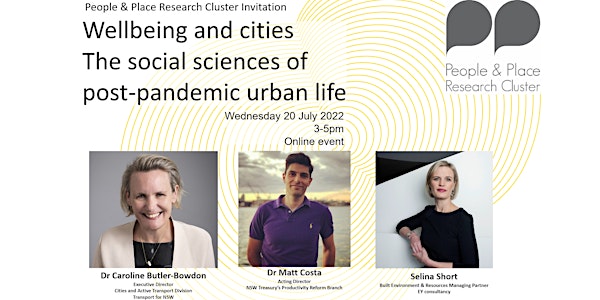 Wellbeing and cities: The social sciences of post-pandemic urban life
A webinar on wellbeing, cities and COVID, featuring leaders from the public and private sectors discussing research during the height of the
About this event
Professor Susan Thompson Associate Director of City Futures Research Centre and Co-Convenor of the People & Place Research Cluster, invites you to a special webinar on wellbeing, cities and COVID. This is part of an ADA Partnership Research Grant with colleagues Dr Chris Martin and Professors kylie valentine (Social Policy Research Centre) and Matthew Kearnes (Humanities & Languages).
Background
The ADA Partnership Research Project is set in the context of the need for interdisciplinary research on wellbeing in cities as we live through COVID and into a so-called 'new normal'. The aim is to bring together findings from existing research on social worlds in cities to generate new implications for practice and policy, and set the foundations for future research programs and partnerships.
The Panel
This webinar features leaders from the public and private sectors discussing research during the height of the COVID pandemic, including use of public space and remote working. Our panellists are Dr Caroline Butler‐Bowdon, Executive Director in the new Cities and Active Transport Division at Transport for NSW; Dr Matt Costa, Acting Director of NSW Treasury's Productivity Reform Branch; and Ms Selina Short, Built Environment and Resources Managing Partner at EY consultancy.
As part of the webinar we will be encouraging discussion about further research and the ongoing implications of COVID for urban life.
20 July 2022
3-5PM
Please RSVP to the Eventbrite Invitation – the MS Teams link for the webinar will be sent to attendees