Welcome to the 9th Year of Miss & Mister Deaf Australia 2021
About this event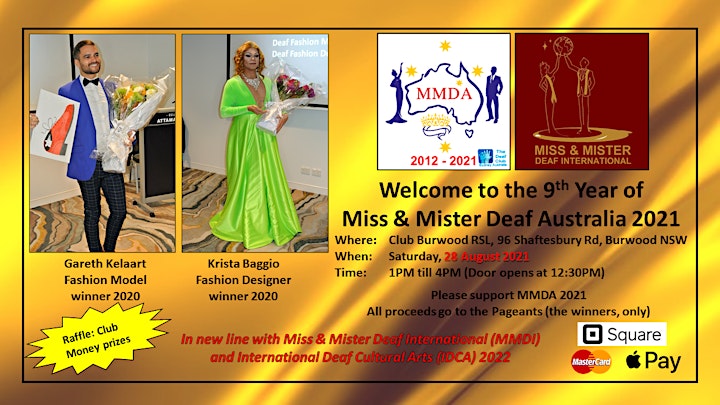 Welcome to the 9th Year of Miss & Mister Deaf Australia 2021
Where: Club Burwood RSL, 96 Shaftesbury Rd, Burwood NSW
When: Saturday, 28 August 2021
Time: 1PM till 4PM (Door opens at 12:30PM)
Ticket: $35.00 via online Banking
Westpac – The Deaf Club Account: MMDA
BSB: 032267 Account: 320763
Reference: add your full name or mobile number please.
$45.00 Pay at the door (cash or eftpos via Square, Apple Pay)
$25.00 Pay at the door (Pensioners only) Bring your ID & Pensioner cards
Also, please bring extra cash for Club money raffle prizes and other raffles.
100 Seats limited due to COVID restrictions by the Club
Hope to see you all there, how exciting!
For further information, please contact either below:
Lorraine D'arcy : Lorrainedarcy7@gmail.com
Clinton Gould : Clinton_38@hotmail.com
In new line with Miss & Mister Deaf International (MMDI) and International Deaf Cultural Arts (IDCA) 2022