Weekly Gathering :Master Lu's Talk and Free Vegetarian Food every Saturday
Weekly Gathering: Enjoy Master Lu's Talk and Free Vegetarian Food every Saturday
About this event
Welcome to the Melbourne Guan Yin Temple
Guan Yin Bodhisattva attained Buddhahood countless aeons ago and is known as "the Buddha of True Dharma Light". Due to her great vows and a strong affinity with sentient beings, Guan Yin Bodhisattva has chosen to come back to the earth to rescue those in hardship and difficulties.
Buddhist Master Jun Hong Lu, the founder of Guan Yin Citta Dharma Door, is also widely regarded as a manifestation of Guan Yin Bodhisattva. For over 20 years, Master Lu has been dedicating his life to help people relieved from suffering and torment, and in doing so, he has performed countless life-changing miracles. With his high spiritual power, Master Lu advises people to solve their everyday problems by practicing Buddhism, pragmatically applying the Dharma in their lives.
Guided by Buddhist Master Jun Hong Lu, Melbourne Guan Yin Temple (otherwise known as Guan Yin Citta Dharma Door Melbourne Buddhist Practice Center) is a spiritual home for Buddhist practitioners to find out their inner strength and true self with the purification of minds. It is also a place for them to offer their respect and prayers to the Buddhas and Bodhisattvas. Since its opening in 2014, Melbourne Clayton Guan Yin Temple has been intensively involved in spreading the Buddha's teachings to the communities through various free vegetarian events.
Melbourne's second Guan Yin Temple officially opened to the public at 10 am Sunday, 28th July 2019. Conveniently, located on 221 King Street, in the heart of Melbourne CBD, only 5 minutes walking distance from the Southern Cross Railway Station. The establishment of the new Guan Yin Temple will help more people cultivate the proper Buddhist way of life through the guidance and teachings of Master Jun Hong Lu.
Master Jun Hong Lu once said, "The Buddhist Practice Center of Guan Yin Citta Dharma Door is a Pure Land rooted in everyone's heart. If you ever feel unhappy, miserable, or encounter any difficulties in life, come to the temple to recite Buddhist sutras and mantras and calm your mind. You shall sincerely pray for the blessings and protection from Bodhisattvas. Where Bodhisattvas reside, there is wisdom exists, and negative affinities dissolved." Guan Yin Citta Dharma Door will continue to flourish across the world and make more positive impacts on society.
Every Saturday
5:30 Free Vegetarian Meals
6:30 Buddhism Study Sessions
7:00 Master Lu's Buddhism Talk and Q&A through Web Conference
Clayton Temple
1372 Center Road Clayton South VIC
City Temple
221 King Street Melbourne VIC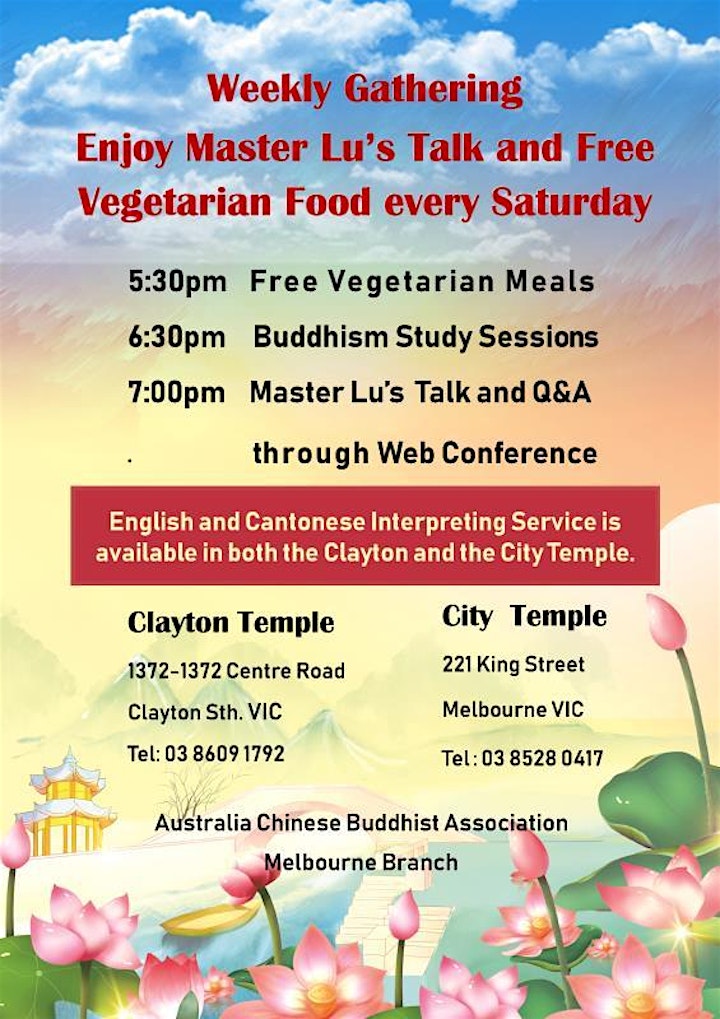 Organiser of Weekly Gathering :Master Lu's Talk and Free Vegetarian Food every Saturday
Melbourne Guan Yin Temple
Address: 56 Bendix Drive Clayton VIC 3168
Open hours: Monday – Sunday, 10:00am – 10:00pm
Dharma Talk after free vegetarian dinner at 5.30pm on Every Saturday.
Phone: 03 8609 1792 / 03 9543 8829
Website: www.lujunhong2or.com (Chinese) or www.guanyincitta.com (Multi  languages)
Guan Yin Citta Dharma Door Embraces Heritage of the Chinese Culture and promotes world peace.