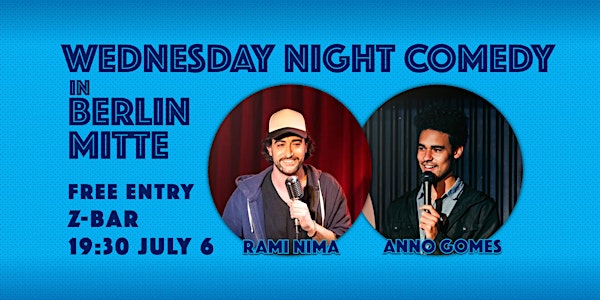 Wednesday English Standup Comedy in Berlin Mitte (Early & Late Show)
Location
Z-Bar
Bergstraße 2
10115 Berlin
Germany
Award winning international comedians perform a stand-up comedy show in Berlin Mitte!
About this event
Join us for a fantastic stand up comedy show in English featuring Rami Nima, Anno Gomes and friends.
🕗 Early Show: Doors open 7:30pm. Show starts 8pm
🕙 Late Show: Doors open 9:30pm. Show starts 10pm
🗓️ Wednesday 6th July 2022
🗺️ Z-Bar, Bergstraße 2, Berlin Mitte (5mins from Rosenthaler Platz)
🎟️ Free Entry (donations appreciated)
🇦🇺 Anno Gomes
Anno is a comedian from the continent of Australia! He has performed for years all over the continents of Australia, Europe, and Asia. He has performed at the Adelaide Fringe Festival and the Melbourne International Comedy Festival. His comedy has been described as "funny" and "very funny" by audiences everywhere.
🇳🇱 Rami Nima
Mixing the dark with the weird and lacing it all with clever punchlines and brought in a hilariously dry tone. Rami won't convince you of anything. His method is subtle and will desoriëntate you in a unusual way. Rami won the Griffioen comedy festival in 2021 and is now gay.