SAT 9 OCT! Wedding Dress Charity Ball Perth is back at the iconic Mulberry Estate!
About this event
Would you love to wear your wedding dress again? Got a favourite bridesmaid's dress, or groomsmen's suit, or want to glam up in your best attire? Now's your chance! Whether you're married, in a relationship, single, or just up for a good night, come along and support a great cause.
SATURDAY 9 OCTOBER join us for the 3rd annual Wedding Dress Charity Ball Perth at the iconic Mulberry Estate! 🎊🎊🥂 Jem Wedding Planners alongside Supertee will be raising funds for some incredible medical garments and bringing smiles to the bravest little heroes. 💥❤💙💛
Supertee supports Australia's sickest kids battling long-term illness and it's always been our dream to support this cause. Because every superhero deserves a costume! (Funds raised will go towards donating Supertee medical garments to WA children hospitals).
Last year was unforgettable, and this year will be INCREDIBLE. Don't miss the biggest wedding dress charity ball at Perth's #1 wedding venue! Amazing prizes up for grabs with our on the night raffle, giveaways + vendors, delicious eats and more! Grab your ticket now or donate and support this one-of-a-kind charity event.
💎💎Tickets Available On Event Brite💎💎
(On sale from Monday 12th July)
$𝟗𝟗 𝐈𝐍𝐂𝐋. 𝐃𝐫𝐢𝐧𝐤 𝐨𝐧 𝐚𝐫𝐫𝐢𝐯𝐚𝐥 + 𝐂𝐨𝐜𝐤𝐭𝐚𝐢𝐥 𝐟𝐨𝐨𝐝
$𝟏𝟒𝟗 𝐈𝐍𝐂𝐋. 𝟓 𝐡𝐨𝐮𝐫 𝐝𝐫𝐢𝐧𝐤𝐬 𝐩𝐚𝐜𝐤𝐚𝐠𝐞 + 𝐂𝐨𝐜𝐤𝐭𝐚𝐢𝐥 𝐟𝐨𝐨𝐝
𝐃𝐨𝐧𝐚𝐭𝐢𝐨𝐧𝐬 𝐨𝐟 𝐚𝐧𝐲 𝐚𝐦𝐨𝐮𝐧𝐭 𝐰𝐞𝐥𝐜𝐨𝐦𝐞!
𝐕𝐞𝐧𝐮𝐞: MULBERRY ESTATE, SWAN VALLEY
34 Hamersley Rd, Caversham WA 6055
*************************************
DRESS TO IMPRESS!
Wedding Dress / Bridesmaid Dress
Suit / Groomsmen Suit
Your best attire
Superhero inspired wear/accessories
************************************
Event sponsorship packages available! We're seeking amazing businesses and individuals to help make this ball incredible for the bravest little heroes. Your support can make a difference and help families. Email us at jess@jemweddings.com.au
*PLEASE NOTE THERE ARE NO REFUNDS AVAILABLE FOR THIS EVENT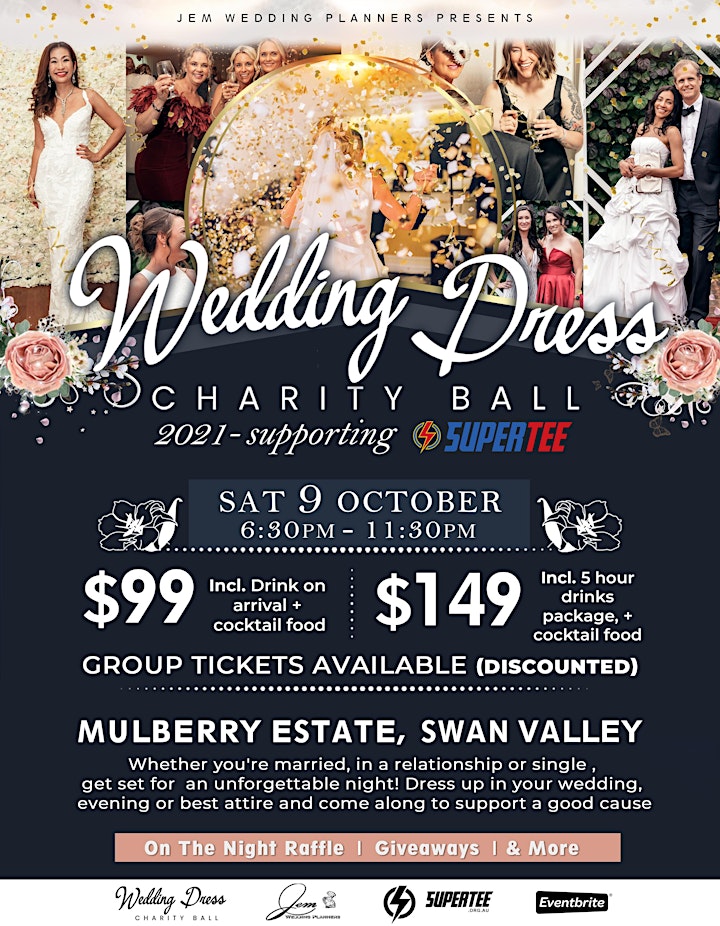 Organiser of Wedding Dress Charity Ball 2021
Specialising in affordable, attainable weddings, Jem Wedding Planners puts in all the hard work to plan your dream wedding for half the cost, not half the look.
Our hardworking team conduct all the time consuming research and negotiations to ensure we get the best price for you.
Using initiative, imagination and lateral thinking, we strive to provide you with low-cost wedding solutions to fit your budget.
Check out our facebook page @jemweddingplanner