Event Information
Location
Buy webinar recording and resources
In Coaching ... Energy Matters
Description
ICF Victoria is making available the recording and resources to a webinar that was held on 22 February 2018. The link to the recording and resources will be sent to you in the confirmation email once you have purchased and paid for it.
As coaches, to stay relevant and ready for the future, requires us to become more masterful in managing how our energy permeates across all of the ICF Core Competencies. One of the ways to achieve coaching mastery is to be fully aware, alert and responsible for the energy we bring to the coaching engagement and client relationship.
This session enables us to explore and discover how to see and apply the ICF Core Competencies in a new light. Knowing how to do this:
Deepens our understanding and practical applications of them that can be used in any coaching situation.
Enables us to connect a deeper level with ourselves and our clients and become better co-creators and partners for their journey.
Energy matters – because it is important for us to be aware of how:
The energy we bring to the coaching session and engagement impacts on our effectiveness as a coach.
Our assumptions, beliefs or judgements affect our energy and impact our ability to be objective coaching partners
To sense and perceive our client's energy and coach for greater impact.
As our energy permeates across all of the Core Competencies and all aspects of the coaching relationship, Meg invites us to become more alert, aware and intentional of our own energy as coaches, and also the energy of our clients.
If you watch this recording through, you are able to log 1.25 CCEUs in Resource Development.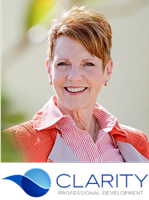 Meg Mann, MCC, has been speaking in public all her life. With more than 14 years of experience as a trial attorney, she has been developing and delivering leadership and coaching development programs since 1995.
Having been a Coach Trainer and Examiner in four ACTP's, she also served as an ICF assessor for PCC and MCC Credentials for more than 8 years, and served on numerous ICF committees, including the Credential Team that developed the new PCC Markers. She is a certified Coach Mentor and has been mentoring MCC candidates since 2008.
Meg is passionate about our journey towards greater coaching mastery and continues to offer online courses with this focus.
Date and Time
Location
Buy webinar recording and resources
In Coaching ... Energy Matters
Refund Policy