Event Information
Refund policy
Contact the organizer to request a refund.
Eventbrite's fee is nonrefundable.
Run Successful Webinars! How to plan, promote and present successful webinars guaranteed to build your brand and business.
About this event
Calling all Business Owners & Leaders, if you have been wanting to run your webinar then keep reading...
👉🏼 Are you a business owner and/or leader looking to build your brand and business?
👉🏼 Are you looking to expand your business and go from a 1:1 to a 1:many model?
👉🏼 Have you considered running your own webinars?
Did you know that one of the things holding people back from running their webinars are all the 'rules' the marketing gurus tell us to follow:
Complicated setup
New technology to learn
Expensive integrations you need
and more…
No wonder you've been avoiding them!
What if I could promise you that I will show you exactly how to run your successful webinar using the tools, tech and integrations you already have?
Learn to use the simple tools you're already using to plan, promote and present a successful webinar and unlock a high profitable revenue stream in your business.
In this Online Masterclass we will show you exactly how to:
Set up your webinar plan with confidence
Promote your webinar with style and impact
Present your webinar to make sales
This online masterclass is for webinar beginners who want to learn the basics of running a successful webinar to grow their brand and their business.
YOUR TICKET INCLUDES:
Access to the LIVE Masterclass
Access to the recording of the Masterclass
PLUS gives 1-week access to an E-learning Hub for Aboriginal Communities*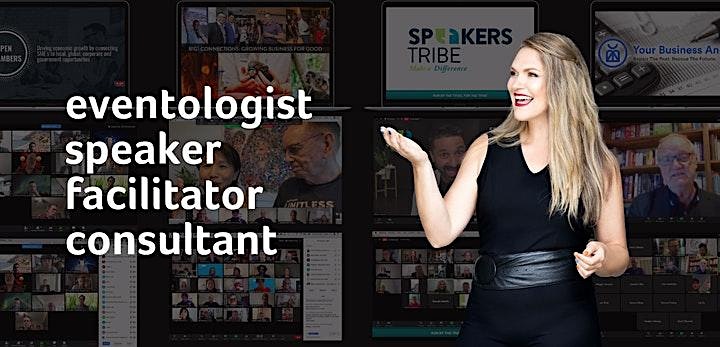 Being so used to in-person events and suddenly having to go online didn't feel any different to me!
This may sound like a bold statement but when COVID hit and we got sent to our rooms, tech took over our lives; Zoom business meetings, Zoom drinks, FaceTime with friends, Memes on social media. It didn't occur to me to look for different tech to take my in-person events online - it's a no brainer to use the technology we already know.
The tech that allows us to share our screens, connects to our slides, integrates with ticketing platforms and social platforms - why should we try to re-invent the wheel, when we already have everything we need?
We don't!
DON'T HOLD YOURSELF BACK ANY LONGER
Have you ever felt the frustration of knowing YOU HAVE MASSIVE VALUE to give but people aren't listening?
For too long we've been taught that if we keep our heads down and work really hard eventually people will pay attention. What I've found is that to HAVE YOUR MESSAGE HEARD, you must get into the arena, stand up in front of the crowd and POSITION YOURSELF AS A LEADER and an expert.
Today more than ever our lives are cluttered with noise, we are constantly bombarded with messages pulling us in different directions. Now is the time that we must stand up, make ourselves known and make ourselves heard. Join me and together we can create a community of leaders, making a difference ONE SUCCESSFUL EVENT AT A TIME
Date and time
Location
Refund policy
Contact the organizer to request a refund.
Eventbrite's fee is nonrefundable.
Organizer of Webinar Masterclass: Leverage Webinars for Brand and Business Growth
I want to inspire people, I want you to see me and think; "with your support, I can succeed"
If you are reading this, then somewhere in your mission you want to make a difference. You know you have value to share with others and you are ready for people to pay attention. Whether you're a speaker, author, coach, entrepreneur or you run an organisation, you know that the greatest way to influence is in a one:many environment. I am here to support those who support others, I am here to support you.
I was born in Ukraine while it was still the USSR. Following a 7 month immigration journey that saw me leave my country with my Mum and Dad on a humanitarian refugee program I arrived in Melbourne, Australia at the age of 8. This is where I grew up.
After completing a Bachelor Of Communication at Monash University, I set off on an overseas adventure that would see me travel to 38 countries, spend 4 winter seasons snowboarding and learn many valuable life lessons.
Today, I am an event marketing expert, an Eventologist, a speaker, facilitator and consultant on How To Master Events For Your Brand and Business Growth. Since 2006 I have been working directly with business owners and organisation on their marketing and business development success. My clients are visionary leaders making a difference one successful event at a time.
A communicator, co-creator and a vicarious achiever, I am always happier when I am supporting the growth in others and when growth is gained as a team. If you were to ask my friends and co-workers what my strengths are, they would tell you that my positive energy is infectious and I am always on the move getting things done…
I am Anna Osherov, it is a pleasure to meet you.