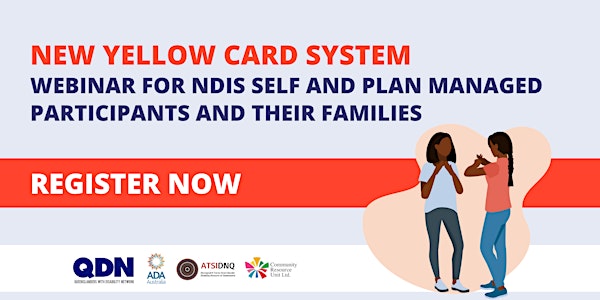 Webinar for NDIS participants on new worker screening process
A webinar event for self and plan managed NDIS participants and their families on the new 'yellow card' worker screening system.
About this event
From 1 February 2021, a new worker screening process commenced in Queensland for workers that provide supports and services to people with disability. It replaces the existing 'yellow card' screening.
In Queensland, under the new system, plan and self-managed NDIS participants can choose whether they require their non-registered workers to get a clearance. However, all workers employed through registered NDIS providers will be required to get a clearance.
Join our virtual information session to understand how the changes will impact you and your supports.
This event is jointly hosted by Queenslanders with Disability Network, Aged and Disability Advocacy Australia, Aboriginal and Torres Strait Islander Disability Network of Queensland and Community Resource Unit.
The webinar will include speakers from the NDIS Quality and Safeguards Commission, Department of Seniors, Disability Services and Aboriginal and Torres Strait Islander Partnerships and people with lived experience of self or plan managing their NDIS funds.