RMIT College of Business and Law - Thought Leadership Series
About this event
WEBINAR 3: RANSOMWARE
An increased amount of Australian organisations and individuals are targets of ransomware attacks.
Especially since the COVID-19 pandemic, the number of attacks have accelerated significantly, with cyber criminals becoming more innovative in their approaches to ransomware attacks.
It is estimated that Cyber Attacks are costing Australian businesses and households $29billion per annum. This is not only an unnecessary financial burden, but a compromise on our sovereignty, privacy and security at home.
In collaboration with the RMIT Centre for Cyber Security Research and Innovation (CCSRI), we have invited a number of expert panellists to discuss the question -
How can you protect yourself, and mitigate damage if you are the target of a ransomware attack?
Concluding with a Q&A session, this is your chance to ask the tricky questions and be part of the cyber security conversation -
Come and join us!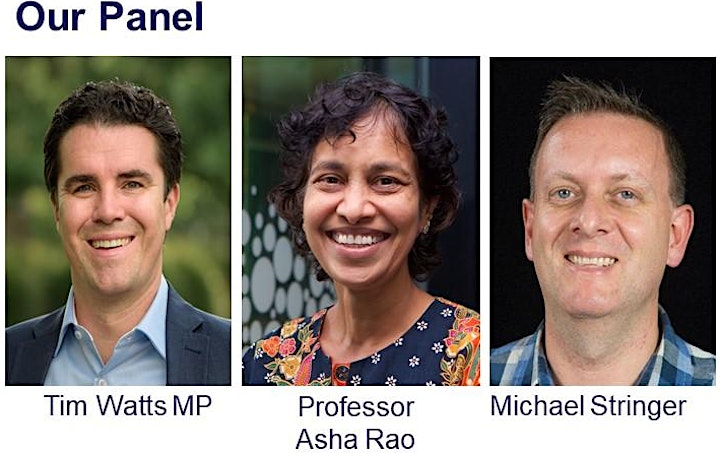 Professor Asha Rao , Professor and Associate Dean (Mathematical Sciences) RMIT University
Asha has been involved with cyber security education at RMIT since 2001. As Program Director for the Cyber Security Master's program, in 2006 she brought management and business into a mainly technical degree, making many links with the cyber security industry.
As a trans-disciplinary researcher in the field of cyber mathematics, she has worked on a wide variety of problems, resulting in highly ranked publications and over $3.5M in funding over the past 10 years.
Her research in fraud and money-laundering has resulted in invitations to closed and open meetings on cybersecurity as well as to observe the United Nations intergovernmental meetings on cybercrime. As cybersecurity expert, she appears regularly on audio visual and print media and has won RMIT Media star awards.
Tim Watts MP, Shadow Assistant Minister for Cyber Security and Communications at Australian Parliament
Tim is the federal Member for Gellibrand. Prior to entering politics he was a senior manager at Telstra and previously served as a Senior Policy Adviser to former Communications Minister Stephen Conroy and a Senior Adviser in the Victorian Premier's Office.
Tim began his career as a practicing solicitor at Mallesons Stephen Jacques where he specialised in the area of telecommunications law.
He holds a Masters Degree in Public Policy from Monash University and a Masters in Politics and Communication from the London School of Economics.
Michael Stringer , Senior Domain Solutions Architect - Security WWPS ANZ at Amazon Web Services (AWS)
Michael Stringer is a Senior Domain SA for Security in the AWS ANZ Public Sector team. Security is our highest priority at AWS, and Michael works closely with public sector organisations in government, health, and education, to enhance their security posture in the AWS cloud.
We are delighted to announce that Professor Matt Warren, Director, RMIT Centre for Cyber Security Research and Innovation, will be facilitating the webinar.