RMIT College of Business and Law - Thought Leadership Series
About this event
WEBINAR 1:
CRITICAL INFRASTRUCTURE
Australia's national wellbeing, security, and economy rely on critical infrastructure.
Critical infrastructure provide essential services that define our everyday life:
Water, energy, food, transport and health services
Access to banking, communication networks, supply chains and government services and more.
Each day, Australians depend on the services provided by the owners and operators of critical infrastructure.
In collaboration with the RMIT Centre for Cyber Security Research and Innovation (CCSRI) we are asking the question:
What role do owners, regulators and operators of critical infrastructure play in keeping Australia secure?
We have invited a number of Government representatives and industry experts to discuss the newly introduced Security Legislation Amendment (Critical Infrastructure) Bill 2020 and what responsibilities it places on providers today.
Come and join us!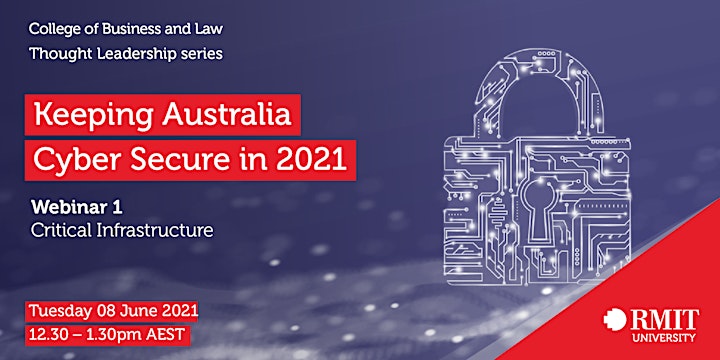 Our Panel
Facilitated by Professor Matt Warren, Director of RMIT's Centre for Cyber Security Research and Innovation (CCSRI), we are delighted to invite you to a round-table with professionals who are shaping Australia's critical infrastructure today.
Rohan Davies - Head of Cyber Risk and Assurance at Victorian Department of Premier and Cabinet's Cyber Security Unit (CSU)
Rohan is leading CSU's efforts across a number of programs to work collaboratively with public sector organisations throughout Victoria to improve their cyber risk management to protect their organisation's services from cyber disruption. He also works with state, private and Commonwealth partners across a range of committees to improve cyber security for critical infrastructure and the community.
Professionally, Rohan has previously held a variety of information and cyber security positions across State and Commonwealth agencies, including leading Victoria's Cyber Incident Response team. He is a Certified Information Systems Security Professional (CISSP) and has completed a Master's in Business from the University of New South Wales.
Jennifer Stockwell - National Cyber Security Principal at Telstra
The intersection of cyber and national security is Jennifer's expertise. As National Cyber Security Principal at Telstra, Jennifer delivers cyber policy insights to executive stakeholders, develops strategic threat reporting, builds international partnerships and manages national security and critical infrastructure security regulatory obligations.
Before joining Telstra, Jennifer was a manager of cybercrime intelligence in the Australian Cyber Security Centre. She led threat intelligence and security teams in the UK and Australia.
Sujeeva Setunge - Associate Deputy Vice-Chancellor (Research, and Innovation) at RMIT University
Sujeeva is a professor in Civil Engineering and currently is the Associate Deputy Vice-Chancellor, Research and Innovation in Science, Engineering and Health at RMIT University. Prior to joining RMIT University she has been a lecturer and senior lecturer at Monash University where she completed her Ph.D in Structural Engineering.
She has been leading research on disaster resilience and optimised asset management of critical Civil Infrastructure over the past decade delivering a cloud hosted asset management software platform which is currently commercially deployed among public and private infrastructure authorities.