Weave your own medicine basket with premium pandanus from Arnhem Land - in a ceremony-style immersive sharing and healing circle.
About this event
We will create a special medicine pot by weaving with pandanus spiralus (a beautiful premium weaving fibre which only grows in the top end of Australia).
The workshop will be facilitated through means of a ceremonial space where you will be nurtured and held safely in a circle of like-minded beings, sharing and breathing and creating together. I will introduce some embodiment practices/nervous system regulation skills for navigating challenging times, like breathing, visualisation and /or soul-to-cell toning, in the workshop circle. Beginners celebrated. Trauma informed, please let me know by private communication if you would like your circumstances to be known, and gently held. (I am a psychotherapy second year intern).
This is an opportunity to experience the ancient art of basket weaving as a deeply mindful and contemplative practice. It is a space of sharing, creating, being and breathing, conducted through ceremony and celebration of life. Using natural materials from the land, you will learn to weave individual strands of fibre together to form a whole creation, while recognising and acknowledging the mirrors and metaphors that bind us together with nature and each other. Like a weave within a weave, this has the power of revealing a way of being that is nurturing, growthful, enlightening and honouring of the energy of creation. Together we will weave baskets that hold in their fibres all of the stories we share, flowing in symphony with the songs of nature as they unfold around and within us. Please bring snacks to share, and a chair, blanket or cushion to sit on. Please be considerate of current COVID restrictions on proximity and personal hygiene.
Extra pandanus fibre will be available to buy on the day, if needed for continued work.
$110 pp - concession available by application.
Tickets can be booked online or by emailing me to organise a direct deposit / cash.
weaverywork@gmail.com
Bring a plate of snacks to share for lunch.
Please park at the top of the block and walk down, please no wheels on the neighbour's grass verge.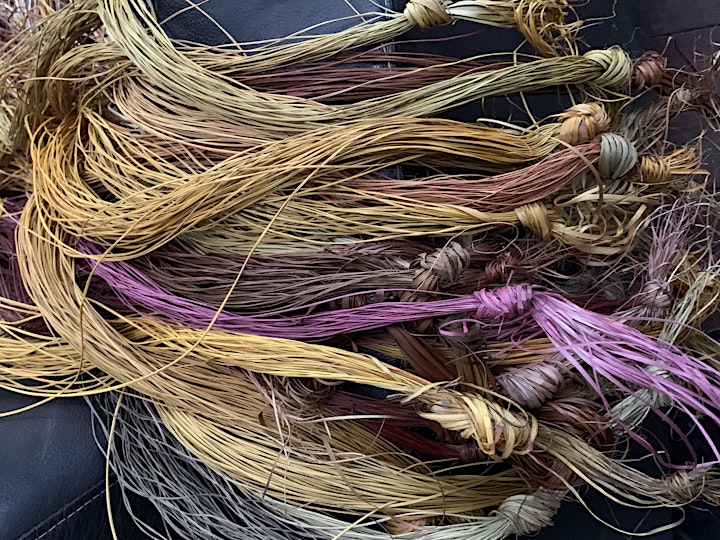 Organiser of Weaving is Healing Sunshine Coast October 2021
René Bahloo is a qualified installation artist, facilitator and project coordinator, with a special interest in the practice and philosophy of basket weaving, using natural plant fibres. She shares her knowledge through weaving circles and facilitates grassroots journeys to remote Indigenous Australian and African communities, for deep connection to land, culture, healing and traditional weaving. René also collaborates with Indigenous weaving elders to create large scale pieces and experiences of intercultural connection through weaving. She has presented at a number of conferences and been involved as a lead artist in Floating Land Environmental Art event in Noosa, Australia, and has made sculptural works for festivals and competitions. Rene's passions stem from her experience of Australian Indigenous culture, leading to doctoral studies based on Indigenous culture, women's business, creativity and weaving journeys to wisdom. Her goal is for us all to weave our world into a better place, to weave ourselves in healing and wellbeing, to weave our environment with passion and purpose.