Description
Vietnam Centre proudly presents "Weaving a Realm" - a Vietnamese cultural show combining majestic imperial rituals, exquisite ancient costume demonstration, and mesmerizing traditional musical performances.
We invite you to travel back in time to one of the most glorious eras in Vietnamese ancient history, Lê Dynasty, specifically from the year 1437 until 1471, to witness Empress Dowager's Coronation Ceremony.
The heritage of this past civilization will be further brought alive by the vibrant runway-styled demonstration of imperial attires, painstakingly recreated from extensive historical research.
You will also be treated with splendid musical performances by award-winning artists from Vietnam, showcasing the delicate sound of the complete set of uniquely Vietnamese traditional instruments.
Come join us and be immersed in the world of the bygone past!
Ticket starting from $20 (Free for children under 12 years old).
For enquiries, contact events@vietnamcentre.org
---------------------------------------------------------------------------------
Performing Artists
Dinh Linh Meritorious Artist: Being one of the most highly regarded flutists in Vietnam, Dinh Linh has won several prestigious awards and successfully toured locally and overseas since he started performing professionally in 1987.
Minh Ha Artist: Having a deep passion for traditional music, Minh Ha founded "Mat Troi Do" (The Red Sun) – a musical band that combines the intricate melody of traditional instruments with upbeat rhythm of contemporary music, offering a creative refreshing take on Vietnamese traditional music scene. Having relocated to Sydney in 2010, Minh Ha continued being an ardent advocate of the genre, actively participating in various major traditional music event across the continent.
Minh Loan Artist: Specializing in zither, Minh Loan started her career in 1998 and has since performed in front of thousands of audiences in US, Europe, and many different countries in Asia. In addition to pursuing her performing career, Minh Loan is concurrently a dedicated lecturer in Ho Chi Minh Dance Academy.
In picture: Minh Ha artist performing with her daughter Anna Patmore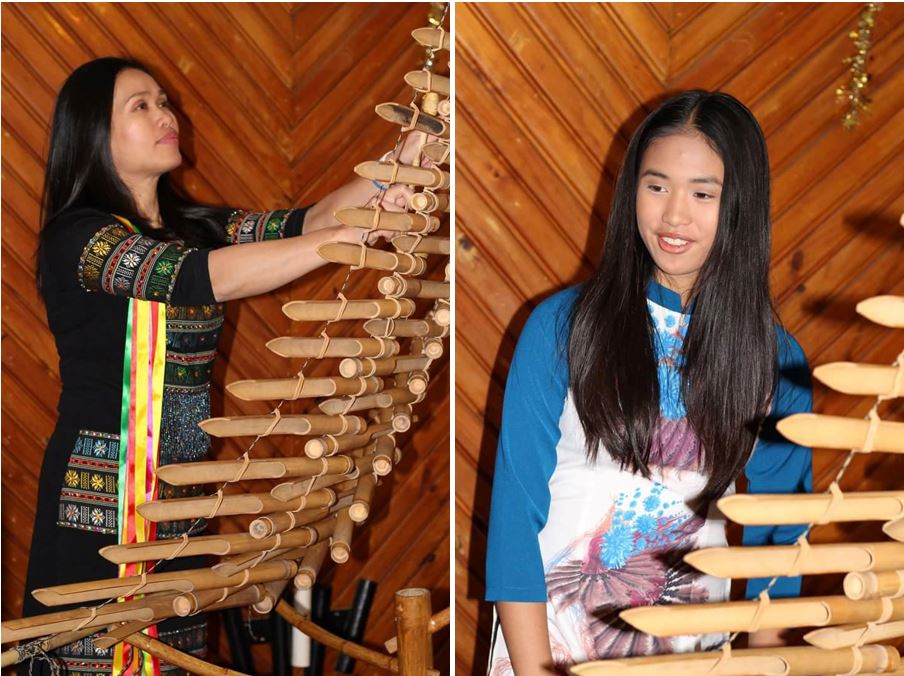 Coronation Ceremony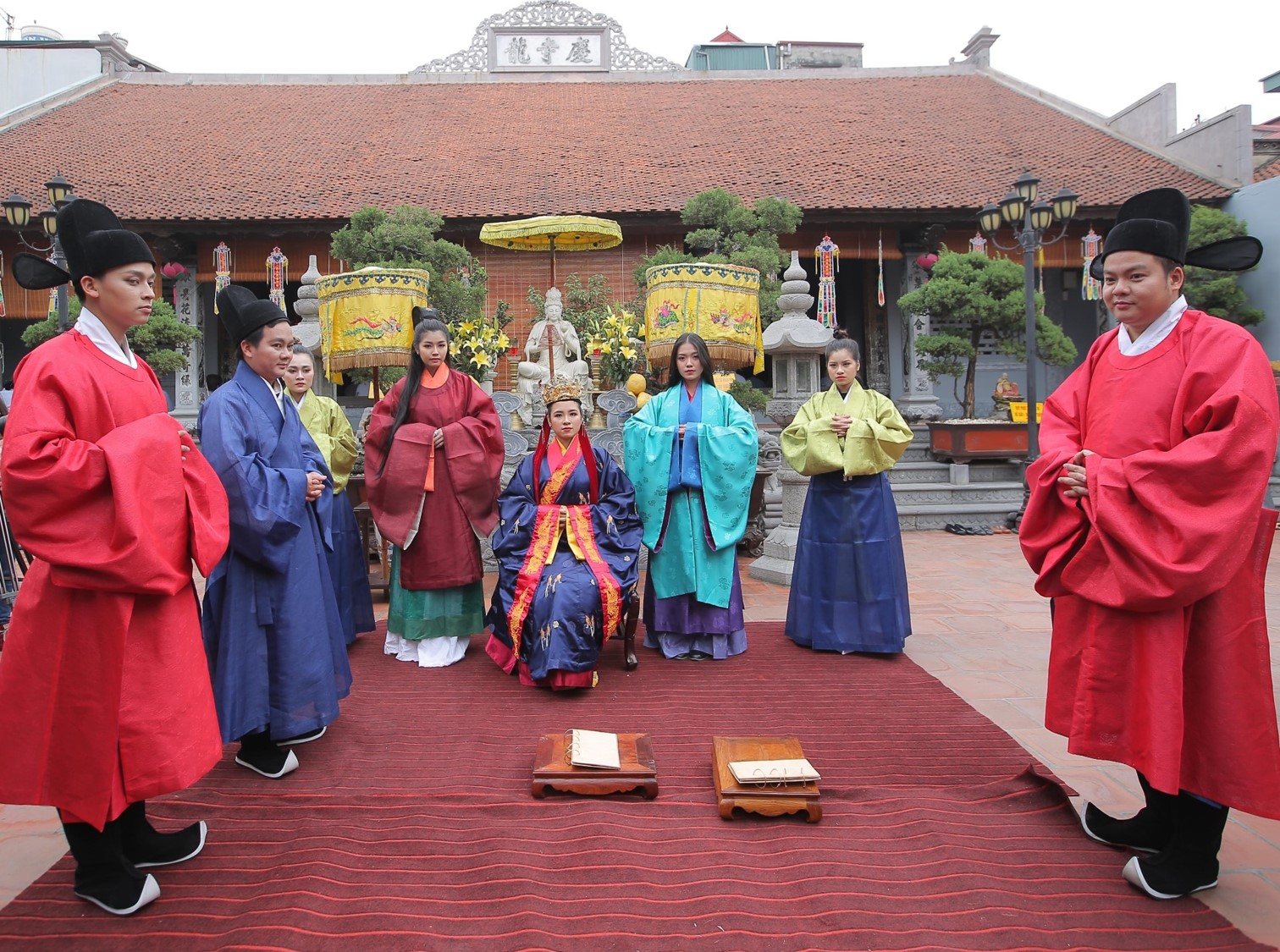 Vietnamese traditional instruments

Sneak Peek of the Collection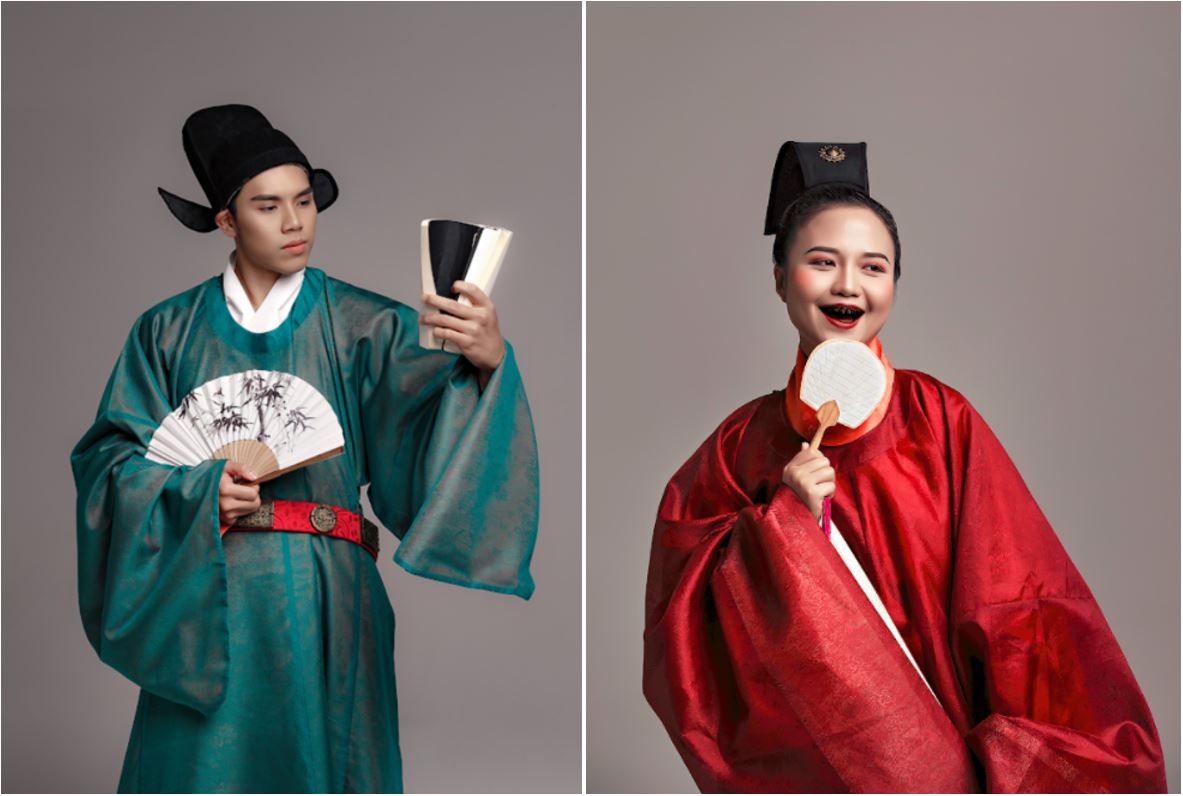 ---------------------------------------------------------------------------------
Vietnam Centre trân trọng giới thiệu "Dệt Nên Triều Đại" – một sự kiện văn hóa với các chương trình mô phỏng nghi lễ hoàng cung truyền thống, biểu diễn trang phục cổ đại, cùng những màn biểu diễn nghệ thuật truyền thống độc đáo.
Với điểm nhấn là Lễ Sắc phong Hoàng Thái Hậu, sự kiện sẽ tái hiện lại giai đoạn lịch sử hoàng kim thời nhà Lê của những năm từ 1437 đến 1471. Di sản của giai đoạn lịch sử này cũng sẽ được làm sống lại với chương trình biểu diễn trang phục hoàng cung, được phục dựng sau một quá trình nghiên cứu kỹ lưỡng và nghiêm túc. Tham gia sự kiện, khách mời cũng sẽ được đắm chìm vào những màn biểu diễn nhạc cụ truyền thống độc đáo bởi các nghệ sỹ có tiếng đến từ Việt Nam.
Hãy đến tham gia với chúng tôi để cùng bước vào khám phá những trang lịch sử cố kính!
Vé vào cửa có giá từ $20 (Miễn phí cho trẻ em dưới 12 tuổi). Để biết thêm thông tin chi tiết, vui lòng liên hệ events@vietnamcentre.org
Danh sách các nghệ sỹ
Nghệ sỹ ưu tú Đinh Linh: Là một trong những nghệ sỹ sáo có tiếng tại Việt Nam, nghệ sĩ Đinh Linh đã dành nhiều giải thưởng cao quý và từng tham gia lưu diễn nhiều chương trình trong và ngoài nước kể từ khi ông bắt đầu trình diễn chuyên nghiệp vào năm 1987.
Nghệ sỹ Minh Hà: Với niềm đam mê với âm nhạc truyền thống, nghệ sĩ Minh Hà sáng lập ra "Mặt Trời Đỏ" – một nhóm nhạc là sự kết hợp của những giai điệu nhẹ nhàng của âm nhạc truyền thống và những nhịp điệu sôi động của âm nhạc đương đại, đã đem lại cái nhìn mới mẻ và sáng tạo cho nền âm nhạc truyền thống Việt Nam. Từ thời điểm định cư tại Úc vào năm 2010, nghệ sĩ Minh Hà vẫn luôn theo đuổi dòng nhạc này và tích cực tham gia vào các sự kiện âm nhạc trên khắp nước Úc.
Nghệ sỹ Minh Loan: Chơi đàn tranh, Minh Loan bắt đầu sự nghiệp của mình vào năm 1998 và đã lưu diễn trước hàng ngàn khán giả trên khắp nước Mỹ, châu Âu và nhiều quốc gia châu Á khác. Bên cạnh theo đuổi sự nghiệp âm nhạc, Minh Loan hiện còn là một giảng viên cho Học Viện Múa TP Hồ Chí Minh.