[GOLD COAST] WealthGoal Workshop: Australian Financial Intelligence
About this event
If any of your objectives are:
Expand your wealth in a sustainable and continuous way
Build and/or diversify your property portfolio
Achieve financial freedom
I want to make you a special invitation.
My name is Julio De Laffitte. I'm one of the most sought after speakers on wealth creation, financial freedom and property investing in Australia, and I'll be your host at the WealthGoal workshop.
In addition, you will gain exclusive access to:
WealthGoal, the million-dollar, state-of-the-art software that is unlike anything you have ever seen before. Gain clarity like no other and play with your numbers
The best investment houses on the current market
The most successful finance strategies in the country
No BS. This is the real deal. The WealthGoal workshop is truly for those who want to learn the practical steps to prosper.
If you want to know how to eliminate all your financial inefficiencies, make sure to buy your ticket. Limited spots available.
See you there!
Julio De Laffitte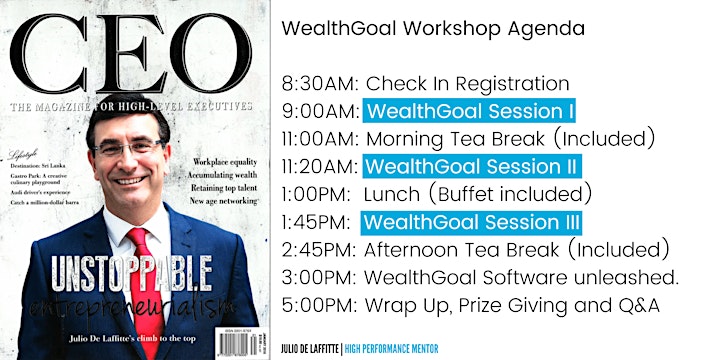 Prize Draw:
1st prize - a $1,500 private dinner with Julio
2nd prize - 12 month subscription to WealthGoal, valued at $900
3rd prize - a ride on the JDL Hot Air Balloon for two, valued at $479