'We Prepare a Face' is a compelling new collection of portraits by Perth-based Fine Artist, Melissa Clements.
About this event
Proudly funded by the Department of Local Government, Sport and Cultural Industries, "We Prepare a Face" grapples with the profound nature of being, exploring the lived experience of Western Australians and the acute moments of vulnerability they have shared with the artist.
You are invited to an exclusive viewing and Opening Night celebration of 'We Prepare a Face' on December 13th at Cleaver Street & Co Studio, West Perth. Located on an ever-evolving strip of galleries, minutes from the CBD, Cleaver Street & Co provides the perfect backdrop for this exciting event.
Award winning wine will be provided by Plume Estate Vineyard, and grazing table by Platters to Please. Ambient soundscape all night long by Mintox.
Exhibition closes December 18th.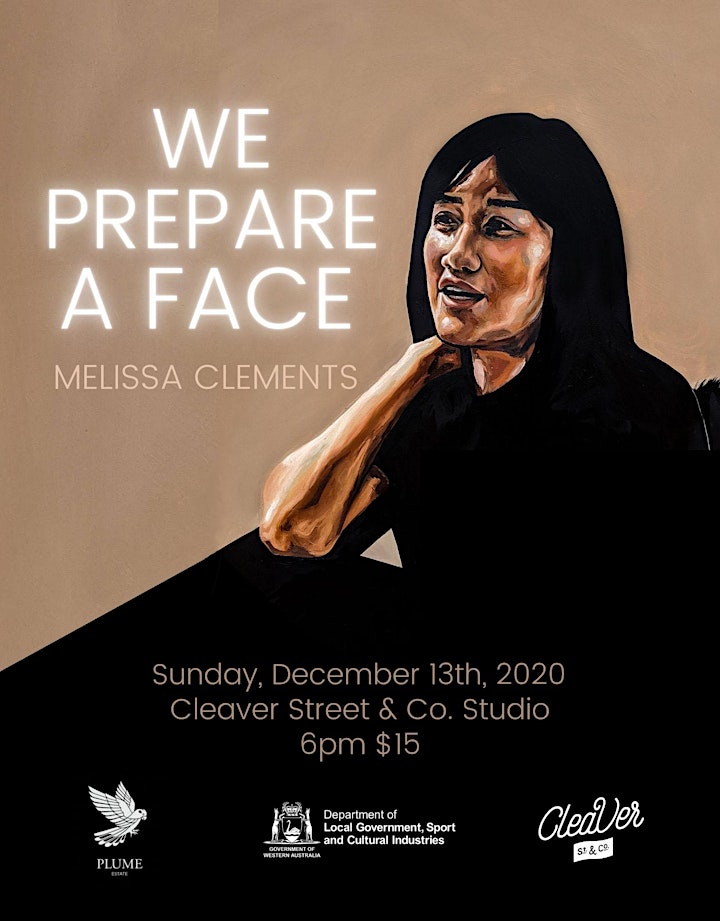 Organiser of We Prepare A Face: Exhibition Opening
Melissa Clements is a visual artist, private tutor and art history scholar living in Perth. She has followed a journey of making art a career, exhibiting in national and international exhibitions. Melissa has hosted a Solo Exhibition, We Prepare a Face, was a finalist in the 2021 Lester Prize and has completed art residencies in Sydney and New York. Melissa has been privately teaching Art History for four years and is currently completing her dissertation at the University of Western Australia on the New York School of Abstract Expressionism.