Description
Waters of Waterloo tour
Uncover some of the fascinating story of this site in Waterloo on a tour led by Sydney Water heritage advisor Phillip Bennett, together with artists Heidi Axelsen and Hugo Moline, and Waterloo local Uncle Allan Madden.
Bordered by Bourke, McEvoy and Young streets, a large part of this site is an open, weedy, concrete field with a couple of buildings that help pump water across vast distances.
This is Gadigal land. It was once a wetland bordering sand dunes. Later it housed a huge workshop where people worked and made many things, It has been many other things that we know nothing about.
For the first time in almost a century, a glimpse inside this mysterious site will be made possible.
Uncover the fascinating story of this site together with us!
Book in on one of these tours:
11am - 12.30pm, Friday 18 October 2019

2pm - 3.30pm, Friday 18 October 2019 (Bilingual tour in English and Mandarin)

11am- 12.30pm, Saturday 19 October 2019

2pm - 3.30pm, Saturday 19 October 2019
Where: Meet at the McEvoy Street gates on the the site (see map)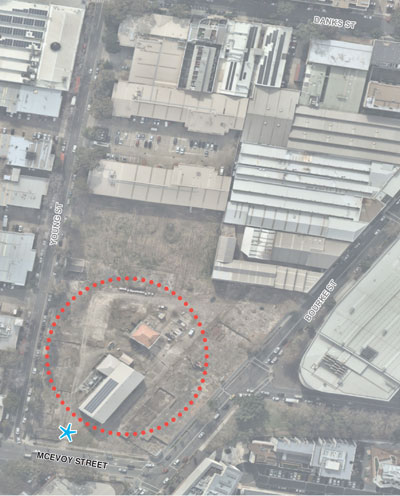 TOUR TERMS AND CONDITIONS
The Waterloo Pumping Station and Pressure Tunnel Valve House is part of an active facility for Sydney's water supply, which means we must take some special safety precautions.
The following terms and conditions apply to the tours:
The tour is not suitable for those with serious health issues or limited mobility.

Before entering the facility you will be given a safety induction and you will need to sign a waiver form to release Sydney Water, Dahua, City of Sydney and MAPA from its liability for any loss or injury you might suffer while on the tours.

You must be under the supervision of a responsible adult if under the age of 12.

Closed shoes, long pants and long sleeves must be worn.

Cameras are welcome on the tour.

Please bring an umbrella and raincoat in the event of wet weather.