Description
Watchalunga Reserve needs your help!
Please join Nature Foundation SA and Goolwa to Wellington LAP to plant 4000 seedlings to increase species diversity and habitat quality for the critically endangered Mount Lofty Ranges Southern Emu Wren.
A free bbq lunch will be provided for all participants.
A bit about Watchalunga...
Watchalunga is a 92 ha reserve that contains low-lying Fleurieu Peninsula swamp area on the Finniss River. It is a very important patch of remnant habitat containing highly significant South Australian biodiversity.
Watchalunga Nature Reserve is part of a former farming property owned by Mrs Elaine Poyntz and her late husband Ross. The property was identified as having high conservation value when it first came onto the market in 2011. In late 2012, an agreement was reached between Mrs Poyntz and Nature Foundation SA to subdivide and transfer the important swamp part of the property to Nature Foundation SA.
NFSA purchased the property with funds from the Land Acquisition Fund and with the support from the South Australian Government, Watchalunga Nature Reserve was officially opened in March 2015 by Minister Ian Hunter.
What makes Watchalunga special?
Swamps of the Fleurieu Peninsula are listed as a critically endangered ecological community under the Environment Protection and Biodiversity Conservation (EPBC) Act 1999. Watchalunga contains potential habitat for the critically endangered Mount Lofty Ranges Southern Emu-wren. The waters also contain high numbers of native fish. Previous flora surveys have identified 31 indigenous species; more species are likely to be found in future surveys.
Watch a video about Watchalunga here: https://youtu.be/PqqC8fdL9-c
Contribute to the future health of Watchalunga!

The planting day at Watchalunga will establish a range of species suitable to the soil types and local area and have been determined based on the existing native vegetation found on the site and on nearby areas with similar ecosystems.

The day will go ahead rain, hail or shine.
Participants are encouraged to bring their own maddock and hand trowels though a number of holes will be pre-drilled to make planting easier.
Everyone is welcome - the more the merrier!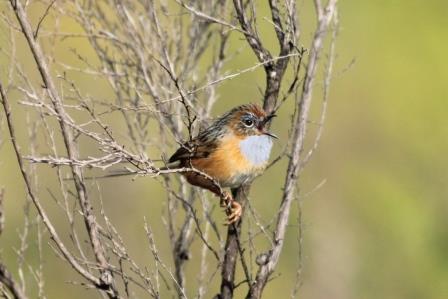 Photo: Mount Lofty Ranges Southern Emu Wren - by Martin Stokes
For more information, please contact the Nature Foundation on 8340 2880 | admin@nfsa.org.au