Warren Centre Medical Device Commercialisation - #4 Regulatory Affairs

Thursday, 27 June 2013 from 6:00 pm to 9:00 pm (AEST)
Event Details
NewsFlash/UPDATE .... Ticketing for MDC#4 has moved to here: http://www.trybooking.com/DBPE.   Please book your tickets to MDC#4 at that site.  
Thanks & apologies for the inconvienence.
The Warren Centre. 
MDC#4: Regulatory Affairs: Local, Regional & Global Considerations 
  

 

 John Skerritt

National Manager
 
 

 Simon Lewi

Director of Regulatory Affairs
 

 Mary Beth Brinson

APAC Director of Quality, Clinical Services & Regulatory Affairs

 Malcolm Castle

Serial Entrepreneur & Medical Business Technology Developer 

 
.
.

A variety of experiences from small to medium sized medical device companies.
Four unique perspectives on Medical Device Regulatory Affairs: from the Australian Regulator; to large corporate view of the global scene, particularly US and EU; medium sized business focussed in Asia; to the small company perspective across multiple jurisdictions.
Our four presenters cover a very wide range of experiences and will provide you with practical insights and lessons to address the many regulatory challenges you will face in bringing your product to market.
Join us for a series of presentations to open the evening, and then a panel discussion with these experts to explore the various issues & opportunities to successfully navigate the regulatory maze.
Panel discussion to be followed by networking session
with refreshments (drinks & canapés).
Thursday 27 June, 6pm, University of Sydney, Link-417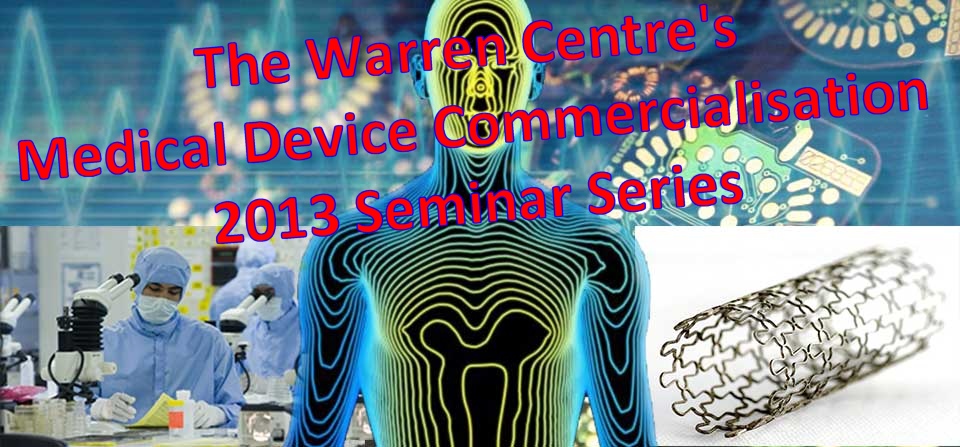 Australians excel at invention. There is no shortage of great ideas, but we struggle to transform these great ideas into commercial success.
This program of seminars explores what it takes to be one of the medical device success stories. With guidance, insights and lessons from those that have done it before this series can help you fast track your own success.
The Warren Centre brings together respected practitioners to present real-world insights into the Pathways for Success for developing and commercialising medical device technologies
The 2013 Medical Device Commercialisation Seminar Series includes:
Nine events: seminars & discussion panels with respected industry practitioners

Bonus 10th session: Australia and the Global Innovation Stage

New/additional seminars may be added (in dialog with presenters now).  Note that a Full Series registration will give you access to these additional events at no extra charge!

Thursdays, 6-8pm, University of Sydney, 4th Floor Engineering Link Building

Refreshments provided

Industry networking opportunities

Come to one event or come to them all (discount for entire series)

Significant discounts for current students (graduate and undergraduate students)
Click here
for full details of the Series Curriculum and the Industry Experts speaking.
Lecture title / theme

Speaker(s)

Date*

1. Design Thinking, Innovation & Commercialisation 

Prof. Andy Dong, TWC Chair for Engineering Innovation

4 Apr

2. Australian Medical Devices Landscape

Ms Anne Trimmer, CEO of MTAA

2 May

3. Intellectual Property Protection

Dr. Ivan Rajkovic, ShelstonIP

Dr Thor Slater, University of Sydney CDIP

Dr Jim Henderson, NewSouth Innovations

30 May

4. Regulatory Affairs – Local, Regional & Global Considerations

Dr John Skerritt, TGA

Dr Simon Lewi, ResMed

Dr Mary Beth Brinson, Cochlear

Mr Malcolm Castle

27 Jun

5. Clinical Trials

Dr Sally Lord, NHMRC/USyd Med School

1 Aug

6. Public Health Policy

Hon Peter Dutton (invited), 
Shadow Minister for Health & Aging

29 Aug

7. Product innovation, project leadership

Mr Jan Janssen, SVP Design & Development, Cochlear

Industrial Design Product Development

19 Sep

8. Funding: private, VC, grants, public, crowds

Mr Doron Ben-Meir, Commercialisation AU

Dr Chris Behrenbruch, CEO ImaginAB

10 Oct

9. Business planning, turning R&D into $$

Ms Fiona Pak-Poy, Innovation Capital

Mr Neil Anderson, Waterfall 

24 Oct

10. Industry case studies

Mr Gary Zamel

Dr Nick Cerneaz (TWC), Mirada, SeeingM

Dr Greg Roger, fmr CEO ASDM Ltd

Mr Bill Mobbs, ITL Corporation

Mr Balbir Singh, 3M ANZ Healthcare

14 Nov

Australia and the global innovation stage

Prof Mark Dodgson, UQ Business School

28 Nov
* Speakers invited and confirmed, though subject to possible future schedule changes or conflicts
When & Where

Engineering Link Bldg, J13, 4th Floor
Shepherd Street
Sydney, NSW 2008
Australia

Thursday, 27 June 2013 from 6:00 pm to 9:00 pm (AEST)
Add to my calendar
Organiser
The Warren Centre brings industry, government and academia together to create thought leadership in engineering, technology, and innovation. We constantly challenge economic, legal, environmental, social and political paradigms to open possibilities for innovation and technology and build a better future.
Warren Centre Medical Device Commercialisation - #4 Regulatory Affairs