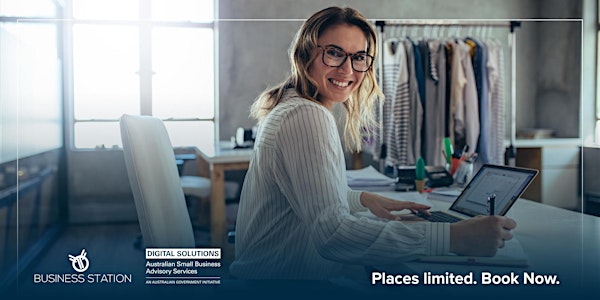 Wanneroo - Setting up a professional Google Ads campaign by Karen [FW]
Event Information
Location
Business Station
Level 3, 30 Dundebar Road
Wanneroo, WA 6065
Australia
Google Ads is a great tool to generate highly relevant traffic to your website
About this event
PLEASE NOTE: To register for this event you must be a business (0-19 employees)  and provide your ABN. 
Delivery Method: Face to Face Workshop
Level : Intermediate
Date/Time:
Wednesday, 24 May 2022
WA: 10:00 AM to 12:00 PM (AWST)
You can use Google Ads to generate highly relevant traffic that converts from the front page of Google.
The challenge is that Google LOVE to spend your money and many business owners make similar mistakes when setting up their own Google Ads campaigns without guidance and as a result waste a lot of money. So stop tipping money down the drain and learn how to set-up a professional Google Ads campaign.
In this workshop you will learn
Why you need to stop using Google Ads Smart Campaigns and more to the expert mode.
The structure of a great Google Ads account
Choosing the right sort of campaign for the best results
Choosing great keywords (this is SO important)
How to manage your account
How to measure the results of your campaign through setting up conversion tracking.
This workshop is brought to you by Business Station and AusIndustry under the Digital Solutions Program.
ABOUT PRESENTER
Karen Dauncey has over 17 years of experience as an SEO & Google Ads Specialist. She specialises in helping businesses get found online using Google using Search Engine Optimisation (SEO) and Google Ads. As the director and founder of Blue Cherry Online Marketing, Karen has optimised over 500 websites, managed millions of dollars worth of spend on Google Ads and has a solid understanding of the constantly-shifting industry of online marketing. This gives her a unique advantage when it comes to being able to recommend the right online marketing strategies for your business.
Karen has attended search engine conferences in London, Stockholm, Adelaide and Sydney, and was also invited to attend a pilot Business Coaching Course at Google's Head Office. She has a Diploma in Marketing from the Chartered Institute of Marketing in the UK. She is in the process of writing two online courses to help business owners get found online using Google Ads and SEO.
#seo #googleads #seotips #getfoundonline
About Digital Solutions - Australian Small Business Advisory Services
Digital Solutions is one of the most generously supported digital transformation programs for small business by the Commonwealth Government. This iteration of the program has been run by Business Station in QLD, WA and NT for three years and has had a significant positive impact on the small business community.
This event will give you the chance to learn about the details of the program, what's on offer and who can access the free or highly subsidised support, training and resources! Perhaps you will find them beneficial for yourselves, your network or your clients.
To better understand what's on offer, we will encourage each attendee to register themselves to the program before the event, or otherwise by attending this workshop, you will be registered.
Important – Participating businesses must be aware that this information will be provided to the Commonwealth Department of Industry, Science, Energy and Resources for program evaluation and reporting purposes; and businesses may be approached by a representative from the Department to complete a survey on the services provided.
Date and time
Location
Business Station
Level 3, 30 Dundebar Road
Wanneroo, WA 6065
Australia