A night of chamber orchestra debauchery featuring Walton and new works by Jasmine Karimova.
About this event
Sold Out
20 tickets for €20 available at the door from 19:00, first come first served.
Big sounds - small band.
United by a passion for good music, Sam and Jasmine joined forces to create the ConMoto Project - dedicated to bringing chamber orchestra repertoire into new contexts, in front of new audiences.
November 6 marks the premiere of this collaboration alongside a wonderful band.
Join us for a night of beers and debauchery as we bring you a setlist like no other.
Each ticket includes a beer or wine
--
Walton's Facade was written in collaboration with the eccentric poet Edith Sitwell. Not often heard outside of the United Kingdom, this is a rare chance to hear this eclectic music full of vocal fireworks and foot stomping tunes (and a little bit of melancholy on the side).
Alongside this we are proud to premiere three new orchestrations of Jasmine's very own songs, performed by her with the Facade ensemble.
We can't wait to see you!
must present a valid CoronaCheck QR for entry
--
Performers:
narrator/singer/composer - Jasmine Karimova
conductor - Sam Weller
flutes - David Westcombe
clarinets - Maria Luisa Olmos Ros
saxophone - Hy-Huu Dang
trumpet - Dovas Lietuvininkas
percussion - Diego Jaen Garcia
cellos - Sasha Scolnick Brower, Simon Velthuis
--
Jasmine is a performer, songwriter and composer, currently studying at Conservatorium van Amsterdam. She writes music that makes her feel things. Her hope is that it makes you feel things too; She'd like to play to your soft spots.
Born in Sydney, Sam is currently a student of the Dutch National Masters in Orchestral Conducting. Sam has worked with many of The Netherlands' professional orchestras in varying capacities. In Australia, Sam is the founding music and artistic director of Ensemble Apex.
--
Photos by Samira Kafala
www.samirakafala.com
--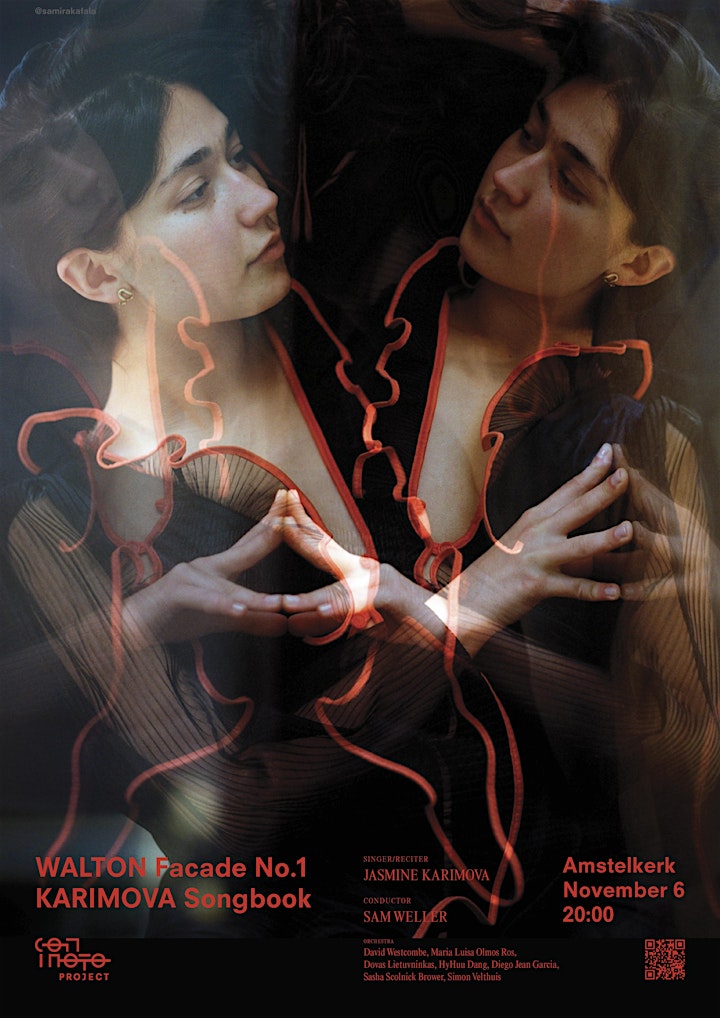 Organizer of WALTON Facade and KARIMOVA Songbook
Founded in November 2021 by Jasmine and Sam as a new way to connect audiences with weird and wonderful chamber orchestra repertoire.
See us in and around Amsterdam.
Jasmine is a composer, songwriter and singer
Sam is a conductor
United by a passion for good music, Jasmine and Sam work together to bring you music you (probably) haven't heard before always focussing on bridging the gap between performer and audience.