Join us for an engaging Walk and Talk event led by ANU researchers to learn about the reptiles and amphibians (herps!) in Canberra.
About this event
From cold mountain-tops to the sea, with or without limbs, smalls as worms or big as Komodo dragons – reptiles come in a big variety of forms, and you can choose your favorite.
Herping is the act of searching for "herps", the amphibians and reptiles. In this talk you will learn more about your Canberra friends- from your backyard blue-tongue lizard to the dreaded eastern brown snake – and what makes these critters so hated by some... And loved by others.

About Walks and Talks
Walks and Talks is an initiative aimed at creating welcoming and educational events for keen participants to learn about the natural history of animals and plants in the bush capital of Australia - all brought to you by your local Canberra researchers.
Each event will consist of a half hour talk from one of our early-career researchers focusing on a brief introduction to their research area in the context of Canberra. The talk will be followed by a guided nature walk around the Canberra Environment Centre. We will finish up with an opportunity to talk to the researchers, ask them questions, and look at displays that demonstrate their area of study.
We hope to share the enthusiasm of our passionate researchers and for you to feel a little bit closer to your local biodiversity!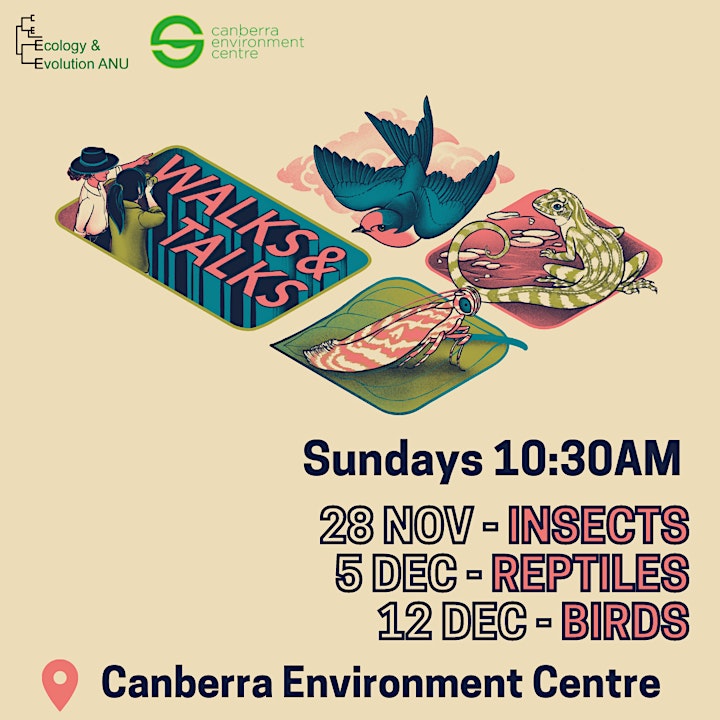 Do check out our next event in this series, a bird themed talk on Dec 12th.
Please note that we will be taking photos at the event for our Facebook page. If you do not wish to be photographed please let us know. Registration is required so that we can manage capacity at the venue.
This event is supported by the Ecology and Evolution Department at the Australian National University.
About the Presenter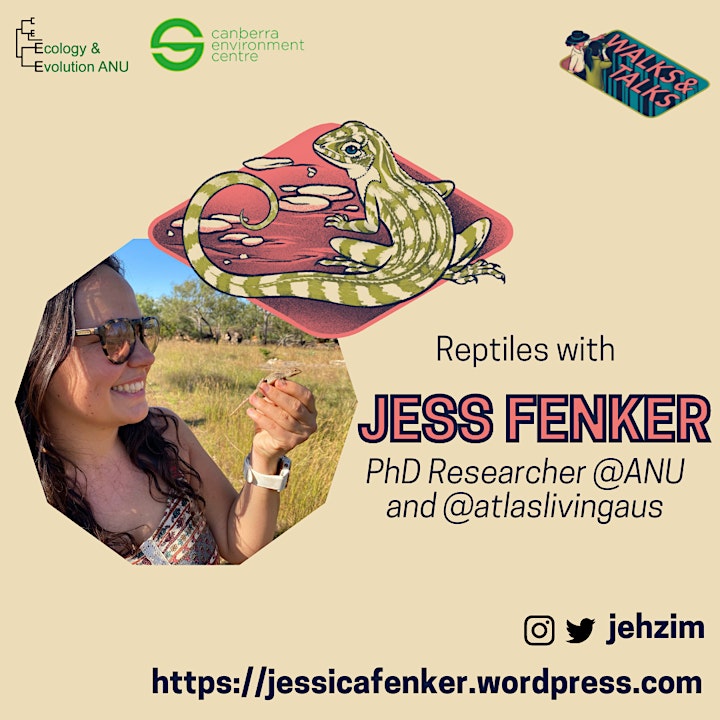 I completed my Ph.D. at the Ecology & Evolution Division of the Research School of Biology, ANU. Currently, I work at the Atlas of Living Australia (ALA) and EcoCommons. Most of my research investigates the evolutionary, ecological, morphological, and biogeographic patterns that generate biodiversity, especially in reptiles from Australia and from my country of origin- Brazil. I am a strong activist for diversity in science. When not working, you will find me camping, hiking (and of course, herping!) around Australia.
About the Venue
The Canberra Environment Centre is a non-government, not for profit environmental education centre that empowers people to create a sustainable future for the Canberra community by supporting lifelong behavioural change.
The Canberra Environment Centre has an accessibility ramp and spacious indoor area. The CEC has two regular sized toilet cubicles. For all accessibility enquiries, please contact the Canberra Environment Centre on 6248 0885 or via email at garden@canberraenvironment.org
COVID-19 Safety Guidelines:
Check in CBR: On arrival, everyone must check in using the Check in CBR app, or with the help of staff if they cannot check in on their own.
Exposure locations: Please observe good hygiene and social distancing during this workshop, and do not attend if you have been feeling unwell or have been to a known exposure location. If you are unwell or have been at a known exposure location and need to cancel, please contact us for a refund.