Walkley Regional Journalism Summit
About this event
The Walkley Foundation, with the support of the NSW Government, will this year focus on the importance of regional journalism with two key events being hosted in Tamworth: The Walkley Awards on February 11 2021, and a Regional Journalism Summit on February 10.
At the Summit we will be painting a comprehensive picture of regional media in Australia at this moment in time – bringing together voices from the industry, the latest research from across the nation, and case studies from independent and innovative regional news outlets. We are partnering with The Northern Daily Leader and the ABC and its regional network to amplify the summit, and The Drum will broadcast "on the road" from the event.
The Summit will explore the issues facing regional communities, and the importance of local journalists in telling regional stories. Held at Tamworth Town Hall, it will be open to the public and streamed live, bringing the community together around their journalists and amplifying the impact of regional journalism.
Click here for details about the program, speakers and more.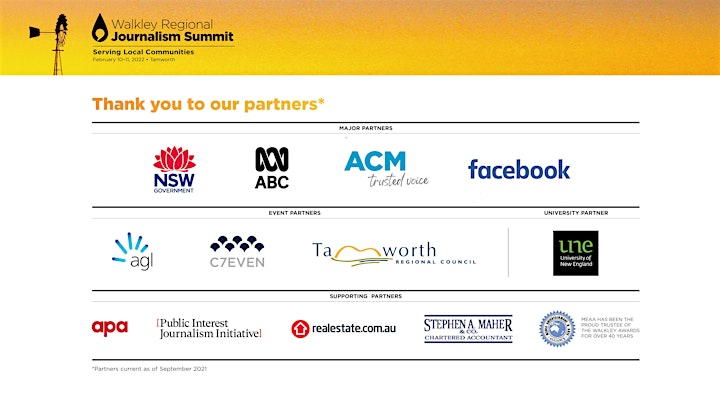 Organiser of Walkley Regional Journalism Summit
The Walkley Foundation is at the heart of the Australian media. In addition to celebrating and promoting the most skilful, impactful and captivating Australian stories, our role is to foster resilience and growth in the industry in practical, measurable ways. The Walkley Awards were founded by Sir William Gaston Walkley in 1956. Now, the annual Walkley Awards are the pinnacle of achievement for every Australian journalist. Peer-judged and renowned for integrity, they recognise the impact of journalism and build public trust in good reporting.