Description
Please join us along with your family and friends for a fundraising walkathon to save Farmers and farming in Tamil Nadu..


About this event

The recent monsoon failure has led to death of more than 250 farmers in Tamil Nadu, India.
Various Tamil Associations in Victoria have joined hands to make a small difference in the lives of farmers and their families in the face of this adversity.
We are conducting a Walkathon (3K and 5K) event to raise money which will go directly to the farming community.
What have we done so far..
Over the past months, our volunteers have personally visited the most affected regions by drought/calamity.
Based on their detailed analysis, we have already supported SIX families who lost a farmer by setting up a source for their daily livelihood like cattle farming (Cow/Goats) and educational support.
What are we going to do..
We are going to restore an irrigation canal for a length of 5.5 Kms in Azhiyur Panchayat, Nagapattinam District.
This community project will help more than 700 families.
On behalf of Tamil Associations in Victoria, we would like to invite you along with your family and friends to join us and walk for a noble cause.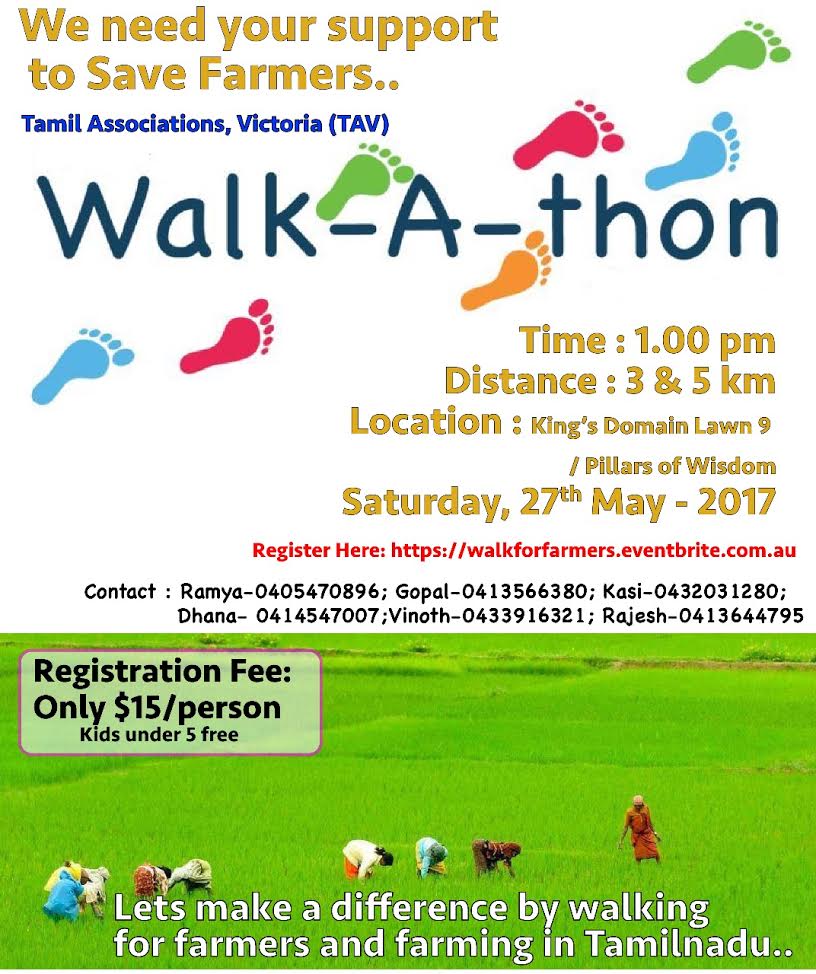 Follow us @
Facebook: https://www.facebook.com/Australia.Thamizhargal
Whatsapp Group: https://chat.whatsapp.com/9ecDhj4WQlZ0syyqqlUprm

Twitter: https://twitter.com/austamizhargal
Youtube: https://www.youtube.com/channel/UCCmaFGIscN9eRRrQR7cScfg
#Walkforfarmers #Walk-A-thon