WALDA Master Class - Instagram with Nikki Milne The Perth Collective
WALDA Master Class - Social Media - Instagram presented by Nikki Milne The Perth Collective
About this event
Nikki Milne of The Perth Collective is a specialist in her field and she will drill down on getting the most out of Instagram . Learn how to build your Instagram business profile, build content for your posts and stories, all about hashtags and more. No matter what your skill set is or where your focus is there will be something of value in this class for you.
To stand out from the crowd, it is vital to demonstrate what makes your brand unique. Instagram is a valuable tool for your business. Social Media is a way for you to present your work, brand, ethics and personality. By staying true to your beliefs and telling your story it shows how passionate you are about your work and the materials you use.
Instagram is a way to communicate what you do and how you do it. Some of the images you use will never feature on your Website, however they tell the story about what you do and how you do it, it is a way to introduce your personality and brand to a large audience.
WALDA is committed to assisting it members develop and thrive and is proud to present this Master Class purely with a focus on Instagram to help you navigate this aspect of your marketing programme.
Tea and coffee available plus a little something to start the day.
Note: Numbers are limited! Don't miss out - early registration recommend.
Tickets are Non-Refundable.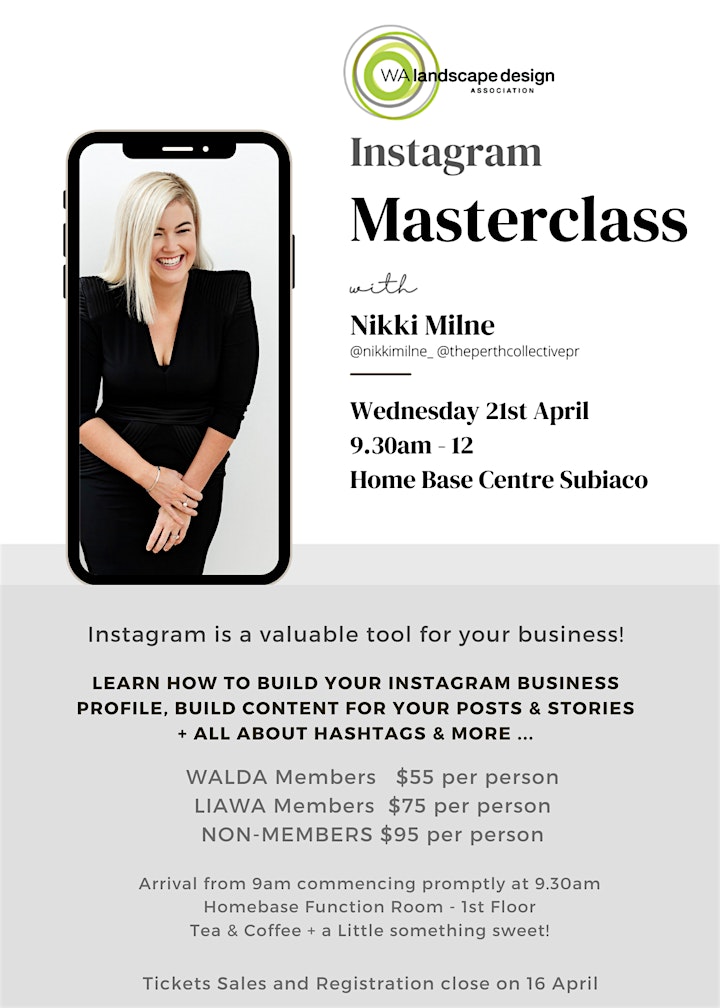 Organiser of WALDA Master Class - Instagram with Nikki Milne The Perth Collective